In early October 2012, one of the largest privately owned solar installations in Riverside County, Calif., quietly broke ground at Palm Springs Motors in Cathedral City. The new photovoltaic system will service the entire property and includes more than 50,000-sq.ft. of new carports that serve as the platforms for the solar panels. This innovative installation, developed, co-designed and installed by LaSalle Electric's LaSalle Solar Systems division of Cathedral City, is planned to be operational by December 31 of this year.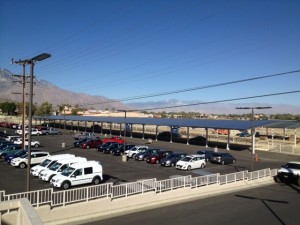 LaSalle Electric, which has been serving the Coachella Valley since 1968, added their solar component, LaSalle Solar Systems, four years ago, to enhance their service portfolio to consumers and commercial clients alike. "While remaining very active with our regular electrical services and lighting maintenance contracts throughout Southern California, we have been working with many new potential clients on large solar installations that will not only offset staggering utility bills each month, but will also put our clients on the forefront of decreasing their carbon footprint for years to come," stated LaSalle President, Gary LaSalle. "We are pleased to work with such a stellar organization like Palm Springs Motors to assist in this large-scale and important project," he concluded.
This solar project, which created several new jobs for the Valley will encompass 2,739 traditional, fixed photovoltaic solar panels mounted on 50,000 sq-ft of new carports. When complete, it will generate over 1,000,000 kwh annually, offsetting an estimated 90 percent of Palm Springs Motors' energy needs. This equates to offsetting the needs of more than 40 homes. Additionally it avoids emissions of nearly 2 million pounds of CO2 on an annual basis. The dealership has also installed electric vehicle charging stations throughout the property.