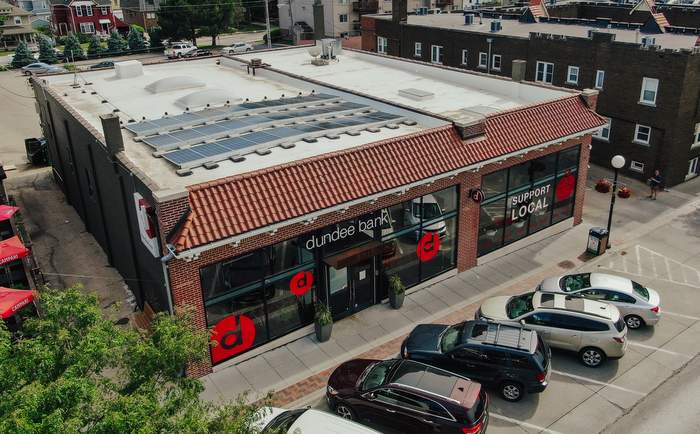 A new rooftop solar project is now generating clean electricity in Nebraska's historic Dundee neighborhood. Boyd Jones recently completed the installation of a solar photovoltaic system on top of Dundee Bank at 5015 Underwood Ave. There, the local bank and the local construction company teamed up on an effort that will reduce the Dundee Bank branch and office location's carbon foot- print through a 30-panel solar photovoltaic system.
"Boyd Jones has a long and proud history of building relationships with partners that share common values, and this project with Dundee Bank is no exception," said Boyd Jones President Jon Crane. "The team at Dundee Bank have embraced renewable energy, which speaks to their leadership's commitment to sustainability and environmental stewardship. It's very rewarding to partner with another local company to reduce our carbon footprint."
The Dundee Bank rooftop system will generate an estimated 14,400 kilowatt-hours of electricity annually, or roughly the same amount of energy consumed by 16 Omaha households in an average month.
According to data from the Solar Energy Industries Association, prices for solar in Nebraska have fallen 40% over the last five years and there are more than 300 installations across the state. The industry trade group estimates there are more than 1,300 Nebraska jobs supported by solar energy.
"We are excited to be working with another local company to further not just our goal of sustainability, but of supporting local," said Jeff Royal, president of Dundee Bank.
Boyd Jones' experience with solar projects includes the state's largest rooftop solar installation on top of three buildings on the UNMC campus, multiple rooftop and ground-mounted projects across Omaha, and multiple active projects across Nebraska and the Midwest. Boyd Jones has also built multiple wind projects across the state of Nebraska and is active in eight market sectors.
Tags:
Boyd Jones
,
commercial
,
Dundee Bank
,
Nebraska