Blue Earth Inc.'s wholly owned subsidiary, Xnergy Inc., finalized the construction of two renewable energy projects utilizing solar PV (photovoltaic) technology. The two projects include a 60-kW system for Leja Farms in Coachella, Calif., and a 55-kW system for Vessey & Co., in Holtville, Calif. Leja Farms is a leading producer of dates in California while Vessey & Co. offers more than 25 different types of fruits and vegetables grown chemically and organically on over 10,000 acres. The combined value of the contracts is over $530,000. In addition to being the general contractor and EPC provider on the project, Xnergy's service department is also contracted to maintain the systems for at least the next five years.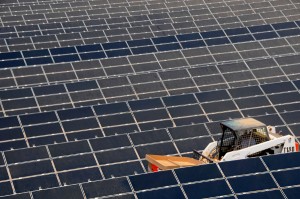 The projects were eligible for significant government and utility incentives, including the federal government's 1603 program, which awards a cash grant of 30 percent of the eligible project price in lieu of a tax credit. Additional considerable incentives came from the local municipal utility. Combined, the solar power plants will help reduce greenhouse gas emissions by offsetting 133 metric tons of CO2 per year.
"The Leja Farms and Vessey projects are the first two of our Sunvalley installations, and we look forward to finalizing three other projects in the very near future," stated Joseph Patalano, Vice President of Xnergy Inc.
Xnergy is a full-service EPC firm, which has engineered, installed, and/or commissioned more than 100 MW of alternative energy systems. Xnergy provides a broad range of comprehensive energy solutions including the design and implementation of energy savings projects, energy conservation, energy infrastructure outsourcing, power generation and energy supply and risk management. Xnergy serves private and public clients from all industries throughout California and helps them minimize their energy consumption and reduce their carbon footprint.
"We are excited about the completion of these two projects, and we are truly happy to be able to help our customers and friends in the agricultural industry save money by implementing these solar PV systems using the free power of the sun," said John C. Francis, Vice President of Blue Earth Inc.