Quabbin Solar is proud to announce the development and commissioning of its Vernon Avenue solar farm in Barre, one of the largest ground mounted solar farms in Massachusetts, with a total capacity of 2 MW. Modeling has indicated that it will generate 2,500,000 kWh of electricity annually for the next 25 years. The project helps establish Massachusetts as one of the most aggressive states in the country in terms of renewable energy policies.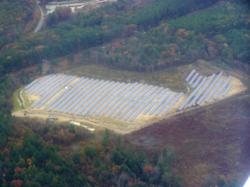 According to two of the world's largest oil companies, 33 percent of the world's energy will need to come from solar, wind, and other renewable resources by 2050. Quabbin Solar, a locally owned and operated Massachusetts company is leading the way in developing commercial scale, ground, and roof mount solar array sites in the Commonwealth.
Quabbin Solar's photovoltaic projects provide communities:
    Clean Renewable Electricity
    Environmental Benefits for Future Generations
    Educational Programs with Local Schools
    Financial Benefits for Both Landowners and Residents of Local Communities
    An Opportunity to Play a Vital Role in America's Goal of Energy Independence
Quabbin Solar's next project, a 1.76-MW ground-mounted solar farm will occupy the site of the former Barre Wool factory and is under construction. The project offers substantial economic as well as environmental benefits to the region. During the life of the farm, hundreds of thousands of tons of carbon emissions will be offset. The company is currently in negotiations with the town of Barre for a net metering agreement which is projected to save the town of Barre $25,000 in electric costs annually. The Barre Wool project, like the Vernon Ave project, will bring jobs to an area hard hit by the economic downturn.
Wind and solar energy production is expected to increase significantly in the next 10-20 years, according to the International Energy Agency. Investments in new renewable energy sources have grown to an estimated $175-200 billion worldwide.
Quabbin Solar's principals, Dean Iandoli and Michael Staiti, have more than 40 years combined experience in developing real estate, primarily in Massachusetts. Their personal interest in renewable energy and strong concerns for future generations led them to community based photovoltaic solar array developments.
"Careful consideration went into siting the Barre Wool solar farm project" said Dean Iandoli. "The site is zoned by the Town of Barre for industrial use, so local zoning by-laws allow for the solar farm to be built "as-of-right." With no noise, no harmful emissions and almost zero visual impact the farm will have no negative impact on its' surroundings."
As important as the creation of renewable energy is, the mission of Quabbin Solar extends to include education and public awareness. "It is Quabbin Solar's intention to make the facility an important part of educating the public about the value of renewable energy," says Catherine Trifilo, Owner of Quabbin Renewables Energy Park. The company is working with the Barre school system and other groups to make the solar farms available for school group visits and educational workshops. "When the kids walk up the hill and come upon the 7,500 solar panels of our first project they are just awestruck. When a whole group of kids becomes silent, you know you have made an impact," Trifilo explains with a laugh.