Magnetek Inc. today announced that it has received ETL certification to the UL 1741-2010 and CSA C22.2 No. 107.1 standards for its 1-MW 1,000-Volt solar inverter. The E-Force Solar Inverter was tested and certified by Intertek and is now qualified to display the ETL certification mark.  The ETL mark indicates the E- Force Solar Inverter meets product safety requirements for connection to a United States or Canadian utility power grid or a grid in any country where UL and CSA standards are accepted.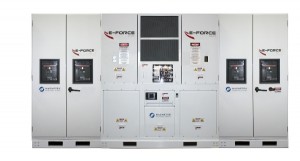 Magnetek's 1-MW, air-cooled E-Force photovoltaic inverter is designed for grid-tied large solar applications, such as ground mount installations. E-Force PV-1000 integrates two 500-kW inverters in a single enclosure which can reduce the skid footprint by as much as 30 percent compared with independent 500-kW competitive inverters. E-Force units achieve peak and CEC efficiencies of 97.9 percent and 97 percent respectively with total current harmonic distortion of less than 5 percent.
E-Force offers two Maximum Power Point Tracking (MPPT) algorithms to maximize the energy produced under varying light conditions. Magnetek's proprietary switching technology incorporates large capacity Insulated Gate Bi-polar Transistors (IGBTs) which result in improved service life. Sophisticated self-diagnostics and remote monitoring capabilities allow customers to monitor energy generation and operational status. VAR control is provided through power factor adjustment from 0.95 lead to 0.95 lag as standard. An Ontario FIT compliant product is available. The E-Force PV-1000 utility scale inverter integrates easily into Magnetek's E-House brand equipment enclosure, optimizing inverter protection from the elements while reducing the overall mounting footprint. Optional MV transformers are offered to provide distribution level output voltages of up to 34.5kV. Additional grid support options include Low Voltage Ride Through (LVRT).
"We are extremely pleased to be able to offer solar developers a 1-MW solar inverter ETL certified to UL and CSA standards," said Peter McCormick, Magnetek's chief executive officer. "We have made considerable investments in our solar inverter program and this certification is a significant step in our entry into the utility scale marketplace, where we see our greatest opportunity for growth in the renewable energy sector."
Ed Butte, Magnetek's director of renewable energy, added "Magnetek has been in the renewable energy business for nearly twenty years, and has shipped over 850 MW of power conversion systems, including 70MW of the second generation E-Force power conditioning system for wind applications. The E-Force 1 MW solar inverter is based on our field-proven wind inverter platform. As a result we are confident this platform will provide the long service life solar customers seek, while its shelter-ready construction allows for faster installation at a lower cost."