The San Lorenzo Unified School District announced the completion of its first solar energy system, which will significantly reduce the district's future energy costs.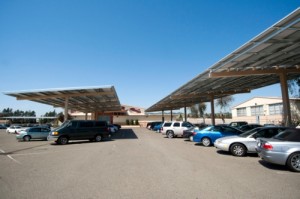 Over the lifespan of the project, the district anticipates generating $4.5 million in savings to the district's general fund, where it can then be used to strengthen the district's academic performance and enhance student achievement. The project is being financed through Measure O, a general obligation bond overwhelmingly passed by voters in November 2008 in order to continue the renovation and modernization of the schools in the San Lorenzo Unified School District.
"This project fulfills our commitment to the voters of this community, who have consistently entrusted us with an ambitious investment in our district's facilities," said Dr. Dennis Byas, Superintendent of the San Lorenzo Unified School District. "With the completion of our solar canopies, we have not only been able to bring our schools into the 21st century, but we have used these bond dollars in a way that will ultimately benefit our students, our teachers, and our local community."
Solar canopies have been constructed at various campuses throughout the district, as well as at the district's bus depot where they will not only generate solar energy but will also provide shade to the district's fleet. In total, the solar canopies are expected to generate 1,021 kW of clean energy, reducing the district's utility costs.
The San Lorenzo Unified School District worked with Chevron Energy Solutions (CES), a leader in providing public agencies solutions that meet their energy and infrastructure needs, to develop, design and construct the project.
"We are proud to work with school districts to help them balance their budgets by reducing energy and operating costs," said Chevron Energy Solutions President Jim Davis. "The leadership shown by the San Lorenzo Unified School District in seeking innovative solutions to its energy needs serves as a model for other agencies across the county, the state and the country."