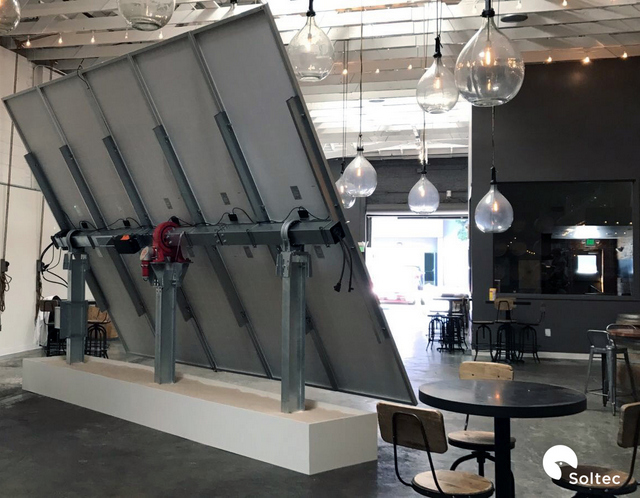 As we reported a few weeks ago, Soltec, a manufacturer and supplier of single-axis solar trackers, is performing field tests at BiTEC, world's first evaluation center specialized in bifacial trackers. Among those tests, the company is comparing bifacial production of 1x configuration solar trackers versus Soltec's SF7 Bifacial, a 2x configuration tracker.
Early results
Soltec's SF7 trackers have a standard height of 7.71 ft (2.35 m), while 1x-configuration trackers have a height of 4.43 ft (1.35 m). Preliminary electric performance measures over bifacial modules reveal a short-circuit current difference of over 2.3 percent between 1x and 2x trackers, meaning that height has a significant influence over the energy output of bifacial panels. The capture of diffuse irradiance below and around the tracker is increased with height, while the shadow casted on the ground is softened.
RELATED: Podcast: How NEXTracker 'decapitated the duck' with its new solar-plus-storage tracker design
In addition, SF7 includes an intentional gap between modules at the torque tube location that avoids shadowing on the backside of the module. With 1x trackers, on the contrary, the torque tube casts a shadow regardless of whether it has a round shape or quadrangular. Preliminary measurements have shown that up to 38 percent of reflected light does not reach the center of the bifacial modules compared to the edge due to the torque tube shadow of the 1x configuration.
BiTEC will be officially inaugurated on July 9 in Livermore, California. This center counts on the collaboration of the main of bifacial modules manufacturers and American organizations specialized in renewable energy such as NREL or RETC.