At Intersolar North America 2017, we caught wind of a new fixed tilt ground-mount system developed by Nuance Energy, but at the booth there was no physical system on display. Instead, Founder and CEO Brian C. Boguess handed me VR goggles to look through, which now feels appropriate because it was a glimpse into the future of modular ground-mount solar.
Nuance isn't trying to play in the cut-throat utility-scale space, where an extra half penny per watt will cause a riot. Instead, the Nuance approach is about nimbly deploying smaller systems much quicker and to the benefit of small- to mid-size contractors and EPCs, increasing their revenue by enabling them to sell more solar quicker and cultivating a more robust, widespread solar industry.
"Where do you find savings? Always in the downstream," Boguess says. "The upstream value chain has been beating itself up over technology to drive price down but no one paid attention to the downstream value chain."
It all starts here: Nuance's Osprey PowerPlatform is a ground-mount system that doesn't require piles but is strong enough to withstand any load. Instead of piles and foundations, this new system borrows from the super old concept of anchors (5 in.) and cables (stainless steel, 60-in. long) that has been mounting utility poles and holding up retainer walls for a century. Those load anchors are sent into the earth and pull tested in real-time conditions (Nuance requires 1.5 times the worst case scenario for its design load test) and attached to the racking — a unit of four to six adjustable legs that is fully assembled with PV and wiring at ground-level. And yes, this means the entire system, if needed, can be disengaged and moved. We'll explore those implications at the end.
With that as our starting point, grab a paddle and let's head downstream.
Good bye geotech
Geotechnical reports are often done months in advance of the installation so a structural engineer can design the ground-mount system per the requirements of the geotech report. All in, this is a couple thousand dollars and a six- to eight-week process. What if you wanted to perform a geotech investigation in the fall? You might not even get the calculations back until the New Year, at a time when delays are equal to death.
As mentioned, the Osprey's anchors are pull tested on site with a safety factor of 1.5 the worst case design load. This real-time condition test gives engineers the best knowledge of the soil at that time, eliminating the need for the geotech report ordering, process and price. That is just the start of how using the Osprey saves EPCs time and money.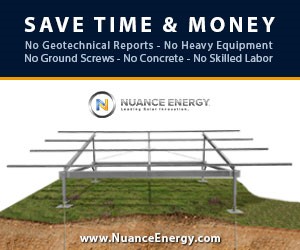 Master of your domain
Larger projects are often the realm of larger companies or require a smaller company to rent equipment and wait for a larger company to deliver it. This is a perfectly fine system, but removing piles and removing the large equipment needed to drive them opens up the market even more for a wider variety of contractors, defragmenting the market.
"The small guy gets beat up over concrete and relying on outsourced teams to drive the product in the ground with heavy equipment they rent or lease, which means the equipment is on that company's time, not the EPC's," Boguess says.
Even in the most efficient outcome from order placement to equipment delivery to pile driving, the mere fact of being on another company's timeline adds extra time to project development and introduces the possibility of delays. The possibility of the delay has its own subtle chilling effect on a contractor's project pipeline. If a larger project is delayed because equipment is held up at another site, the contractor's delicate summer and fall project window will be shattered and accounts payable left in the lurch. A system that is fully installed by the contractor using only hand tools gives full control of scheduling back to the contractor.
"If you can't control your installation schedule, you can't control your revenues and accounts receivables," Boguess says. "For small- to mid-size EPCs, a lot of these guys live project to project. If they can't control cash flow, they are stuck."
Obviously a larger company working to please investors with timely commissioning and quicker returns on investment would also benefit from the extra control over scheduling, but the savings go deeper, both in actual cost savings and costs avoided. Large developers have slush funds available to cover for unforeseen obstacles under the ground. For example, a developer putting a project in the ground in Florida has to account for the threat of running into limestone — both accidentally cracking it and then working to avoid it if found. Those threats don't change the installation of an anchor system, which can go in the ground at any angle and avoid any such obstacles, keeping slush funds put and improving profit margins.
Nuance Energy procures its steel from both U.S. and foreign suppliers. This has not affected its model of packaging Osprey units at its regional warehouses and shipping them out with up to 40 units on a truck. Freight costs can be reduced by up to 60 percent.
RELATED: Solar carport developers find low-cost opportunity despite the tariffs
Labor savings
An all-handtool installation for a 5-MW project might sound laborious, but Boguess has compelling evidence of overall labor savings achieved, in less time, with the Osprey vs. a conventional large-scale ground-mount installation.
"One of our first projects with Brad Thomas, senior director of project management [formerly of NEXTracker], was only a 75-kW job. He had forecast three weeks for the installation. The job was finished in five days. He had overcalculated by two weeks, saving $14,000. That's 18.6 cents a watt on a 75-kW job."
With minimal training, any local labor crew can be employed to install the Osprey system. The adjustable legs also reduce the amount of site prep and grading needed.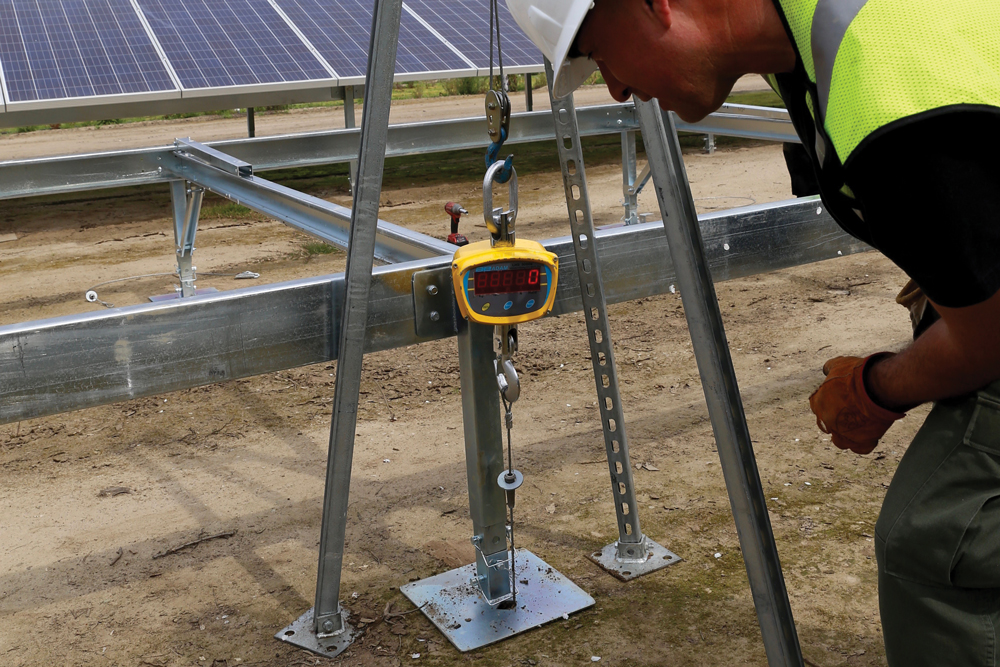 New market: Lift and Shift
The niche for Nuance thus far has been projects in the 10 kW to 5 MW range, but applications within that range extend beyond the conventional. For starters, Boguess has seen a lot of activity in rural residential and small agriculture in the Midwest, less sexy solar locations like Illinois, Michigan and Minnesota.
"The smaller customer is anybody ordering one to 10 units from us, and each unit holds 5 to 6 kW," Boguess says. "Residential contractors have a cash flow business with three to four install teams out on roofs, and initially they are afraid to take on 20-kW ground-mounts because they think it means taking two crews off a roof. But we can keep them on the roof and get 20 kW installed in four hours."
Boguess even believes they've created a completely new (and catchy!) application category for solar called "Lift and Shift," born from the fact that the Osprey anchors can be disengaged and the complete PV system above ground can be literally lifted as is and shifted to another location. This opens up totally new areas for PV, such as temporary farm land and mining.
"We had the idea of financing modular ground-mount systems with a PPA in the mining industry," Boguess says. "This is unheard of because how will you finance a mobile microgrid hybrid solution when you want to move the asset every two years? We enable mining operations or those EPCs in this space to mitigate that risk because when that dig doesn't find what they want after two or three years, they can lift and shift to redeploy the asset, not leaving it stranded. A stranded asset is what is holding up PPAs."
Underneath power lines is also a brave new world that's now possible in California. Just recently Los Angeles Department of Water and Power (LADWP) awarded Nuance Energy 40 50-kWac systems to be installed using the Osprey PowerPlatform.
"Our strategy for keeping costs low is to deploy solar arrays along existing transmission lines, where we already have rights of way, and to handle the installations entirely ourselves with our own crews," says Francisco Fernandez, the lead electrical engineer in LADWP's Solar Power Engineering Department. This strategy imposed two special requirements: easy removal when necessary to affect repairs or upgrades to the overhead transmission lines and ease of installation by small crews. "The solution from Nuance Energy met these two requirements."
With LADWP's system providing more than 26 million MHh of electricity annually to 1.5 million residential and business customers in the city of Los Angeles' 472 square miles, the potential for solar energy deployments is substantial.
Added together, the Nuance Energy value proposition is a compelling one, offering several new opportunities for a wide variety of solar contractors and EPCs to grow and solidify their business.
Listen to more in-depth conversations on Solar Builder's YouTube channel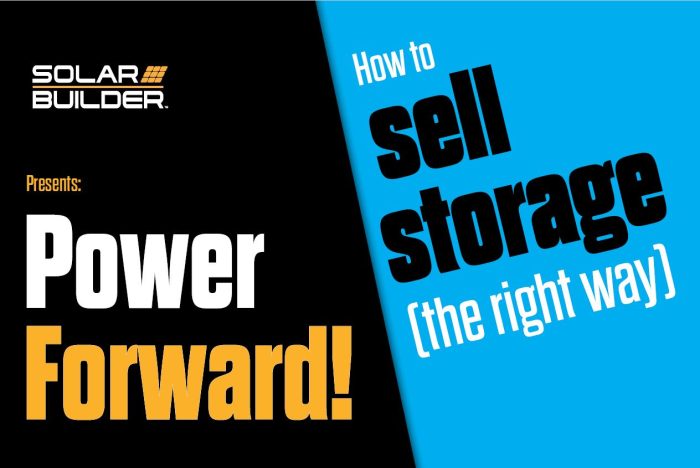 Our most popular series include:

Power Forward! | A collaboration with BayWa r.e. to discuss higher level industry topics.
The Buzz | Where we give our 2 cents per kWh on the residential solar market.
The Pitch | Discussions with solar manufacturers about their new technology and ideas.
Tags:
2018 May June Print Issue
,
Attack the Tariff
,
Nuance Energy