Esdec, a leading European solar rooftop mounting solutions provider, is making its debut in the U.S. market this week at SPI (Booth 378). With more than 1.8 GW of installed capacity and leading market share in several European countries, the company brings 14 years of solar mounting and racking innovation and experience to the U.S. solar community.
Esdec's initial U.S. product offering is the FlatFix system, a lightweight, clickable solar mounting system for flat roofs. Featuring a 20-year warranty and UL certification, FlatFix's innovative design enables rapid assembly, allowing commercial installers to significantly reduce installation times compared to other systems in the market.
Esdec's Atlanta-based U.S. subsidiary will be led by Bart Leusink, a seasoned executive with more than 25 years of management and executive experience. Bart has significant experience in and familiarity with the U.S. solar market, having served for seven years as president and CEO of Renusol America.
The FlatFix system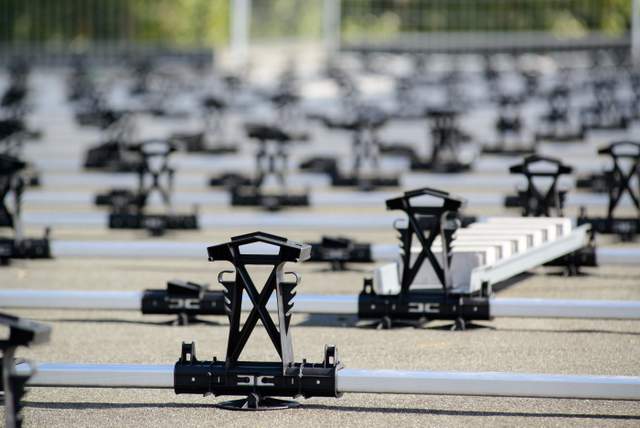 FlatFix's racking components, including bonding straps, are assembled by snapping into a locked position without the need for tools. The rails click together easily and quickly to form an interconnected, solid structure. Complete module installation requires just one tool and minimal parts, while power optimizers can be attached via snap-on clips in a matter of seconds.
Using self-levelling baseplates, FlatFix is available with ballasted and hybrid attachment options. The flexible system can be oriented in a traditional south-facing direction or in a dual-tilt orientation. FlatFix's materials and design compensate for thermal effects, reducing potential heat-induced degradation of the PV modules and protecting the integrity of the roof.
Esdec is also introducing its ClickFit product to the U.S. market. A lightweight, fully adjustable rail-based racking system, ClickFit can be used on various types of pitched residential and commercial roofs. FlatFix and ClickFit are both UL-certified Class A fire-rated, having achieved top-of-class fire mitigation for Type 1 and 2 PV modules.