For every project, location, budget and situation in the solar building landscape, there are a variety of mounting solutions to consider. So, what's right for your project? And what can the latest mounting technology do today that wasn't possible several years ago? Our 2015 Solar Mounting Product Showcase hopes to answer these questions, give you a better idea of what's available in the market and feature products that will make your next project a success.
Fronius Hinged Mounting Systems
Fronius USA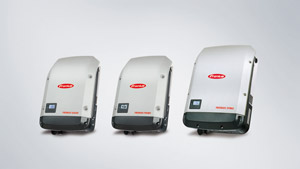 has a line of string inverters known as SnapINverters that offer a variety of unique mounting opportunities to best serve the solar market. A key benefit to the design of these SnapINverters is the hinged mounting system, which allows for rapid install times and an easy swivel snap system. The Fronius SnapINverters include the Fronius Galvo (single phase, transformer, 1.5-3 kW), the Fronius Primo (single phase, dual MPPT, 3.8-8.2 kW) and the Fronius Symo (three phase, dual MPPT, 10-24 kW). The Fronius Symo offers a flat-roof mount commercial solution to NEC 2014 without additional hardware. The residential units, the Fronius Galvo and Fronius Primo, can be conveniently mounted and installed in under 15 minutes. For more info, visit fronius.com.
Tags:
2015 May June
,
Applied Energy Technologies
,
dcesolar
,
DPW Solar
,
EcoFasten Solar
,
Fronius USA
,
Magerack Corp
,
Rack 10 Solar
,
RT-[E] Mount
,
S-5!
,
Sflex
,
Solar FlexRack
,
Sollega Inc
,
SunModo