New codes and regulations are notorious for raising prices and halting innovation in industries, but the new rapid shutdown requirements facing the solar industry are having the opposite effect. Thanks to a coalition of manufacturers and interested parties across solar, the solutions being developed to meet NEC 2017 Module Level Rapid Shutdown requirements will achieve something solar technology has long needed: common language.
"The intent is to create an open protocol for any manufacturer to apply," says Michael Mendik, head of solution management, Solar Energy Division at Fronius USA. He has been an active member of the SunSpec Alliance, the group that has developed these standards. "Inverter manufacturers can build and design their own transmitters and then the rapid shutdown boxes will also be tuned to that language and can receive the signal. There is no proprietary stuff."
"The current systems were designed to meet the previous rapid shutdown requirements using mostly proprietary communication systems," says Mario Thomas, product manager at ABB. "Future system design will be vendor independent, allowing a better choice for the customer and the installer."
"The solar industry is experiencing significant growth with new requirements, so we welcome the vendor coordination efforts and the wide adoption by many vendors working to improve the safety of clean energy production," says Danny Eizips, VP of engineering at Tigo. "This is a great opportunity for multivendor support."
This standard protocol has ramifications beyond the context of rapid shutdown, but let's start there.
NEC 2017 changes
The 2017 edition of the National Electrical Code (NEC 2017) includes an update to section 690.12 Rapid Shutdown of PV Systems on Buildings. The update pushes the requirement to "module-level" rapid shutdown instead of the "array level" that was listed in NEC 2014. Effective Jan. 1, 2019, this requires conductors inside the array boundary to be discharged to 80 volts or less within 30 seconds of initiating a rapid shutdown event. This requirement comes in addition to the outside the array boundary voltage being limited to 30 volts or less.
At first glance, the changes didn't require such a collaborative effort. Module-level electronics could have done the trick and piecemeal proprietary products and one-off collaborations from various manufacturers could have continued as usual. Luckily, that wasn't the case.
The SunSpec solution
Formed in 2009, the SunSpec Alliance is a trade alliance of more than 100 solar and storage distributed energy industry participants, together pursuing information standards to enable plug-and-play system interoperability.
After nearly two years of intense technical collaboration, the Communication Signal for Rapid Shutdown Interoperability Specification was published in September 2017 as a method to comply with NEC 2017. This spec defines a communication protocol that uses the cabling of the solar array to transmit messages over the DC power lines between the PV modules and a master control device located near the inverter.
In addition, PV module manufacturers can implement the protocol on intelligent devices embedded in the junction box of each PV module. A master control device associated with the inverter communicates with the PV modules. Altogether, the specification enables plug-and-play interoperability and any-to-any rapid shutdown solutions.
"This open standard delivers multiple benefits to the distributed energy industry, most notably lower integration costs and the freedom to choose from an array of interoperable products," saysTom Tansy, chairman of the SunSpec Alliance.
What's this mean for me right now?
If you are a big fan of installing microinverters, you're already meeting these rapid shutdown requirements.
As mentioned earlier, the implementation date for NEC 2017 is Jan. 1, 2019. Depending on the Authority Having Jurisdiction where you do business, you may not even be held to the NEC 2014 requirement right now, let alone NEC 2017 when it arrives. The Northeast portion of the country will be the earliest adopters, followed by California.
If you are going to be held to NEC 2017 — or just generally would like to comply on your own — sit back and wait for these SunSpec-certified products to hit the market and design systems the way you always have.
"The complexity here is not on the installer end," Mendik says. Manufacturers had to develop a transmitter that's hooked to the DC line and puts in the signal.
Some of these solutions are already available, like the Fronius Symo. Other companies announcing immediate plans to incorporate the technology into their product lines include ABB, Maxim Integrated, Omron, Outback, SMA and Tigo. You can expect to see most of these around Q2 this year. There is no UL testing protocol yet to certify these products, but UL is part of the SunSpec Alliance, and you can expect this to happen soon.
Why else is this a big deal?
Not to be flippant about the importance of safety, but this protocol opens the door for way more impactful product developments. There's an opportunity here to make your life even easier and bring the costs of a system down even more.
1. Proprietary boundaries will come down.
For starters, the array-to-rapid-shutdown-box-to-inverter architecture is more flexible. Prior to any updates, you had to procure the rapid shutdown box and the inverter from the same manufacturer. No more.
"The installer can install the systems as before and doesn't have to worry about matching inverters of rapid shutdown boxes," Mendik says.
So, that's cool, but that flexibility goes way beyond the rapid shutdown, inverter pairing. "There's no specific [module-level electronics] on the roof," Mendik continues. "If there are different panels, they will be working with different rapid shutdown boxes. If one type of inverter in a system breaks, it can be replaced with another, and it will still work. A distributor can have different inverter types in stock for replacement, and everything will still be in line with the protocol."
2. System designs will be streamlined.
Today, that rapid shutdown box is just an added expense, even now, after the protocol. This is why many installers prefer module-level electronics like microinverters, which meet rapid shutdown module-level requirements while also adding optimization, monitoring and design flexibility.
In the not-too-distant future though, this rapid shutdown box will be gone completely, even in a string inverter design. Soon, using this common language, module manufacturers will be including supped up junction boxes or chips from a company like Maxim instead of diodes. These will meet NEC 2017 and provide MLE performance with a string inverter design. This will keep costs and industry part counts down.
"An integrated module in the future, where the installer doesn't have to buy and wire a specific rapid shutdown box … it'll be like going back in time to when he didn't have to worry about that," Mendik says. "This also means you won't have complex electronics on the roof. The standard forces you into more complexity for rapid shutdown, but the solution we're looking at is simple electronics, not power electronics and doesn't convert power from DC to AC."
Thomas sums it up: "The customer in the end has a choice. I think that's a big benefit. Customers don't want to get stuck with one vendor and want the right to choose between different manufacturers. Having this choice and competition will reduce costs in the end."
Listen to more in-depth conversations on Solar Builder's YouTube channel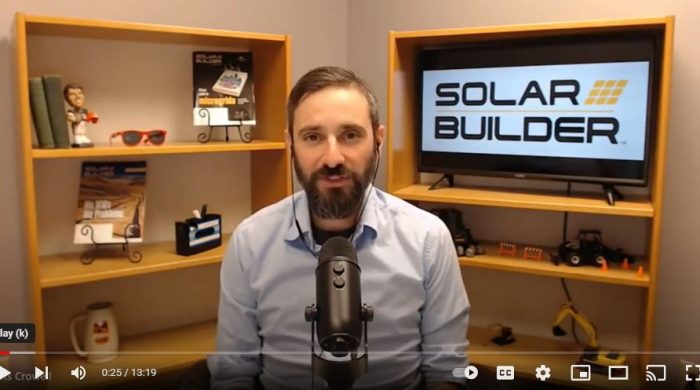 Our most popular series include:

Power Forward! | A collaboration with BayWa r.e. to discuss higher level industry topics.

The Pitch | Discussions with solar manufacturers about their new technology and ideas.
Tags:
ABB
,
Fronius USA
,
January February 2018 Print Issue
,
rapid shutdown
,
Tigo