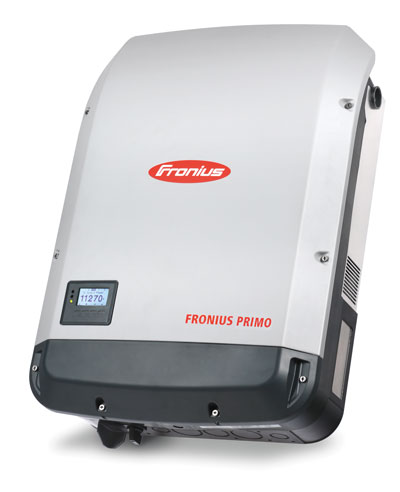 The 2018 version is now available to download for FREE here.
Fronius USA
Fronius USA LLC, headquartered in Portage, Ind., is a leading manufacturer for solar solutions and has been shaping the U.S. solar industry since 2002. The company is the biggest subsidiary of Fronius International GmbH, founded in 1945. Fronius has three divisions: Perfect Welding, Solar Energy and Perfect Charging. Through innovation and new technologies, Fronius has become a leading resource for high-quality solutions in each industry they serve. Fronius' innovation is guided by a vision of 24 hours of sun, a future where 100 percent of energy needs are covered by renewable energy. In total, Fronius has shipped more than 8 GW AC of inverter power.
What's New?
The Fronius SnapINverter line offers integrated WiFi and SunSpec Modbus interfaces, NEMA 4X rating, wide voltage windows, multiple MPP trackers and easy installation in 15 minutes or less. With the identical look and feel and the unique field serviceability, the Fronius SnapINverters reduce cost for training and servicing. Power classes range from 1.5 to 24 kW.
All Fronius SnapINverters offer wide voltage windows for ease of system design. The single-phase inverter Fronius Primo offers the most flexible string sizing, with string length as short as two or three modules (80-V startup voltage) and allows for inverter oversizing of up to 150 percent within warranty. The Fronius Primo is available up to 15 kW, making it the biggest single-phase inverter available. The three-phase inverter line (Fronius Symo) ranges from 10 to 24 kW, including 208-V AC models up to 15 kW, which can be connected directly to the grid without using a transformer.
Fronius SnapINverters are easy and quick to install (15 minutes or less per inverter), thanks to the user-friendly hinged-mounting system ("snap-in"). Due to the simple and lightweight design, installation requires only one person. High integration (such as fusing, datalogger, WiFi, Modbus, revenue grade metering, etc.) eliminates cost, saves labor time, simplifies supply chain and reduces the number of boxes on site.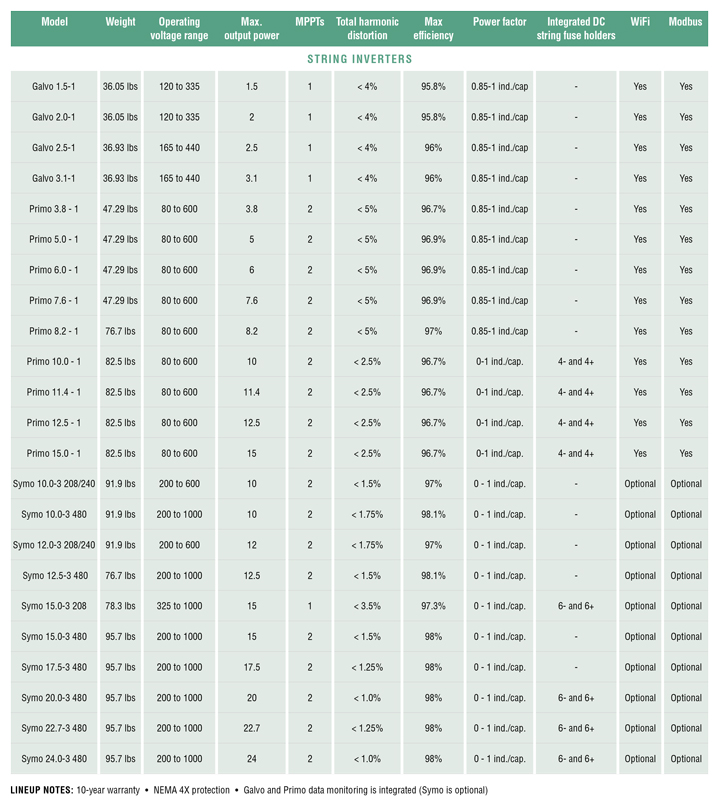 Advice to Buyers
"When you choose an inverter, be sure to have a look at the bigger picture and not just at specific technical data," says Brian Lydic, senior standards and technology Engineer at Fronius USA. "Which inverter is flexible to design, is easy to install and is field serviceable over the lifetime of a system? Furthermore, make sure to choose a bankable company, whose warranty and support you can rely on. The inverter decision is a decision for 20 years or longer. Therefore, it's crucial to go with a partner who also focuses on the long run."
---
M
agnum Energy 
Celebrating its 15th year in business in 2017, Magnum Energy, a product brand of Sensata Technologies, offers reliable power options regardless of grid connectivity. Magnum inverter/chargers, microinverters, charge controllers, interconnection system equipment and accessories are a solid base to build a PV and/or battery-based power system.
What's New?
The MicroGT 500 is a dual MPPT microinverter topology optimized to communicate with a Magnum battery-based inverter system, allowing the addition of battery storage. Each unit supports two 310-W modules per inverter, reducing installation time, and are UL1741 and NEC690.12 compliant. The integrated MagWeb GT online dashboard makes viewing system data easy.
The MicroGT can't be mentioned without talking about the complementary battery-based inverter, the MS-PAE Inverter/Charger. The two inverters are designed to synchronize together to create a full battery-based system.
Advice to Buyers
"To meet 2017 code changes, look for arc fault or AFCI in PV equipment that will detect, extinguish and indicate series arcs if there is any trouble or inconsistent workmanship at the array," says Mara White, Eastern region and marine sales and marketing manager. "Regardless of equipment choice, calculate AFCI equipment into installs."
---
I
deal Power
Ideal Power was founded in 2007 and is based in Austin, Texas. It is a technology company dedicated to advancing the efficiency of electric power conversion. The company has developed a patented power conversion technology called Power Packet Switching Architecture (PPSA). PPSA improves the size, cost, efficiency, flexibility and reliability of electronic power converters. PPSA can scale across several large and growing markets, including PV generation, vehicle charging and commercial grid storage. There are currently five products with plans for more in 2017.
What's New?
In 2016, Ideal Power Inc. debuted the SunDial string inverter, which includes an optional bi-directional third port for direct integration of solar with energy storage during initial installation or any time in the future. The SunDial is a compact, fully isolated PV string inverter with an integrated PV combiner, disconnects and a built-in MPPT. It also features an optional plug-and-play bi-directional DC port kit.
The initial SunDial product is a 30-kW system based on Ideal Power's PPSA with 1,000-V max PV DC input and 480-V, three-phase output. It is the first in a planned family of field-upgradable SunDial PV string inverters. An important new feature of the SunDial system will be a newly designed AC link providing true galvanic isolation from the AC to the DC ports, enabling PV installations to be either grounded or true floating.
www.idealpower.com

---
O
utBack Power
OutBack Power has been a leading producer of power electronics for battery-based PV systems since its founding in 2001 in Arlington, Wash., by some of the early pioneers of solar inverters. Today, OutBack Power offers a broad product line including grid/hybrid inverters designed to work with energy storage, charge controllers, batteries, accessories and complete pre-wired systems.
As a member of the Alpha Group, OutBack is part of and can leverage a global organization that serves backup, renewable and remote power customers from individual households to household-name media and communications companies all over the world.
What's New?
Perhaps the company's most meaningful recent innovation isn't actually an inverter, but rather a complete pre-wired system that streamlines the sale and installation of battery-based PV. OutBack's staple pre-wired FLEXpower products, which combine inverters, charge controllers and BOS, came as a result of customers who asked for pre-configured systems. But the new SystemEdge line includes batteries and enclosures in one SKU, so installers can sell, order and install a complete energy storage backup or off-grid system without spending hours designing, getting quotes and worrying about whether all the parts will fit together. It ships on two pallets and takes half the time to setup, install and commission. There are several systems to choose from, each optimized for a particular application and size of home or building.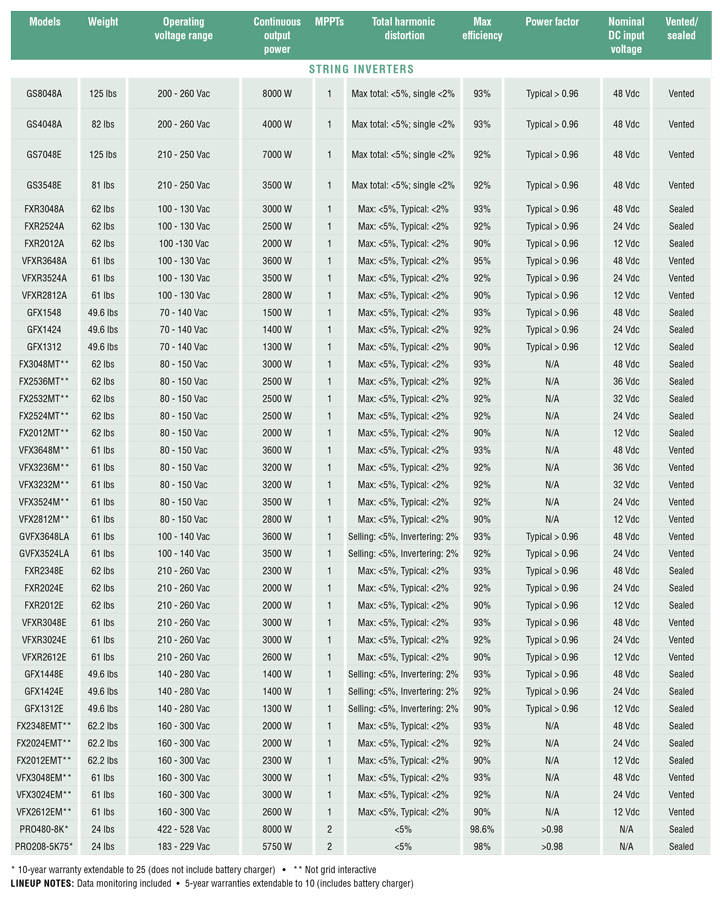 Advice to Buyers
"Be sure to work with a licensed, reputable installer when installing any PV or battery system," says Paul Dailey, director of product management. "It's simply not safe to DIY high-voltage power electronics and a good installer will ensure that your system operates safely and reliably. If you're going to connect to the grid, you'll need a licensed electrical contractor to finalize it all anyway."
---
Pika Energy
Pika Energy is a U.S.-based manufacturer with corporate headquarters in Portland, Maine, and manufacturing in Billerica, Mass. Founded in 2010 by engineers trained at the Massachusetts Institute of Technology, Pika Energy's innovative power electronics include solar inverters, DC power converters and OEM components. The company is named in honor of the American Pika, a small rabbit-like animal that is currently endangered due to the effects of global climate change.
Pika Energy's products are powered by the patented REbus Nanogrid, which puts power transmission on the same wires as communication and smart control, resulting in an automated plug-and-play platform for clean energy. Pika Energy devices are fast and simple to install and commission and offer extremely high roundtrip efficiency to maximize the customer's lifetime energy yield and cost savings.
What's New?
Pika's latest generation of products, the Pika Energy Island, uses a single transformerless grid-tie inverter to provide future-ready solar with automated islanding capability and optional plug-and-play battery integration. The Pika Energy Island system is available in single-phase 7.6-kW and three-phase 11.4-kW models.

Advice to Buyers
"Technologies that are inherently simple in their design and don't turn into a science project on installation day will ultimately result in happier customers and many years of successful, hands-off performance," says Chip Means, director of sales development, Pika Energy. "Whatever solar energy solutions you're considering, ensure they are backed by a strong company with a commitment to technical and sales support."
---
Tabuchi America
Established in 1925, Tabuchi Electric Co., Ltd. has a long history of manufacturing power electronics. Widely known for manufacturing power supply units and transformers, Tabuchi Electric combined its knowledge of manufacturing and power electronics to develop PV inverters in 1995. Tabuchi has since manufactured more than 1 million solar inverters, making it one of the world's oldest manufacturers of grid-tied inverters.
After experiencing unprecedented growth in sales following the Fukushima nuclear disaster, Tabuchi Electric decided to delve into the North American solar market with its hybrid residential solar-plus-storage inverter and multi-MPPT commercial inverters.
Tabuchi America provides grid-friendly solar solutions with the long-term goal of driving energy independence and improving grid reliability.
What's New?
In 2015, Tabuchi America launched its first-generation, hybrid DC-coupled, residential solar-plus-storage inverter that incorporated a 5.5-kW solar inverter and 9.89-kWh lithium-ion storage battery. Known as EIBS (Eco Intelligent Battery System), this unit was built from the ground up. The multi-MPPT unit allowed owners to maximize solar production and energy use, while also providing energy storage for backup purposes or to offset time-of-use rates. Tabuchi America's aim was to provide a grid-friendly all-in-one residential solar-plus-storage solution that allowed homeowners to maximize their solar investment while driving energy independence and improving grid-stability over the long term.
Using its first generation model as a base and incorporating lessons learned from its initial installations, Tabuchi America presents the next generation of EIBS with a two li-ion storage battery option that provides more storage and increased backup capacity (continuous discharge of 4.0 kW with two batteries). This translates into more savings and energy stability for homeowners.
sales@tabuchiamerica.com
www.tabuchiamerica.com
The 2018 version is now available to download for FREE here.
Last page: commercial string and a few central inverter options