Inverters are the brains of the PV system, and if you want to tease out this metaphor (and I do), the comparison is deeper than just "the part that does the thinking." Really, looking at the latest studies in neuroscience, you could flip the cliché — brains are maybe the inverters of the human body. They are malleable and capable of change (system updates). Concussion research has shown frailties in their design (failure rates). A sleep-deprived brain leads to reduced performance (importance of O&M). And so on.
We don't really know everything going on in our brains, but inverter manufacturers have all the details on the innards of their products, so we thought it might be handy to corral them all in one place. In this 2017 Inverter Buyer's Guide, we reached out to every inverter manufacturer to provide us with some key numbers, info on their newest technology and a little advice for buyers.
Sure, inverters fail more than brains do (maybe debatable), but brains don't have manuals, customer service lines or warranties. So, take advantage of the choice in the market place and choose the inverter and accompanying service solutions that work best for you and your customers.
---
Page 1: Mostly module-level solutions
APsystems
APsystems was founded in 2009 and is one of the largest microinverter and MLPE solution providers in the world. APsystems serves customers in more than 70 countries through three global business units operating in: Seattle for the Americas region; Lyon, France, for the EMEA region; and Jiaxing, China, for the APAC region. APsystems has hundreds of thousands of units installed around the globe producing over 130 GWh of energy.
APsystems offers installers intelligent, affordable microinverter solutions, plug-and-power features and hassle-free installation. APsystems was the first to offer a dual-module microinverter, the YC500, and then was the first to offer a true three-phase, four-module microinverter for commercial applications, the YC1000. Overall, APsystems microinverters have about 30 percent fewer components than competing brands, which leads to higher reliability and lower costs.

What's New?
APsystems extends its advanced microinverter line with the new YC500i with EnergyMax power handling and integrated ground. This EnergyMax technology allows the dual-module unit to produce 274 watts peak output per side (548 watts total), which is nearly a 10 percent increase in peak power output over conventional microinverters and crucial for harvesting the power of today's high-output PV modules.
The YC500i microinverter builds on the same advanced, FPGA chip-based platform as the popular YC500A flagship model. The YC500i utilizes a trunk cable, offering installers an alternative to the daisy-chain design of APsystems' YC500A microinverters. This provides a solution for installers who favor trunk cable architecture as well as markets where regulatory bodies prefer an integrated ground.
Advice to Buyers
"When considering inverter solutions, be sure to compare warranties and ask questions about LCOE, determine which solutions will produce the most energy over the life of the system, ask about safety considerations like arc-fault protection and rapid shutdown compliance, consider product reliability and ask about module-level energy monitoring so you can see what each panel is producing," says Christopher Barrett, APsystems director of engineering and Technical Services.
---
D
arfon Solar 
Darfon Solar is a division of Darfon Electronics Corp., founded in 1997, and is the world's leading notebook keyboard and power supply manufacturer with 11 factories and subsidiaries and more than 16,000 employees worldwide. Utilizing its power supply and integrated material expertise, Darfon manufactures off-grid, hybrid and micro inverters, as well as energy storage solutions and a microinverter installation solution. Darfon has more than 10 MW of its products installed worldwide.
What's New?
The G320 is Darfon's latest microinverter, capable of handling up to 350 Wdc of power. It offers great flexibility with an operating voltage range of 22 to 60 Vdc and an MPPT range of 24 to 45 Vdc, allowing the use of high-voltage 60- or 72-cell modules. The G320 comes in 208, 240 or 277 (for 480-V three-phase) grid-tied voltages, making the microinverter flexible enough to use in residential, commercial or utility designs.
The G320 offers the increased safety of microinverters but with even more reliability. The G320 features a redundant capacitor design that continues working even if the electrolytic capacitors have problems over time. The G320 also carries an efficiency rating that qualifies for rebates throughout the country. The G320 can also be tied to 10-gauge trunk cables for 30A circuits. This allows more modules on each circuit, a reduction in the number of circuits and a lower BOS cost on larger systems. Finally, Darfon's G320 comes with a 25-year warranty in the United States.
Advice to Buyers
"Check the design of the PV system and make sure it matches the inverter specifications," says Frank O'Young, associate VP for Darfon. "Many people overdesign a PV system with higher voltages and more power than the inverter can handle. Using solar panels with higher voltages than the inverter can handle may result in damaging or burning out the inverter. Using solar panels with higher power output than the inverter can handle will not likely damage the inverter, but it is not cost efficient because you only capture the energy the inverter can handle, not the total energy available."
---
E
nphase Energy 
Enphase Energy, based in Petaluma, Calif., is a global energy technology company focused on bringing smart, connected solar energy to every home, business and community. The company delivers simple energy management solutions that advance the worldwide potential of renewable energy. Enphase has shipped approximately 13 million microinverters, and monitors more than 540,000 Enphase residential and commercial systems have been deployed in more than 100 countries.
What's New?
The Enphase IQ Microinverter System provides substantial benefits. The Enphase IQ 6+ Micro that supports 60- and 72-cell modules up to 400 Wdc and the Enphase IQ 6 Micro that pairs with 60-cell modules up to 330 Wdc. They are 30 percent lighter than Enphase S-Series microinverters and 40 percent lighter than other microinverters on the market today, partly due to their double insulated, corrosion-free polymeric enclosure. Both offer 97 percent average CEC efficiency.
The two-wire Enphase Q Cable is 50 percent lighter than the previous generation of Enphase trunk cable; the Enphase Q Aggregator offers simple plug-and-play connections for up to three branches on the roof, or the Enphase Q Combiner provides further installation and commissioning efficiency. The Enphase Home Energy Solution with IQ uses a single technology platform for seamless management of the whole solution.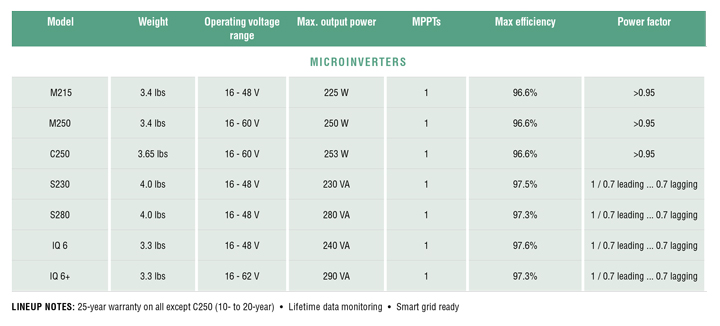 Advice to Buyers
"It's always important to think of solar as a long-term investment. What's going to give you the greatest return over time?" asks Tefford Reed, senior director of the microinverter line. "When considering an inverter for your system, the two most important variables should be reliability and long-term operability. You would the think the two would be synonymous but not so. PV systems are long-term investments and a reliably manufactured inverter is just as critical as an inverter that will be able to accommodate any changes to grid environment."
---
H
iQ Solar 
HiQ Solar is an indigenous string inverter company, a rare thing in the United States. The Silicon Valley-based startup focuses on an underserved, but relatively large, niche — the U.S. commercial rooftop and carport segment. Founded in 2009, HiQ has shipped over 40 MW of its TrueString product line.
What's New?
HiQ has the only string inverter designed to mount under the PV array, making it perfect for commercial rooftops, carports and trackers. The NEMA6 construction and ability to take unequal string lengths makes it a problem solver for difficult installs. The lack of fans or air filters means it requires no maintenance, and at 24 lbs one customer called it "the backpack inverter" because of how easy it was for one person to get them onto a rooftop. The unique combination of features led to it winning the Global Energy News Innovation Award.
Advice to Buyers
"Check that the environmental rating of the inverter matches the climate of the location of the install. For example, you probably wouldn't want to use a NEMA3R inverter in a coastal environment," says Marv Dargatz with HiQ Solar. "People often use terminal blocks for paralleling strings. However, terminal blocks are listed for the number of wires they can accommodate, and many are for one wire. Check the listing to make sure the product is approved for the number of strings you intend to parallel. The TrueString is unique in that it's a three-phase commercial inverter that doesn't need paralleling."

---
S

olarEdge
Founded in 2006, SolarEdge, a global PV inverter company, has a versatile lineup of products — including inverters, power optimizers, storage and smart energy management solutions and a cloud-based monitoring platform — that address a broad range of solar market segments, from residential solar installations to commercial and small utility-scale solar installations. The SolarEdge DC optimized inverter solution maximizes power generation at the module level while lowering the cost of energy produced by the solar PV system. SolarEdge has shipped 3.8 GW of systems, and over 265,000 systems are monitored in 100 countries.
What's New?
SolarEdge's HD-Wave inverter uses a novel power conversion topology that significantly decreases inverter size and weight while achieving record efficiency. In fact, SolarEdge won the 2016 Intersolar Award for its new power conversion technology that uses distributed switching and a powerful digital signal processor to create a cleaner sine wave and generate less heat. This technology increases conversion efficiency to a record breaking 99 percent while decreasing product weight by half compared to traditional string inverters. These power packed inverters are designed for reliability through the use of thin film capacitors instead of traditional electrolytic capacitors. HD-Wave inverters offer users greater flexibility through higher DC/AC oversizing (up to 155 percent) and longer string lengths — almost two times longer than traditional inverters (up to 6,000 watts on 7.6-kW model).

Advice to Buyers
"When selecting a PV system, frequently the upfront cost of the system is the determining factor regarding which solution to choose. However, it is important to take into consideration the lifetime value of a system," says Lior Handelsman, founder and VP of marketing and product strategy at SolarEdge. "Factors that can impact lifetime value include safety features, length of warranties, system uptime, monitoring and future compatibility with storage and smart home solutions. Decisions should not only be based on how much it costs but also include how much value the system can provide throughout its 25-year lifetime."
The 2018 version is now available to download for FREE here.
On the next page, residential string inverters and solar+storage friendly systems
Listen to more in-depth conversations on Solar Builder's YouTube channel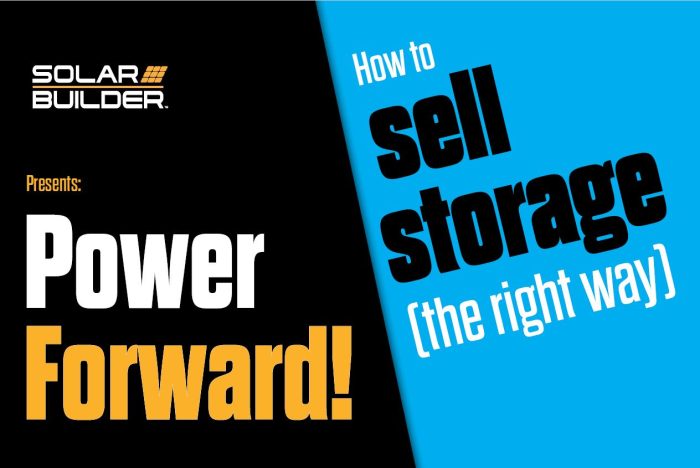 Our most popular series include:

Power Forward! | A collaboration with BayWa r.e. to discuss higher level industry topics.
The Buzz | Where we give our 2 cents per kWh on the residential solar market.
The Pitch | Discussions with solar manufacturers about their new technology and ideas.
Tags:
2017 March/April Print Issue
,
Buyer's Guide