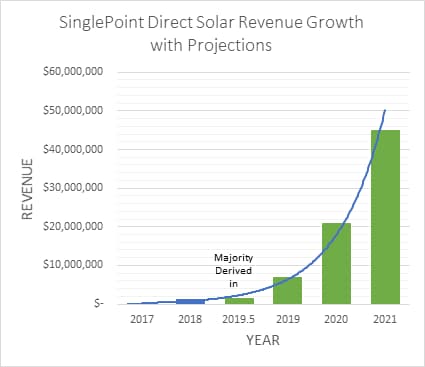 SinglePoint says Direct Solar has surpassed its expectations by signing contracts to deploy more than $1.7 million in solar installs over the past 30 days and adding up to a two-month total of nearly $3.5 million in contracts. Now that these are in contract they will move to the next phase in planning and installation. The company says most of the revenue derived from these contracts will be recognized throughout the third and fourth quarter.
The previous 30 days should generate approximately $884,117 in gross and $396,159 in net.
Currently Direct Solar is operational in eight states and continues to expand its residential solar footprint with murmurs that financing companies have approached the company to start a commercial financing division too. In fact, the first financing contract was signed last week and now the company will offer renewable energy options to commercial operations and have the ability to finance these larger scale projects.
SinglePoint, Inc. is a technology and acquisition company with a focus on acquiring companies that will benefit from the injection of growth capital and technology integration. The company portfolio includes mobile payments, ancillary cannabis services, blockchain solutions and renewable energies.
A subsidiary of SinglePoint, Direct Solar America is a solar energy brokerage focused finding and installing "the best available solar energy system for any building residential or commercial for no money down, no cost for an estimate."
More details on Direct Solar's plans
Direct Solar enables residential solar customers to shop their options in order to find the best option for the home. Similar to Rocket Mortgage or Lending Tree, Direct Solar representatives are able to provide homeowners with a variety of financing and service providers. This has made the process of buying solar much easier for homeowners which has led to a quick increase in the company's overall growth. After only 60 days the company has contracted more than $3,000,000 in residential solar contracts.
"The traction we have experienced so far has been amazing. We are thrilled for the achievements we have accomplished and are looking forward to continually improving. We are now exploring ways to generate additional sales through innovative marketing strategies. I'm confident we will hit $15,000,000 in 2020," states Pablo Diaz CEO Founder of Direct Solar.
Direct Solar provides a unique solution for lenders, building owners, and management. For lenders, Direct Solar is providing vetted projects with vetted services providers. Lenders simply provide Direct Solar their list of requirements in order to fund a project and receive only those fitting within that scope. For commercial customers, Direct Solar provides a one-stop shop in which businesses can apply for and receive financing for their project once approved.
Direct Solar has built processes to scale the company quickly, vet new opportunities and move on those that make sense without sacrificing the company's core offering. With dozens of reps covering eight states, Direct Solar is quickly becoming a leader in the space. The solar brokerage model has quickly proven itself to be a major need in the market.
Always innovating, SinglePoint and Direct Solar are exploring ways to streamline the purchase even further. The companies are currently working on an application that would enable customers to shop their solar online and get a quote. From there the customer could schedule a site visit to finalize the purchase. Through education, technology and customer service, Direct Solar looks to lead the next wave of renewable energy solutions.