The AC module combines a powerful solar panel with a microinverter, joining both pieces at the factory and selling it as one. Instead of solely being a microinverter manufacturer, SolarBridge Technologies sees itself as an AC module enabler.
AC modules are a simple and attractive option for the residential solar market, and their quick adoption could help promote rapid residential growth. When discussing the potential impact solar can have on the homeowning market with individuals at companies like SolarBridge Technologies — a manufacturer of AC module technology — you can hear the initial frustration with the slow-moving adoption rate of solar but then the excitement of what simpler technology could bring.
"There are about 200,000 [U.S.] homes that have put solar on their roofs compared to the total population of nearly 70 million single family homes. It's really the tip of the iceberg," says Craig Lawrence, vice president of marketing for SolarBridge. "Our belief is that to grow this market to its potential, an enormous workforce of solar contractors need to be trained, and that AC modules represent the most simple, safe, and effective means to mobilize that workforce."
Using microinverters to quickly switch DC power over to AC at the panel level isn't a foreign concept. But integrating that microinverter directly with the module and offering it as one product is becoming more of the norm, thanks to companies like SolarBridge.
BUILDING PARTNERSHIPS
The idea for SolarBridge Technologies was born in 2004 when University of Illinois at Urbana-Champaign professors and researchers started commercializing power electronics products. The team packed up and moved to Austin, Texas, and decided to focus exclusively on solar and microinverters in 2008, and that's when things started to take off. The company today has about 85 employees and continues to have a close R&D relationship with the university.
SolarBridge produces the Pantheon microinverter (now on its second generation) and monitoring system but partners directly with module manufacturers to offer customers a full package with one extended warranty. Modules usually have much longer warranties than inverters, so to have a microinverter on the same level as the module, an all-encompassing warranty is an ideal situation for the end-customer.
"Modules are robust and reliable devices, with a greater than 25-year life expectancy," Lawrence says. "For a module manufacturer to integrate a microinverter on their panel and include it in their warranty, we need to prove to them that the microinverter can withstand the same harsh conditions that their modules are designed to handle. We have proven that to every module manufacturer we have partnered with."
SolarBridge tests its inverters to the same standards as modules — something that is not required for certification. This extra step by SolarBridge ensures its partner companies (SolarBridge boasts eight partnerships, including SunPower and MAGE Solar) that the Pantheon microinverter is the real deal.
"Our competitors focus on selling a detached microinverter; the reason is we don't think their product has the reliability needed to make it onto an AC module," Lawrence says. Having a single warranty for the panels, microinverter and cabling is considerably more valuable to project owners.
"There's nothing stopping other microinverter companies from hooking up with panel manufacturers to produce AC systems, but SolarBridge's lengthy warranty really sets them apart," says Terence Parker, applications engineering manager. "We're passionate about reliability. We redesigned the inverter and put it through extensive reliability testing before we decided we could offer a 25-year warranty."
INSTALLER-FRIENDLY
St. Louis-based contractor StraightUp Solar has installed more than 2 MW of solar power systems around the great Gateway Arch in the last six years. In 2012, StraightUp started installing SunPower modules with the SolarBridge technology.
"We continue to install DC systems; however, many customers choose and enjoy the benefits of AC," says StraightUp President Dane Glueck. "Our goal is to optimize the customer's goals and provide a solar array that maximizes their investment over the long term. This means providing a solar array that is designed with their input and goals, that maximizes their usable solar space and meets their financial parameters. SolarBridge's AC technology allows us more freedom to customize the design and feel good that we're offering a dependable product that maximizes solar production."
Homeowners get the usual microinverter-related benefits from an AC system — better production when shading and location are issues — but the real difference in an AC system is for the installer. There is no exposure to any shock hazard, a greater speed on roof installation because of integrated grounding and cabling and a quicker commission.
"This product, this AC module, was an inevitable milestone that had to be obtained for the PV industry," Parker says. "High voltage DC systems turned a lot of well-trained electricians off. It really took the roofers completely out of the game. You really need experience to put in these high voltage DC systems that dominate the industry today."
A standard AC module system runs on 240 volts, which is a safer alternative than DC systems and easier for the average electrician to understand.
"These systems are more familiar to inspectors. They're more common as far as the components that go with them — besides the panels, these parts can be found at Home Depot," Parker says. "It is the new installation paradigm. It's a new product that will allow more homebuilders, electricians [and] roofing trades to get into this business and start saturating, making the dream of distributed generation come true."
No specialized training is needed in string size and design. An average electrician already has enough knowledge to install an AC module.
"You wire these up as you would any other AC appliance in your home — an oven or a dryer," Lawrence says. "If you want to go from 200,000 homes to 2 million homes, think of the number of installers and system designers that are going to need to be trained. They'll want to be trained on this solution because they already know how to do it. There are very little new, specialized skills. An AC module is a true appliance — it's designed to plug into standard home wiring as anything else."
ROOM TO GROW
Once more homeowners and installers are shown that difficult solar plans are made easier with the AC module, SolarBridge believes there will be a shift in AC vs. DC acceptance. StraightUp Solar is spearheading that effort in St. Louis.
"We're primarily utilizing AC modules on small and larger residential projects ranging from 2 to 10 kW," Glueck says. "We, and our customers, really believe that this is where the AC systems provide the best combination of benefits: freedom in system design, mitigating shade, maximizing production and sharing the data on the benefits of the solar production via the web-based monitoring systems."
As in all residential solar systems, the upfront costs are surprising, but in the case of ACPV, long-term considerations are more important. String inverters usually have to be replaced over the life of the system, while a microinverter keeps on kicking. And with SolarBridge's warranty guarantee, that's a promise. Also, BOS costs (like wiring and conduit) are reduced with a pre-assembled AC module system, as is installation time and energy.
"Consider this: Your SUV provides you a service. It takes the kids to school, you drive it on vacation. But it's just going to continue to suck money throughout its entire life," Parker says. "With a solar system, eventually it will have paid for its capital costs and start making you money. It truly does have a payback period. It's good for family cash flow. It's good for that monthly bill reduction. And it's safe — a mother can feel safe that the [AC] solar system on the roof is very similar to every other electrical system in the home.
"I feel very confident and bullish about why these systems will begin to dominate the markets."
Listen to more in-depth conversations on Solar Builder's YouTube channel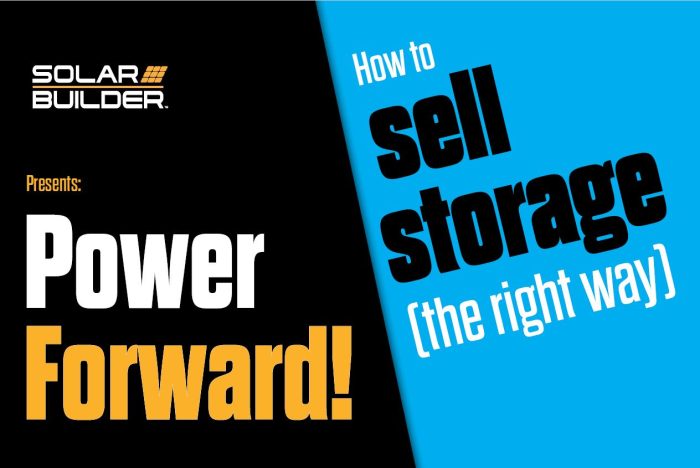 Our most popular series include:

Power Forward! | A collaboration with BayWa r.e. to discuss higher level industry topics.
The Buzz | Where we give our 2 cents per kWh on the residential solar market.
The Pitch | Discussions with solar manufacturers about their new technology and ideas.
Tags:
inverters