Solar Power International will be in Las Vegas, Oct. 20-23, 2014. Visit Solar Builder at Booth 1740!
Advanced Energy
The AE 3TL Horizontal Mounting Kit provides a compact and cost-effective means to install AE 3TL string inverters in a horizontal orientation — an option essential for complying with NEC 2014 Rapid Shut Down requirements by enabling a low-profile installation at the edge of the solar array. The kit enables the 3TL to be installed in direct sun, rain and snow, at a range of angles from horizontal up to a 30° tilt from horizontal. It also facilitates more profitable system designs by eliminating shading setbacks for inverters, thus in most cases enabling the installation of additional panels. It also includes a sun shade, two low-power cooling fans and a base assembly. Booth 551
Advanced Racking Solutions
Advanced Racking Solutions offers low-weight, tilted mounting solutions for all metal roof profiles. The weight of a VICERACK/VICERAIL system (including solar modules) is less than 2 psf and is designed for inclinations of up to 30°. Engineered design allows for arrays to be installed either square or skewed to the roof on both the north and south facing slopes. Analyzed by several pre-engineered building supply companies, racking systems are configured to avoid additional snow accumulation and won't increase wind loading on the building. The rear-vented design results in lower operating temperatures and improved yield. Access is available to all modules for maintenance. Booth 2064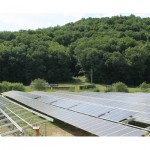 AET
AET (Applied Energy Technologies) recently launched its Rayport-G ECO ground mounting system. The Rayport-G ECO is quickly becoming an industry standard for developers and EPCs looking for a high-quality system that is easy to install and available at a competitive price point. The Rayport-G ECO has been engineered for strength and durability, and is lightweight and compact, reducing freight costs and allowing for easier handling onsite. The Rayport-G ECO has achieved UL-2703 listing and fits all solar panels available on the market. Booth 2327
Array Technologies Inc.
What do you get when a leader in solar tracking solutions combines years of field experience with cutting-edge innovation? An industry-changing product evolution that will transform the way site developers and EPCs look at solar tracking. With more than 2 GW of product shipped and installed across the globe, Array Technologies Inc. (ATI) is a global leader of solar tracking and racking solutions. ATI's flagship product, the DuraTrack HZ single-axis solar tracker, has been redesigned in order to further reduce installed cost, increase power density, accelerate installation and reduce maintenance requirements — enabling a highly competitive LCOE for solar projects at a time when the industry needs it most. Booth 1042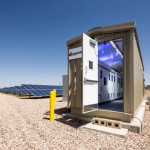 Bonfiglioli
Bonfiglioli designs and manufactures hi-tech power conversion systems and turn-key skid enclosures for utility-scale PV power plants. Its fully integrated solution, with power ratings from 375 to 1,575 kWac, is delivered ready for easy installation. With a modular architecture that guarantees increased energy efficiency, the RPS TL-UL inverter offers a unique solution with excellent reliability for the North American market — consistent with the performance of its European version — with more than 2 GW installed worldwide. Bonfiglioli guarantees local service and support, warranties up to 20 years, up-time guarantee up to 99% of power conversion and lower balance of system costs. Booth 542
CertainTeed
Apollo II is a next generation solar roofing system featuring integrated PV panels that combine greater efficiency and improved aesthetics with easier wiring installation. Featuring 54-watt monocrystalline panels, it is lightweight, durable, resistant to wind uplift and can easily be integrated into either an existing roof or with the installation of a new roof with asphalt shingles for a clean, seamless appearance not found with rack-mounted systems. Each slim, 12-lb module features 14 high-efficiency monocrystalline silicon solar cells. It does not require structural reinforcement or evaluation, and the sleek black frame, cells and backsheet visually blend with surrounding shingles. Booth 1266
Eaton
Eaton is showcasing its complete range of electrical BOS solutions designed to maximize energy harvest, improve system reliability and enhance safety in utility and commercial applications. Attendees can learn how Eaton's Power Xpert energy storage grid-tied inverter and direct-coupled transformer help increase electrical resiliency in large commercial and utility-scale grid-connect applications, working with a wide variety of battery chemistries to offer high performance energy storage and conversion. Eaton is also promoting the capabilities of its 1,000-Vdc solar switchboards, which incorporate UL-listed DC circuit breakers to provide a means of disconnect and overcurrent protection in a single, convenient enclosure. Booth 536
Ecolibrium Solar
The PV installation professionals tested EcoFoot2, helped Ecolibrium Solar find ways to make it better, and the result is EcoFoot2+. There are only three main components: the foot, deflector and preassembled universal clamp. The reduced part count plus preassembled clamps yield a more streamlined installation with less attachments and more flexibility. Ecolibrium Solar continues to seek the equilibrium between what is economically competitive, ecologically conscious and where innovation can be used to insure integrity. The company is proud to announce its newest addition, EcoFoot2+. Booth 2545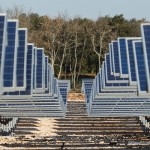 Exosun
Exosun's Exotrack HZ is a horizontal single-axis tracker that boosts plant output by up to 25% in comparison to fixed-tilt installations. Operators can now further optimize Exotrack HZ-equipped solar plants by implementing Exosun's unique backtracking program, called SMARTracking. Going beyond simple backtracking — shifting tables' positions in order to avoid panel on panel shading during periods of low solar height, like the early morning and late afternoon — SMARTracking takes into account a plant's field irregularities (3D site topography) to achieve maximum system performance. Enjoy up to 5% more power output annually, compared to standard single-axis trackers, with this unique patented and third-party validated backtracking approach. Booth 4906
HatiCon Solar
HatiCon Solar introduces the alLite ballasted flat roof system. The modular and wind tunnel tested design requires no on-site fabrication for easy assembly. The alLite in portrait orientation achieves higher panel density and optimal power generation. HatiCon Solar offers a range of high-quality mounting solutions. HatiCon Solar's products are built from long lasting, lightweight, noncorrosive aluminum. Patented click technology and universal preassembled parts saves time and money. Mounting solutions for pitched roof, flat/low slope roof and ground mount installations can withstand the harshest conditions. HatiCon Solar's exceptional products and service provide a simpler, faster and better solar PV mounting solution. Booth 2515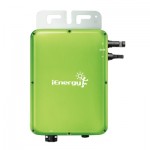 i-Energy
Founded in 2009, i-Energy specializes in design, development and distribution of microinverters. i-Energy has successfully launched its first generation of microinverter model GT260 in Europe, Mexico, Australia and Japan. After a year's field experience and customer feedback, i-Energy offers a new model: the GT260. GT260 offers true plug-and-play installation with a fully-integrated cable/connector, allowing for lower BOS costs. The i-Energy microinverter can be used with both 60- and 72-cell PV panels. The GT260 has 20% greater heat dissipation ability which further enhances its long term reliability. Standard package includes a pre-packaged AC cable which offers a detachable feature, resulting in even more flexibility. Booth TBA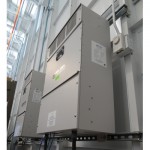 Ideal Power
Ideal Power introduces its award-winning three-port 30-kW Hybrid Converter for off-grid, grid-tied and grid-resilient applications. The Hybrid Converter uses Ideal Power's patented Power Packet Switching Architecture (PPSA), enabling integration of solar PV inverter functions on one DC port and bi-directional battery converter functions on the second DC port, while a third AC port supports both grid-tied and microgrid applications. The DC port functionality is software-defined, enabling integration of other power sources including diesel gensets, EV charging infrastructure or DC microgrids. Ideal Power estimates that its Hybrid Converter will reduce the size and weight of microgrid power electronics that integrate PV and storage by 90%. Booth 2658
IronRidge
IronRidge expanded its XR Rail Family to include three new rail sizes, all featuring the company's signature curved profile. The new offering empowers solar designers to improve solar mounting system performance while reducing cost by as much as 15 to 20%. In addition, IronRidge introduced a number of new accessories, including Slotted L-Feet and T-bolt Grounding Lugs, as well as an upgrade of its web-based Design Assistant that supports ASCE 7-10. Booth 2109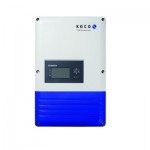 KACO new energy
KACO new energy will be offering a new line of residential, transformerless inverters in 2014. The new product line will offer optional integrated AFCI, multiple MPPT channels, integrated revenue grade monitoring, disconnection means and over-current protection. The TL1 will communicate via Modbus TCP/IP and is SunSpec-compliant for third party monitoring services. The efficiency expectations will be set at 97% and the broad operating range will translate to maximum design flexibility for this offering. Booth 818
Mounting Systems Inc.
MSI will show its new, ballasted Lambda Light S+ (LLI S+) and Lambda Light EW+ (LLI EW+) products for commercial, flat roof PV arrays. LLI S+ is a light-weight, highly economical flat roof system. The south-facing LLI S+ is engineered to minimize parts count and fast, easy assembly and installation. The LLI EW+ (pictured) is an East-West oriented system with numerous performance and grid-integration advantages, especially for array sites in the lower latitude regions. Extensive component preassembly contributes to the products' installation speed and cost-effectiveness. Both products are fully wind-tunnel tested. Module tilt angles of 10° or 15° for either system are user-selectable. Booth 3106
OMG Roofing Products
PowerGrip Plus, from OMG Roofing Products, is watertight, easy-to-install, provides a secure connection directly to the roof deck. Once heat-welded in place, properly installed PowerGrip Plus units can help to eliminate rack movement that can damage commercial roofing systems. With 2,000 lbs of tensile strength and 1,075 lbs of shear strength, PowerGrip Plus is designed for use with ballasted solar racks as well as other rooftop equipment on roofs covered with thermoplastic (TPO and PVC) roofing membranes including pipe supports, crossovers, electrical conduit, satellite dishes, HVAC equipment and more. Booth 2460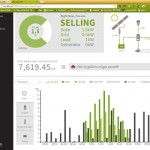 OutBack Power Technologies
OutBack Power Technologies Inc. will showcase OPTICS RE, a new cloud-based system monitoring and control application, as well as its latest Radian inverters at Solar Power International. OPTICS RE provides installers and owners of OutBack systems the ability to easily track PV/solar system operation, performance and output via an intuitive dashboard from any Internet-enabled device in real time. Paired with OutBack's newest Radian inverters — which feature GridZero technology and Advanced Battery Charging for compatibility with any future or existing utility energy scenario — OPTICS RE gives installers more control over their renewable energy production and higher returns on their system investments. Booth 2312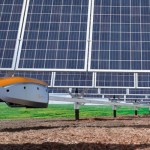 QBotix
The QBotix Robotic Tracking System (RTS) is an optimized PV tracker that produces up to 15% more energy than single-axis trackers and up to 45% more than fixed-tilt systems. Engineered to withstand harsh conditions and challenging topographies, the RTS employs two rugged, mobile robots per block of up to 378 kW with high accuracy, reliability and redundancy. Each robot travels on a rail through a loop of up to 225 trackers of five to six modules and adjusts the azimuth and elevation. Compatible with all standard components and processes, the RTS delivers savings of up to 20%, high system level reliability and installation flexibility for the commercial and utility-scale solar sectors. Booth 4306
Quick Mount PV
Quick Rack is a simple, cost-effective rail-free mounting system from Quick Mount PV. An integrated roof mount and racking system engineered to be robust and structurally sound, Quick Rack is fast and easy to install, requiring minimal tools. The system features integrated grounding, with just a single ground lug for up to 300 contiguous modules. Quick Rack also comes with proprietary design software, ensuring every solar array is accurately designed and code-compliant. Quick Rack features Quick Mount PV's quality and superior waterproofing with patented Elevated Water Seal technology. It has certified UL System Fire Class Rating A, for Type 1 modules. Booth 1412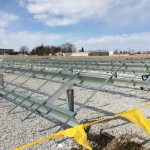 RBI Solar
Visit RBI Solar at SPI to explore architectural aspects of carport structures and the robustness of highly-engineered ground-mount solutions. Touch and experience the steadiness of RBI ground and carport racking solutions. A giant tablet can help you investigate all the possible solutions to your racking challenges. Talk to RBI project managers about the pre-assembly options and turnkey offerings. RBI engineers and designers will be on-site to answer any questions for ground, carports, roof and landfill racking structure. RBI Solar offers signed and sealed drawings for all 50 states, manufacturing at four state of the art facilities and nationwide installation. Booth 1400
Schletter
Meeting peak morning and evening power production demands is easily accomplished with Schletter's FS Uno-100 steel ground-mount system. Through extensive analysis and design, Schletter engineers developed a single post system that accommodates east-west module tables. Specifically designed to meet or exceed applicable IBC, ASCE and UL Standards, the FS Uno-100 uses 100% galvanized steel to meet the rugged demands of a ground mount installation. Regardless of the design specifications, the FS Uno-100 upholds the quality standards for which Schletter is known. The result is a steel solar mounting system designed to outlast the competition. Booth 506
SMA America
SMA America will unveil the Utility Power System, an integrated, compact DC-to-AC system solution for utility-scale PV power plants. It offers precisely synchronized components, including the new Sunny Central 2000-US inverter, medium-voltage transformer, DC combiners, corresponding plant control and support from the industry's top-ranked service team. Designed for use outdoors in all regions of the world, the SMA Utility Power System enables grid stability and maximized power production on a global scale. Its efficient design delivers higher energy yields while reducing capital and operating expenditures, resulting in a lower levelized cost of energy. Booth 524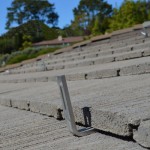 SnapNrack
SnapNrack continues to demonstrate its commitment to innovation by featuring a newly UL-2703 code compliant residential roof-mount system that includes Class A Fire Rating with Type 1 modules. In addition to showcasing the fully certified system with installation demos, SnapNrack will have its new Tile Roof Hooks on display. All of its products are specifically designed to make the jobs of installers easier while reducing the time and cost of installing solar. The SnapNrack team will share the latest information about its new UL Listed systems, wire management solutions and brand new accessories. Booth 3112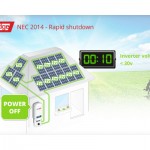 SolarEdge
SolarEdge recently announced an optional upgrade for its SafeDC architecture to include Rapid Shutdown functionality in accordance with section 690.12 of the NEC 2014 code. SolarEdge systems featuring Rapid Shutdown can de-energize PV source circuits from all sources to less than 30 V within 10 seconds. Rapid Shutdown functionality is available as an option in new SolarEdge inverters and is easily upgradable in existing installations, without the installation of any additional roof-mounted devices. Booth 1418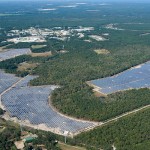 Solar FlexRack
Solar FlexRack offers a unique product line focused on maximizing labor savings on the jobsite. On display at Solar Power International will be the pre-assembled, unfolding design of the ground Series G3L, along with the Series TDL, a single-axis tracking solution designed to accommodate irregular terrain and challenging layouts. Solar FlexRack will have members of the field services team on hand to discuss the full suite of service offerings including installation, testing, design and support. Solar FlexRack is a division of Northern States Metals, a full-service manufacturer with more than 40 years of experience. Booth 1212
SolarMax
SolarMax has been a global manufacturer of grid-connected solar inverters for more than 20 years. The company's line of inverters include the RX A series, a central inverter that delivers output power of 500 kW or 600 kW to address the needs of large-scale solar farms. The RX A inverter consists of four independent power units, each with an independent, fast and precise MPP tracker. It also features independent DC wiring input, which eliminates the need for fuses and reduces BOS costs. The RX A delivers high efficiency and availability, as well as straightforward serviceability to lower lifetime costs. Booth 4514
Solar Roof Hook
SolarRoofHook.com, known for designing innovative products for mounting solar panels onto residential roofs, has a one-hook solution for tile roofs. The versatile 90°, 38-mm height adjustability of the hook resolves the following issues: tiles that were installed without batons; variance in tile thickness; and height adjustment. This product can be used on flat and Spanish (curved) tiles, and its adjustability allows flexibility for the installer. Booth 2228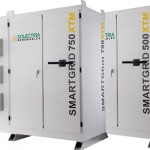 Solectria
Solectria Renewables is a U.S. based grid-tied PV inverter manufacturer. Its broad product offering includes inverters from 1.8 to 750 kW, combiners and web-based monitoring for residential, commercial and utility-scale solar systems. Solectria Renewables is backed by more than 25 years of power electronics and inverter experience. At Solar Power International, Solectria will showcase many of its products, including the SGI 500/750XTM (pictured) 1,000-Vdc, external transformer inverter and the PVI 23/28TL transformerless three-phase inverter with new options including a shade cover and DC/AC disconnect covers. Booth 842
Sollega
Sollega designs, tests and manufacturers solar mounting solutions serving the commercial flat-roof PV markets. Its patented FastRack510 (FR510) high efficiency solar racking system, is a one-piece injection molded, low profile solar mounting system made from durable lightweight Ultramid (glass reinforced nylon). It utilizes a UV inhibitor for durability and extended life. Our universal design enables the installation of nearly all framed PV modules. This ensures our clients can continue using their existing supply chains for modules. The system comes with a 5° and 10° low-slope mounting solution and 25-year warranty. Booth 1906
Spice Solar
Spice Solar technology makes installing rooftop solar modules faster and cheaper by integrating the racking into the frames of the modules themselves. With Built-In Racking, installers need 50% fewer parts on the roof, reducing equipment and labor costs on every job. Spice Solar-certified modules are manufactured at the factory by leading solar module companies and feature a specially-designed frame that is compatible with a wide range of industry-standard mounting brackets and flashings. Spice Solar components quickly connect and ground modules in both portrait and landscape orientations. Visit the Spice Solar booth at SPI for a live demo. Booth TBA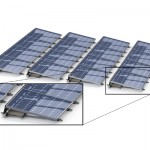 SunLink
Class A fire-rated Precision-Modular RMS is the newest addition to SunLink's quality engineered, aluminum Precision RMS roof-mount line. As with other Precision products, Precision-Modular integrates wire-management and features rubber feet that prevent metal from touching the roof, often eliminating the need for slip sheets. Feet also stack to easily deal with roof undulations. The system is connected north/south and east/west to better distribute loads and doesn't rely on the module frame as a structural element. The building block design is assembled, laid out and installed module-by-module to maximize layout flexibility, dramatically reduce costs through inventory and facilitate on-roof changes. Available for 60- and 72-cell modules and 10° tilt. Booth 318
TMEIC
The Solar Ware Samurai is an outdoor PV inverter with a stand-alone capacity of 1,667 kW. Its advanced hybrid cooling system offers fanless operation up to 50% load and maintains high reliability while reducing energy costs. Features: maximum 99% efficiency, 98.5% CEC; wide MPPT window, up to 950 V; and NEMA 3R outdoor enclosure. Utilizing TMEIC heat pipe technology, the inverter has the fewest moving parts of any inverter in the industry, says the company. This leads to high reliability and lowest overall cost of ownership. Booth 2727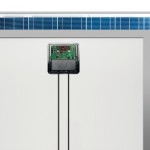 Trina Solar
Trinasmart modules incorporate innovative power electronics from Tigo Energy. It offers the maximum energy harvest through module level DC power optimization, the module-level diagnostics in real time and a reduction in arc, fire and safety hazards. By integrating the module optimizer into the junction box, it enables patented Smart Curve technology to allow up to 30% longer strings, which reduces the balance of the system cost significantly. Booth 823
Unirac
Unirac will proudly announce several enhancements to its SOLARMOUNT system designed to get installers on and off the roof faster than ever before. Components will be received by installers, pre-assembled and optimized to improve installation speed and reduce labor costs. It includes a new and improved bonding process and provides classification to UL-2703 for easy permitting. New accessories include a bonding microinverter mount with a wire management clip for a clean installation. Booth 306
Listen to more in-depth conversations on Solar Builder's YouTube channel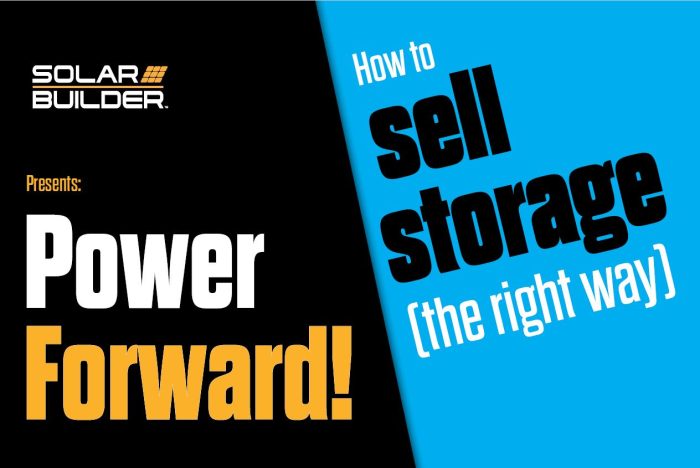 Our most popular series include:

Power Forward! | A collaboration with BayWa r.e. to discuss higher level industry topics.
The Buzz | Where we give our 2 cents per kWh on the residential solar market.
The Pitch | Discussions with solar manufacturers about their new technology and ideas.
Tags:
BOS
,
inverters
,
modules
,
mounting