Panel theft might not be the first concern when constructing a solar project, but system protection needs to seriously be considered to ensure the best rate of return.
As the number of solar installations grows, so does the threat of theft and burglary of the high-value solar panels. Both roof-mounts and ground-mounts are easy targets for thieves who want to make quick and easy money.
The large problem related with solar power projects is the slow return on investment. And with solar panels being a hot trend for theft because of their high value, their lack of protection and the issue with identifying stolen panels, protecting these long-term money-makers is a must.
The theft causes the panel owner to lose money twice — first, with the loss of generating power, which causes a delay on how quickly money is earned, and second, with the raised insurance rate or the purchase of replacement panels.
The best way to avoid these issues is to install a security system to identify any attempt of breaking into the solar farm or disassembling panels on the roof. Security systems must be reliable and withstand any weather condition.
RBtec Inc. develops, manufactures and installs electronic perimeter security systems, concentrating on high-risk infrastructure industries like airports, power plants, military bases and transportation terminals. The company is active in 26 countries and officially established a U.S. office in 2003. Originally focusing on replacing old sensor technology at correctional sites, RBtec has expanded in the United States to other industries, including the growing solar market.
"Building a PV power plant involves a large investment," says CEO Hezy Ribak. "Most PV power plants are installed in remote locations where land is available and cheap. PV panels are easy to install and remove, which makes them very attractive to thieves. All you need is two people and a truck to remove several panels and resell them in the open market."
RBtec manufactures two sensors ideal for the solar industry — the SL-3 and the IRONCLAD. A vibration sensor, like the SL-3, is great for ground-mount systems. It can be mounted on the fence surrounding a solar farm to detect an intrusion-attempt by cutting, climbing or lifting the fence. The system filters out any false alarms caused by weather with a standalone weather station that measures wind and rain and automatically changes sensitivity. The alarm system is monitored from a control center and can be integrated to a camera system in order to verify the alarms.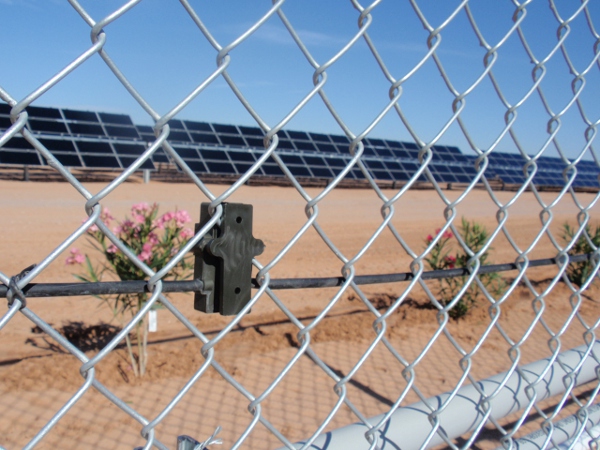 "The sensor cable is attached to the fence or gate," Ribak says. "Any attempt to climb or cut the fence will generate a vibration, which in turn will be detected by the sensor cable and transferred into the analyzer. The vibration is analyzed according to an algorithm to set an alarm."
Ideal for rooftops but also great for ground-mounts, RBtec offers the IRONCLAD sensor that is attached to the solar panel frames and would detect any attempt to take apart racking systems and panels. The sensor does not require any maintenance or calibration, and installation does not need any special equipment.
Ribak says not all security systems are efficient for the solar industry.
"One solution is to hook all of the individual solar panels through a sensor cable that only senses a cut of the cable. It lacks any detection of an intruder to the field and only senses when someone is already working on the panels," he says. The first step to good protection is alerting when someone enters the area, not when he or she is already in the process of stealing a panel and have a chance to get away.
"Other companies offer to install CCTV cameras around the perimeter," Ribak continues, "but the problem is that cameras don't see at night nearly as well as in the daylight. Or in morning fog, heavy rain or snow. These solutions are costly."
When considering installing a security system at a solar site, it is important to explore all avenues and choose something that works best in that environment. Installing vibration sensors on perimeter fencing is an easy route for protection, but if fencing is not an option, sensors mounted directly on the panels work well, too.
Listen to more in-depth conversations on Solar Builder's YouTube channel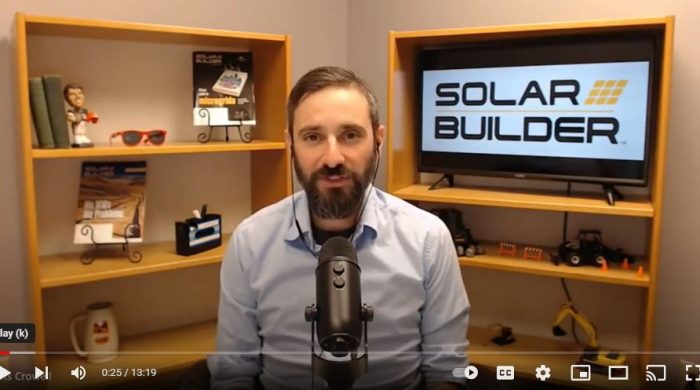 Our most popular series include:

Power Forward! | A collaboration with BayWa r.e. to discuss higher level industry topics.

The Pitch | Discussions with solar manufacturers about their new technology and ideas.