Solar power systems can be aesthetically pleasing for the end customer, something PHAT Energy encourages with its carport and canopy designs.
Almost everyone appreciates the benefits of solar power systems. Almost no one thinks they look attractive — especially residential installations that look like an afterthought on sloped rooftops.
PHAT Energy produces canopy structures that suspend, not support, solar modules, making the panel a focal point rather than an add-on. Formed in 2007, the company set out to be a force in the "off-the-roof" market, taking the idea of a ground-mount solution and turning it into an attractive canopy option that actually looked good from underneath.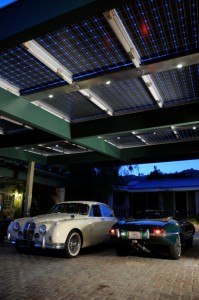 "Ultimately you're trying to create an attractive, architecturally sensitive structure with building blocks that are meant to be sitting on a roof but that are now going to be seen from below," says Philippe Hartley, CEO and general manager of PHAT Energy, based in Montrose, Calif. "We threw ourselves at this problem from a design standpoint understanding that the engineering issues would follow. Even though design follows function, once we identified the functionality which was that we wanted to create [living] environments not solar plants, then design received its marching orders."
The company's PHATport line of systems can be separated into two sections — the deck and the deck's suspension structure. The deck consists of the modules designed in two-by-three panel blocks. The suspension structure comes in two versions, the 200 and the 300. The 200 line is made with thick steel I-beams that are fit with thin concrete building boards. The structure can be painted how the customer wants and look like a wooden structure, but it's entirely fireproof. The 300 line is all-steel and comes pre-designed and pre-set. This line is great for stand-alone garden structures, awnings or bus stops.
Back in the early days of the company, PHAT Energy toyed with using wood for its structures, installing large beams. When it became obvious that wood wasn't the right choice — it didn't hide electrical elements well, it expands and contracts often, it catches fire too easily — steel and concrete became the main players. The structure itself is intended to last as long as the panels installed.
A large goal for the company was to manufacture a product that could be standardized and assembled quickly. That's where the decision came to separate the panel system from the canopy. The PHATport line of systems surround the key deck component, but can come with or without the support beams.
"Just as you would treat wallpaper as an asset to a room, we use the pattern of the cells as the fabric of the ceiling of the structure," Hartley says. "These decks are meant to suspend the panels rather than support them. If a designer doesn't like any of the structures that we built, they can still have our solution and have their structure look however they want it to look. They just build around our specs to receive our decks."
More decks are sold on the commercial side, while more residential customers go for the whole system.
"The residential customer is much more demanding about the look of the structure. Therefore, they're much more attracted to our solutions at this point than the commercial customer because they want architecturally sensitive structures and designed structures," Hartley says. "But the deck has a terrific advantage. It's very fast to install. People are just putting up prefabricated structures and installing our decks on their structures. We see a tremendous interest there.
"People initially came to us with the design and the aesthetic of the design [as their goal]. Our market is growing because of the practicality of design."
AN ATTRACTIVE FUTURE
PHAT Energy is an elite dealer for SunPower and makes sure its structures are ready to accept the SunPower panels and make them look fantastic from underneath. The company also has agreements with Canadian Solar and — new for 2013 — Advanced Solar Photonics (ASP).
"Our biggest constraint with design is that we have to contend with the frame of the panel, and we don't actually need frames," Hartley says. "So being able to work with a translucent, frameless panel, such as the ASP 400, is going to raise our product experience to a whole new level."
PHAT Energy uses ASP's 400-Watt Glass-to-Glass (G2G) panels and 275-Watt bifacial modules. The G2G product uses thin glass, which ensures less heat, thermal stability, resistance to impact and elimination of microfractures, says Lawrence Hefler, director of marketing for ASP. The G2G lamination method also reduces fire hazards. The bifacial modules are dual-sided and generate more electricity by converting direct, radiant and scattered solar energy on both the front and the back of the module.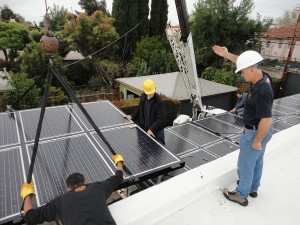 "ASP dual-sided glass panels are ideally suited for canopy and carport systems because they combine higher power output with aesthetics," Hefler says. "The underside of the structure becomes an attractive canopy of patterned and filtered light while performing as a private power plant. The use of glass-to-glass technology in PV module encapsulation and fabrication is an example of how electricity costs can be hedged through innovation and technology rather than financial tools."
As different modules are fit into PHAT Energy's plans, Hartley says SunPower will always be the preferred panel.
"SunPower allows our customers to have more power for their shade because it's the densest, most powerful panel, and nothing is going to replace that," he says.
Ingrid Ekstrom, corporate communications director for SunPower, says the company has been working with PHAT Energy since 2008. While SunPower designs and installs its own carport systems for larger commercial customers, PHAT Energy's systems open a new area for SunPower in the residential market.
"SunPower panels are both the most reliable and the most efficient and offer superior aesthetics," she says. "Solar carports make sense because they convert underutilized parking areas into silent, clean power plants, offering savings on electricity bills as well as welcome shade. PHAT Energy designs and builds solar carports — using SunPower high-efficiency panels — for residential customers."
PHAT Energy personally only installs structures in California, but the company is working with dealers to get its deck system out nationwide. Once people see how attractive well-designed solar structures can be, Hartley believes there will be more solar lovers across the country. He says there are three major reasons people don't get solar: financing/costs, nowhere to put it, and an unattractive look.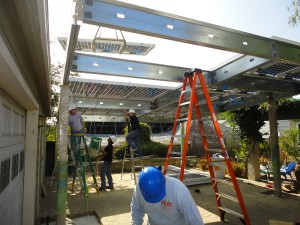 "What we attempt to address with our solutions is two of three reasons," he says. "We provide them with a structure that looks awesome, that people can really enjoy, that adds value to the property, that's easy to install and is very installable. And we provide them with a place to put solar if they can't put it on the roof."
Getting canopies and carports accepted is the first step in getting people excited about solar. Hartley believes the big growth opportunity in the coming years will be within building-integrated photovoltaics (BIPV).
"The real excitement from the consumer and the real opportunities for contractors are going to come in the next wave of renewable energy solutions," he says. "Rather than it be an afterthought, you will find very much with how we're demonstrating with our PHATports that you can have solar integrated into the elements of your home that previously were passive energy hogs. That will bring solar to a whole new level of regard. People will no longer look at it as something that is additive to their construction process, but something that is inconclusive in their view of their habitat. BIPV is the exciting next chapter of solar."
Keeping this in mind, PHAT Energy continues to evolve and try to stay a step ahead of the trends.
"We believe that the idea of rectangular framed panels is going to be to solar like sideburns and bellbottoms are to fashion," Hartley says. "In the long run, there will be multiple ways to integrate solar into structures and to create structures that are solarized. We want to be part of that design process so people stop thinking of solar as something that you stick on top of the roof next to a chimney, but as something that is part of the fabric of their building and of their lives."
Listen to more in-depth conversations on Solar Builder's YouTube channel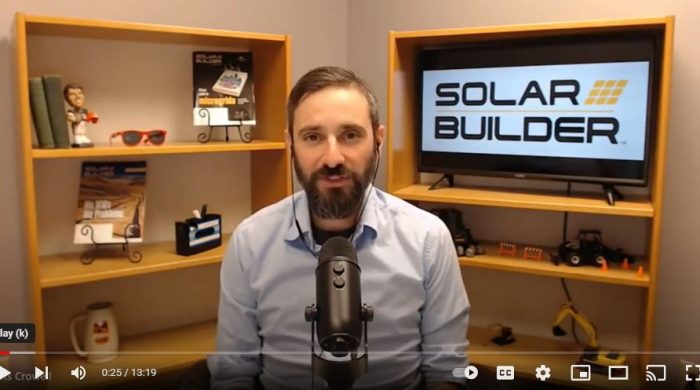 Our most popular series include:

Power Forward! | A collaboration with BayWa r.e. to discuss higher level industry topics.

The Pitch | Discussions with solar manufacturers about their new technology and ideas.
Tags:
carport/canopy
,
mounting