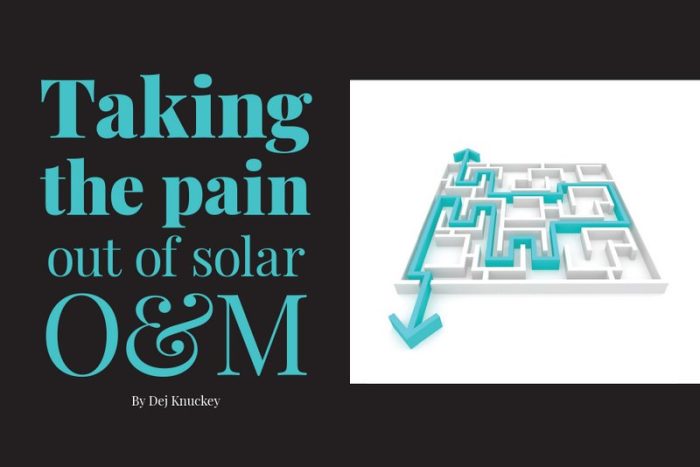 In a booming market, O&M is often a painful, and sometimes costly, reminder that solar systems are not a "set it and forget it" asset.
There are both high- and low-tech ways for residential and commercial installers to ensure O&M is not an afterthought, ranging from outsourcing to a specialist to using sophisticated, data-led monitoring systems in-house to get insights well before a truck roll is considered.
Streamlining O&M is essential because failing to plan (and charge) for O&M can be fatal to a solar company, said Mark Liffmann, cofounder and CEO of Omnidian, a residential, commercial and industrial solar system performance plan and guarantee provider. Companies focused on sales and installation are particularly vulnerable.
"The long-term asset management is usually a distraction and something that they haven't budgeted for. They're not reserving for taking care of these assets longer term, and they get stuck with a lot of these costs over time. What we've found across the industry is it just knocks these companies over," he said.
Many of the national majors that have been around for a decade or more built a service infrastructure internally because there was no other option. However, Liffmann said that's changed. "The new players can really focus on origination in their lease PPA platforms and outsource most of the other stuff. They outsource billing and collections; they outsource the system performance management and the technical asset management."
Defining O&M
Amanda Bybee, CEO of Amicus O&M Cooperative, draws a distinction between service and O&M.
Residential and smaller commercial systems may need servicing, but not true O&M, she said. "The systems aren't generating enough economic value to cover the cost of somebody coming out every year. And frankly, if the systems are working as expected, you don't need to spend that money."
O&M, however, is more of an asset ownership model. "It involves some amount of proactive preventive maintenance, where you're going out to the site once a year, or sometimes even more frequently, to check on the health of the system. It's an investment, and there's an expectation of financial return."
Proactivity is key, said Zoltan Milaskey, president of Mana Monitoring, an advanced energy monitoring and asset management solution provider.
"The best thing is if you can reach out to the customer before they discover the problem. Proactive has a softer meaning as well," he said.
Both customers and crews benefit from a centralized way to note additional issues identified during service calls, such as a bird's nest or a rusted component. "When you go out to do your annual preventive maintenance, you're going to the field with a replacement enclosure that's not rusted," he said. "Things like that can really lend themselves to a good O&M business that has happy customers and extends the longevity of the system."
Offering O&M is a natural extension for installers and EPCs, said Bybee. "We have to do it because we've got workmanship warranties we need to uphold. We might as well try to make money at this. For solar installers who choose to make an investment in this arena, they can add a new and ultimately compelling revenue stream," she said.
Milaskey said more mature EPCs realize they should sign customers up for O&M going forward. "This O&M contract will be much less lucrative than a new build, clearly. However, it has a lot of intangible values. Not only is it a recurring revenue source, but it is a good way to keep crews busy between projects."
Outsourced O&M as quality control
Anyone following Fred Brooks on LinkedIn will have seen photographic proof that even smaller solar arrays need much more than a good wash every so often. His before-and-afters sometimes highlight shoddy workmanship — often done by installers no longer around to service their systems — as well as the effects of humid and salty air, critters and time.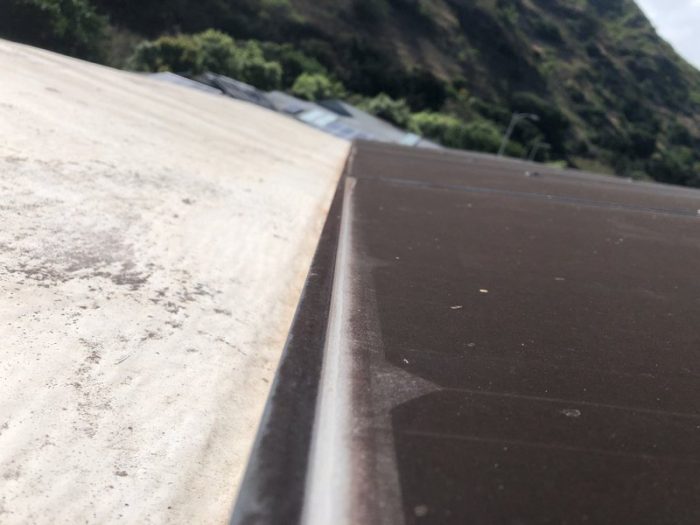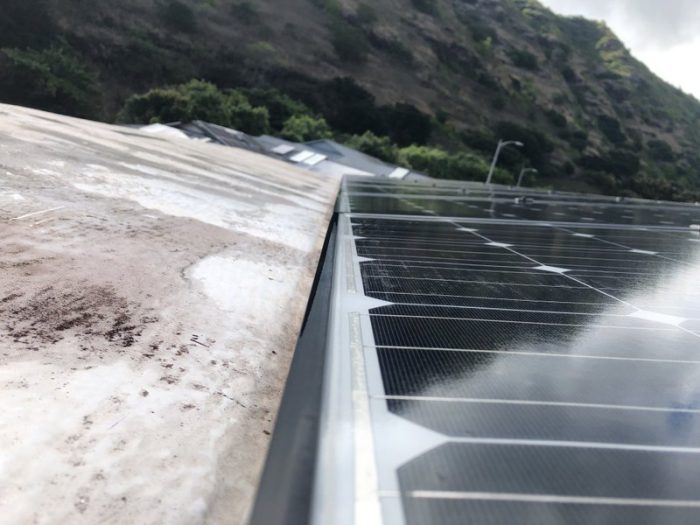 Brooks, the owner of Pacific Panel Cleaners, which offers cleaning as well as inspections, servicing and more in Hawaii, said that as an installation business grows, checking the quality of every install gets harder and harder. At that point, an initial inspection is a critical O&M task to outsource.
Brooks said an independent inspection early on establishes a baseline, and a third party won't be reticent about picking up errors in the initial installation. "I always recommend that they do an initial checkup one-to-three months after the system has been installed," he said.
For residential systems, an inspection takes on additional weight. Brooks recommends an inspection "under the one-year mark because most installers have a one-year workmanship warranty." The importance of images and written records comes into play not only for warranty claims, Brooks said, but also for insurance claims. If there is storm damage, building owners have a report that verifies the condition of the system and roof.
Sharing is caring
A group of solar companies have joined together to address the solar O&M question. Amicus O&M Cooperative was formed with the help of a SunShot Initiative grant from the Department of Energy (DOE) to streamline O&M, Bybee said.
"In 2016, it felt like there was very little consistency in terms of what O&M meant. What was the scope of work that you were expected to perform? What should it cost, and how do you report on it? We developed a set of tools and templates for the member companies to be able to use when they're performing O&M services around the country. It looks and feels like a more coordinated effort."
Members of the cooperative have access to legal templates, an estimating tool, ticketing and reporting software, as well as the combined experience of its 35 members in the U.S. and Canada.
"Intrinsic in the cooperative model is this collaboration, so we do a lot of knowledge sharing through regular calls and intranet posts where people can ask each other questions," Bybee said.
Amicus members tend to be small to midsized companies. Some are pure play O&M providers, but many are EPCs with an O&M offering. "Our typical service market segment is anything from residential to small utility. The vast majority of the systems that we oversee are 10 MW and smaller, with a handful of companies able to go out much larger." No members that Bybee knows of service systems above 75 MWac, the threshold for a higher level of FERC and CIP compliance.
Whose truck shall roll?
When looking to streamline O&M, the first question is whether you just want better monitoring, ticketing and reporting, or if you want to outsource the field service work.
Pure-play monitoring and ticketing solutions such as Mana Monitoring provide a single portal for insights and ticket management, but not the truck rolls, leaving that to the asset owner or manager. Others like Spruce Power and Omnidian can provide full fleet management.
Smaller installers seeking to outsource field service may need to shop around. For example, in the resi space, Omnidian focuses on installers doing 1,000+ installations a year, but may offer services to smaller installers through partnerships in the future. Pacific Panel Cleaners, on the other hand, will happily work with smaller installers and even individual system owners, as well as owners of small fleets.
Omnidian's Liffmann said the advantage of being able to outsource service calls is that the installers "can focus on sales and installation, which is the bread and butter of what a dealer/developer does. The business is complicated: they don't need these extra layers of complication. So, we take that aftermarket, give their customers a great experience, drive leads back to them, and just make it easy for them."
Omnidian gives installers first right of first refusal to do the truck rolls themselves, paying them what they would pay any other field service provider they work with, Liffmann said. If the customer's crews are busy installing, Omnidian coordinates with its 250+ field service providers around the country.
Installers' interest in doing their own field work fluctuates with the market conditions, Brooks said. "Their O&M side doesn't make them that much money, so they're not going to focus as much energy on it. When the industry is going well, nobody wants to do maintenance," he said. Those are the times installers are most likely to refer customers to him. "And as soon as they start going slow, they say 'oh, we've got to do it.'"
However, simply moving staff over may not be the right strategy, Liffmann said. "Often, they are sending out their install crews to do the field service. But it is a very different skill set and a very different way you manage field service crews versus install crews."
Skilled labor shortage
With strong solar markets in many states, labor shortages may be another reason that installers should outsource O&M.
In the Solar Risk Assessment 2023 published by kWh Analytics, EnergySage's director of insights, Spencer Fields, said the lack of trained labor was now the leading constraint faced by the 500 installers it surveyed, with 44% citing it as limiting their company's growth, surpassing the past leading constraint of customer acquisition (34%), and more than double equipment shortages (21%).
Amicus is taking on the labor problem. It started working on a training program for O&M technicians a couple of years ago and was just selected for a DOE award to build out the program, Bybee said.
The cooperative will work with members and other stakeholders in the industry to create standards and a more universal way to talk about technicians and competency levels. "The training piece is really important, not only to ensure safety and to grow the workforce, because we have such a dire need for more technicians, but also to make sure that they're efficient at it," she said.
Leveraging big data
O&M software brings together data from many sources and adds value by tracking processes.
"People are just trying to throw people at the problem today," Liffmann said. "Stare at the Enphase Envoy screen, stare at the SolarEdge screen, stare at the three other monitoring platforms that you've used over the years, and look for alerts, and try to determine if they are real or not. That's very labor intensive and it's not a good way to manage these assets."
For example, Mana's software monitors systems, provides alerts and ticketing, creates reports, and supports portfolio management. It does this by integrating feeds from everything from hardware to data loggers and onsite weather stations.
Milaskey said attrition adds to the need to have a simple, single portal for O&M monitoring. "You lose managers; they change those passwords. How do you monitor and maintain everything? We wanted to provide asset owners, offtakers, and primarily O&M companies a portal where they can log in and see everything in one place."O&M software is becoming even more sophisticated as systems increase in size and complexity and require deeper insights. "It is basically a big data problem that you should apply AI to, and that's what we do," Liffmann said.
When it comes to O&M insights, Liffmann said "you can apply both deterministic and machine learning algorithms."
Deterministic algorithms take all the data from the different monitoring systems, combine it with weather data, satellite-based irradiance data, and then apply algorithms based upon how systems work. For example, if the performance ratio is dipping in the morning, that's indicative of tree growth on the east side of the array.
Machine learning algorithms, on the other hand, mine the "literally hundreds of thousands or maybe millions of operating years of data" that a company like Omnidian has accrued, Liffmann said. "Our data science team is applying machine learning algorithms to improve the way that we're detecting and diagnosing performance issues to make that more accurate and more actionable."
One example: winter snow. "When snow falls on a solar system, it looks like the system is not producing anything," Liffmann said. "So, what most people do is, from November to April, just ignore it. Well, you are missing a lot of actual zero gens that way. We pulled in weather data, and we can automate that detection, filter out the noise so that we're looking at real issues and not snow. If it is an actual zero generation, you roll a truck, usually to replace the inverter."
Why is data science needed to solve an issue like snow?
"Because it's a complex equation of how much snow fell, what was the subsequent precipitate, was there subsequent rain precipitation, what were the subsequent temperatures, what is the tilt and azimuth of the array, is it a field mount or mounted on a rooftop?"
In other words it's super complicated. "You're not going to write the equation for that. That is a machine learning problem."
---
Dej Knuckey is a contributor to Solar Builder. She's a journalist, author and freelance writer who has covered energy for publications in Australia and the United States.
Listen to more in-depth conversations on Solar Builder's YouTube channel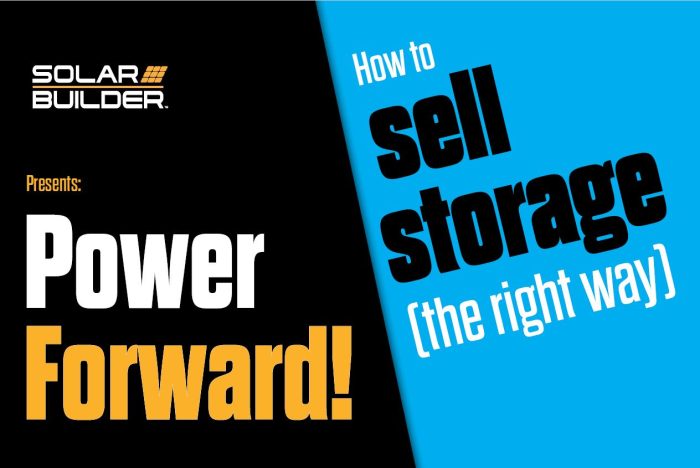 Our most popular series include:

Power Forward! | A collaboration with BayWa r.e. to discuss higher level industry topics.
The Buzz | Where we give our 2 cents per kWh on the residential solar market.
The Pitch | Discussions with solar manufacturers about their new technology and ideas.
Tags:
Amicus O&M Cooperative
,
commercial and industrial
,
Mana Monitoring
,
Omnidian
,
operations and maintenance