Solar installations help large retailers save costs and better forecast their budgets.
Even big-box stores like to save money, and retailers have been turning to solar power more frequently in the last few years as panel and overall system prices have dropped. Knowing electricity prices for the next 20 years can help stores prepare more realistic budgets and become more competitive in their markets. Two companies approach solar projects for retailers differently, but the outcome is the same — significant savings for the store.
Building Big
Costco, Fresh & Easy Neighborhood Market, IKEA, Kroger and Safeway have all found their electricity prices drop after partnering with REC Solar on rooftop installations.
"Energy costs are usually the second expense behind employee wages for most retailers," says Ben Collinwood, director of national accounts for REC Solar. "By improving the energy costs or reducing energy costs by 10 percent, you can influence the net profit margins of public companies by one percent just because the energy costs represent so much of the expense of a company."
REC Solar designs, builds, constructs and services all of its solar electric installations. Starting as a residential installer in 1997, REC has grown in the commercial market within the last five years. Its first retail customer was Costco Wholesale nearly four years ago, and REC's retail portfolio has expanded to include many more.
IKEA has turned to REC Solar for a large majority of its 15 completed energy projects (most in the 1-MW range) in the United States and 20-plus projects in planning stages. The Swedish home furnishings retailer specifically went with roof-mount systems since its stores were so large. Collinwood says some stores had the capacity to offset 100 percent of their loads just because the rooftop area was so vast.
"Many retailers focus on roofs. They're unused space," he says. "Being able to turn that into a revenue-producing asset is something very helpful to them. Also, it doesn't typically affect the look and feel of their stores. These retailers have gone out of their way to make a good brand for themselves and to produce a public image for themselves with their storefront and their marketing. Adding a carport/solar canopy to a lot of these sites could affect the look and feel of their stores."
Retailers aren't trying to hide the fact that they've "gone green" either. REC Solar has a great partnership with Costco to not only install solar systems on top of its stores, but to also sell solar products to customers within the stores.
"It's a surprising trend. I think it's a fantastic thing to do. It helps stores increase revenue," Collinwood says. "They can walk up, purchase a solar system at the checkout counter and then we would go in and install it for them later on. That has generated tens of millions of dollars in additional revenue for [Costco]."
Extra Incentives
Tioga Energy works differently to bring solar energy to retailers. The company focuses exclusively on solar power purchase agreement (PPA) development. Projects are built, financed, owned and operated by Tioga on customer properties and the electricity is sold to the customer at a set price. Marc Roper, Tioga vice president of sales and marketing, says the PPA option is attractive to retailers that are just looking at cheaper electricity prices and not interested in the upkeep.
Tioga is headquartered in San Francisco but has satellite offices in Canada and the Northeast. The company tries to be involved in markets that have decent incentives and create viable project economics for customers.
"We're able to build a solar power system, finance it at a cost including incentives that allows us to sell the electricity to our customers at typically less than what they would otherwise pay to buy electricity from their utility," Roper says.
Most customers come through Tioga via its direct sales force that reaches out to companies promoting the value of a long-term electricity contract.
"Unlike buying from your utility on a month-to-month basis, where rates go up and you can't really control it, with a solar PPA you're essentially signing up for 15 to 20 years at a fixed price," Roper says. "There is a lot of value to our customers just in that sort of hedging against future rate increases."
BJ's Wholesale Club has worked with Tioga on five new projects, commissioning the fifth in March. BJ's had originally been involved with solar PPAs in the early '00s through a different company that recently got out of the solar game. Tioga came in and acquired the old systems, and more new installs are in the works.
"BJ's is committed to sustainability, and they like the green aspect of electricity," Roper says. "They're also a very competitive retailer. They couldn't afford to enter into agreements that ended up costing them money."
Roper says discount stores are great to work with because they already understand the value of saving a dollar.
"A company like BJ's is very good at procurements. That's what they do. They buy large quantities of stuff at very low prices. They work on thin margins," he says. "They know with today's natural gas prices, those rates are very low and attractive. But they also know that they're signing up for short-term contracts. When natural gas prices inevitably rise, those electricity rates are going to go up. So the security of a low fixed-price for them really strengthens their portfolio. You could consider it a long-term hedge against future rate increases as well as a good deal today."
Although BJ's has close to 200 retail facilities, they're not all great candidates for solar. Tioga finds the best locations with respect to viable incentive programs. BJ's two Tioga installations in New Jersey and two in Massachusetts had great incentives at the time. The most recent project Tioga completed for BJ's was on Long Island in New York. Tioga applied for a grant two years previously with the New York State Energy Research and Development Authority (NYSERDA), and a new BJ's store on Long Island ended up being the perfect grant recipient.
"It worked out well for BJ's," Roper says. "Whenever there is an opportunity to make something work, we'll jump on it and talk to them about it."
Win-Win Situation
The retailers aren't the only ones benefitting from turning to solar. REC Solar has found that one installation in a community that hasn't been introduced to solar before can really turn heads.
"We typically do 1-MW projects in states that haven't done a lot of solar or at least not to this scale," Collinwood says. "These projects generate new interest from people. For example, the IKEA store in West Chester, Ohio, generated already five additional commercial inquiries. It's a new area because you have the new, early adopters checking out solar and getting excited about a new option for themselves."
In January and February 2012 alone, REC Solar quoted 10 times more projects than in 2011. These aren't necessarily secured contracts, but at least the interest is there. Collinwood believes that as long as retailers are competitive, there will be interest in solar and other renewable energies.
"There's a little bit of a keeping up with the Joneses mentality going on," he says. "Retailers are seeing other retailers locking their energy rates for the future. They're probably thinking they should do the same so they don't become uncompetitive in the future."
Listen to more in-depth conversations on Solar Builder's YouTube channel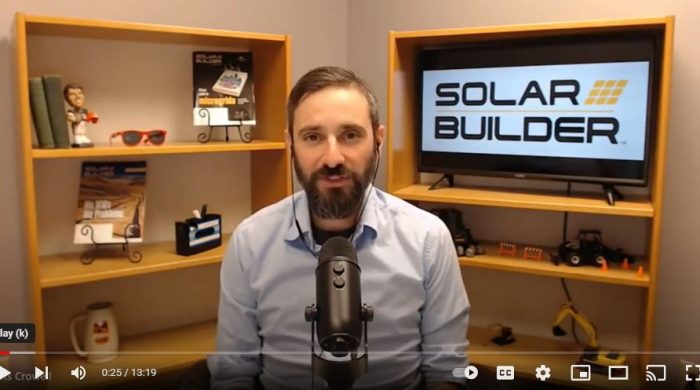 Our most popular series include:

Power Forward! | A collaboration with BayWa r.e. to discuss higher level industry topics.

The Pitch | Discussions with solar manufacturers about their new technology and ideas.
Tags:
carport/canopy