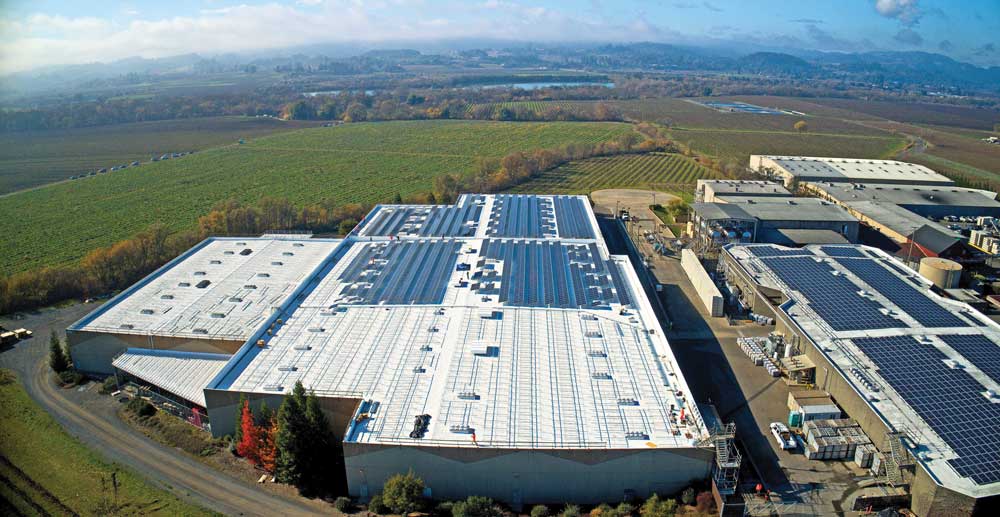 Spray Polyurethane Foam (SPF) and PV systems are increasingly paired together as a joint solution for energy savings. With the continued push toward sustainability and growing movements such as zero net energy (ZNE) construction, SPF and PV systems combine to provide a logical solution to generate renewable energy while conserving the energy used in heating and cooling.
Regardless of whether ZNE is the end goal, SPF and PV combined on the roof can be highly beneficial, but proper installation is key. Here are some technical considerations to ensure optimization of these energy solutions.
Rooftop PV Installation types for use with SPF
Rooftop PV systems may be installed on racks or adhered directly to the roof surface through typical means with either ballast or penetrating supports. Each option offers advantages and disadvantages. For example, ballasted racks may block water flow and affect drainage, while penetrations require proper flashings. But, uniquely, SPF easily self-flashes around penetrating supports.
SPF and coating selection
Higher density SPF systems are often preferred with PV because their compressive strength increases as density increases. SPF systems will be stressed during PV installation, however coatings and granules protect them during installation and maintenance. A roof surface below PV panels may dry slower than non-covered portions. Select coatings that withstand standing water and biological growth.Installation and regular maintenance of PV systems can increase foot traffic. Protect trafficked areas with additional coating and granules or walk pads.
Electrical safety
Electricity is produced when a single panel is exposed to light. Workers may inadvertently complete the circuit by connecting the two wires from the backside of a PV panel. Working around PV panels requires some degree of caution.
When maintaining a PV system, disconnection or removal of individual panels from a string or array may eventually be required. Follow proper shutdown procedures provided by the inverter manufacturer as part of a lock-out/tag-out program. SPF contractors should never disconnect or decommission a PV panel or system unless trained for it.
Heat buildup and SPF lifespan
Photovoltaic panels convert approximately 15 to 20 percent of light to electricity and release unconverted energy as heat. The majority of rooftop installations thus encourage airflow under panels to reduce their temperature, improving conversion efficiency and releasing heat effectively. Panels installed 4 to 5 in. above the roof will adequately cool the PV panels, providing surface shade and drying, potentially extending the SPF system lifespan.
Structural load
PV panels add load to a rooftop. A structural engineer should analyze existing structures to determine if their weight and additional wind load is acceptable. Rack-mounted arrays with penetrating attachments are fairly lightweight at 2 to 3 lbs per sq ft, and ballasted arrays add 4 to 6 lbs per sq ft. With the latter, more ballast is utilized at perimeters and corners of a PV array. Thus, localized loading from ballast may reach 12 to 17 lbs per sq ft. Most SPF roofing systems have a compressive strength of 40 to 60 psi.
Additionally, roofs are required by building codes to provide live load capacity that include people, snow and temporary weight-bearing scenarios. Although the weight of PV systems is not significant, live load capacity will decrease by the addition of the PV system.
Other design considerations include increased wind loading and the potential to catch drifting snow, which may add loading to the roof structure.
Equivalent service life
Expected service life of the roof and PV systems must be considered. The labor cost to remove and reinstall a PV system is costly. When installing PV, residual service life and replacement cost of the existing roof should be evaluated. For older roofs, it may be worth replacing the roof system just prior to PV installation. In other cases, when new or replacement roof systems are installed, provisions for future PV systems may be considered (e.g. pre-installation of penetrating supports).
Drainage
PV arrays often have many contact points with a roof which may block or slow drainage. Position PV racking to minimize ponding water and/or include notched pads under contact points of ballasted systems to allow water to move toward drains and scuppers, especially for ballasted systems.
PV system access for maintenance and removal
Roof mounted PV systems should be inspected and maintained at least twice a year. Inspect wiring, attachment points and flashings. Cleaning the top surface of PV panels may be required. Workers need access to both the roof and PV systems. PV systems should not block access to drains, penetrations, flashings, mechanical units or rooftop equipment. PV should be installed so workers can access wiring, inspect panel-to-racking connections and clean top surfaces without stepping on panels.
---
Power Spray
Rodney Strong Vineyards combines spray foam roofing with solar power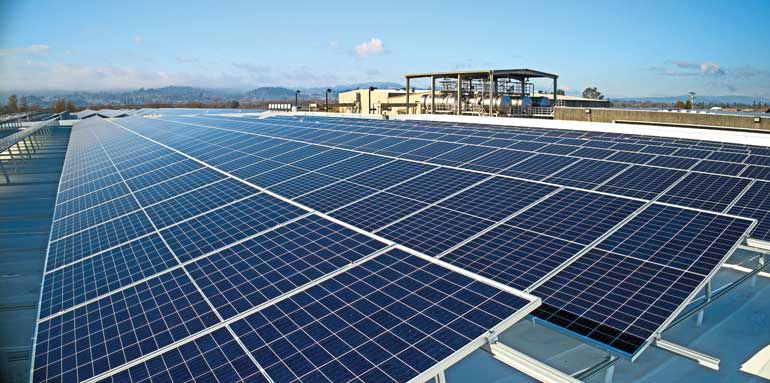 A major force in wine, Rodney Strong Vineyards' Healdsburg, Calif., facility includes a barrel storage facility housing 28,000 oak wine barrels for their two-year aging process. The barrels must be stored at a consistent temperature and humidity. These factors, married with the large size of the facility, made it a prime contender for the combination of energy efficient spray foam on the roof (which acts as a thermal, moisture and vapor barrier) and solar power.
"In 2003, when we first installed solar, Rodney Strong Wine Estates became one of the greenest wineries in the world," says Larry Solomon, facilities manager of Rodney Strong. "In 2018, we replaced and increased our rooftop photovoltaic system and recognized this was an ideal opportunity to insulate our barrel storage warehouses with sprayed polyurethane foam roofing. We expect that the insulated roof will provide substantial energy savings, providing a more consistent temperature for barrel storage while eliminating leaks and essentially providing a new roof that will last for the lifetime of the solar array."
Central Coating Company installed the new 2-in. spray foam roofing system over the existing metal roof to provide R-13 of continuous insulation. The solar contractor, SolarCraft, installed 5,005 solar standoff penetrations for the 1.5-MW photovoltaic system. In February, Central Coating Company won an Industry Excellence Award for the project. Presented by the Spray Polyurethane Foam Alliance, the award recognizes the Rodney Strong Vineyards combined roof solution as one of the year's best-in-class applications of spray polyurethane foam.
Rick Duncan is the technical director of the Spray Polyurethane Foam Alliance (SPFA), the industry's leading organization representing contractors, material and equipment manufacturers, distributors and industry consultants.