Solar Builder  wanted to offer our readers a look into those mounting companies separating themselves from the crowd. With more than 50 mounting-specific manufacturers in the industry, it can be easy to get lost in the shuffle. Embracing social media and designing for a mobile era only ensures a company's longevity. Check out our picks for the best mounting manufacturers on YouTube, Twitter and those inventing apps.
YOUTUBE STARS
Search for an installation video or product review of any common solar mounting company and you'll be flooded with amateur videos from average citizens and installers not affiliated with mounting companies. Sometimes these informal and pure reviews are the best way to know if a system works, but there are many good YouTube channels from the manufacturers themselves. Most feature installation videos either in animation or real-life applications. If you really have questions about a system, videos straight from the experts might be more beneficial than Jim Bob working in his backyard. Here are our picks of some of the elite solar mounting YouTubers active in the last year. (Views and video totals accurate as of April 21, 2014.)

17,743 views | 8 total videos | 4 new videos since Jan. 2013
IronRidge has a good mix of animated overviews and actual step-by-step installation videos. Have questions about how to install the roof-mount system on tilt legs? That's covered in a video that gives exclusive tips like how to torque rails and keep track of loose bolts. IronRidge released the FlashFoot in early 2014, and a YouTube video explanation was a perfect way to introduce the new product to the solar community.

18,542 views | 43 total videos | 25 new videos since Jan. 2013
It's safe to say that installing solar on shingled or tiled roofs is a little more complicated than a basic flat-roof project. Quick Mount PV makes the installation process a no-brainer with its YouTube channel (and all videos are also nicely organized on the Quick Mount PV website). From quick tips showing how to cut tile to in-house demonstrations on how to find rafters, these videos really are helpful to the novice solar installer or those double-checking their work.

10,719 views | 16 total videos | 8 new videos since Jan. 2013
Solar FlexRack has a unique pre-assembled, unfolding design to its ground-mount system, but that means nothing until you see it in action. The company has a number of videos showing installations in a variety of conditions, and most are in real-time, proving how quickly mounts can be installed. Step-by-step videos provide a little extra help to installers who may have questions about how that unfolding contraption actually works.

811 views | 13 total videos | 13 new videos since Jan. 2013
Seeing a real-time installation of a ground-mount is occasionally beneficial, but who really wants to spend 20 minutes watching a guy secure bolts? GameChange Racking knows our attention spans are dwindling, so the company speeds up its install videos to fit in less than four minutes. GameChange also shows transparency, letting viewers see its systems go through wind-load testing. We could watch videos of huge 120-mph fans all day.
EXPERT TWEETERS
Besides the best breaking solar construction news from Solar Builder (@solar_builder), Twitter is full of solar companies tackling issues and relaying the latest industry information. Solar companies have really embraced social media, and it makes a big difference as customers get younger and more tech-savvy. Whether installers or manufacturers actively participate in online conversations could sway decisions about project and product selection. Here are some of Solar Builder's favorite fellow conversationalists.
Applied Energy Technologies (AET) @AETenergy
A great mix of industry news and actual product installations. Join in with the company's hashtag challenge: #LayMoreRackThanAET.
Ecolibrium Solar @EcolibriumSolar
Very conversational account, asking questions while promoting unknown elements of its products.
SolarDock @solardock
Promotes necessary tips, like remembering about fire safety on rooftops and gives suggestions on how to better design arrays.
AllEarth Renewables @allearthrenew
Spreads the good news about solar outside of just its own Northeast home. Want to know the latest local and state bills concerning solar? This account has the info.
UNIQUE APPS
A new age is upon us, one run by smart gadgets and advanced technology. Most of these devices and their applications can make our lives better and easier, as long as we keep the Candy Crushing and Snapchatting to a minimum. It seems like every company or product has a mobile app these days, but surprisingly only a few solar mounting companies have developed tools to make solar installations easier. Here are the ones that do more than just list systems and ways to purchase.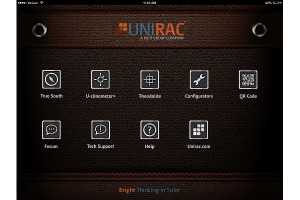 Unirac Toolbelt
Available on iOS and Android devices
The Unirac Toolbelt is like a full set of tools any solar installer would benefit from having on hand. Users have many cool functions right in one device, like a True South Compass, a U-clinometer (which helps determine the pitch and angle of any surface) and the Theodolite (which uses your device's camera to determine roof angle, height, altitude, latitude, longitude and azimuth, all at ground-level). The Toolbelt app also makes working with Unirac products even easier, with direct access to technical support and configurators to map out a new project, module-by-module.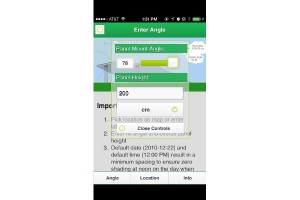 RBI Solar Shading Calculator
Available on iOS devices
RBI Solar's shading calculator helps installers calculate row spacing in the field so they have a better idea how far apart rows need to be in different areas. Users pick their location on a map so approximate sun angles can be considered. Then after submitting the array's tilt angle and module length, the app calculates the post-to-post distance, the inter-row spacing and the distance from the front of the first panel to the front of the second. RBI Solar's shading calculator takes a lot of the guesswork out of project planning.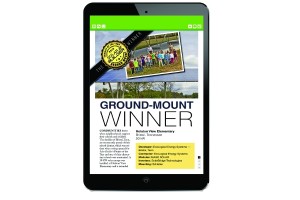 Solar Builder
Available on iOS devices
We wouldn't be a good magazine without a shameless plug of our own app in this category. The Solar Builder  app is an extension of this fantastic print publication and our website. Bonus videos and expanded graphics are peppered throughout our interactive pages, and archived copies stay on your device for easy viewing at a later date. Now instead of carrying your favorite article in your wallet for years to come (you do that, right?), you can pull it up whenever you want, without the crease marks or coffee stains.