Ohio contractor Rudolph/Libbe uses its construction knowledge to grow the solar market throughout the region.
A Nile hippopotamus gives birth underwater for the first time on camera, not in Africa, but in Ohio?
Not the strongest association with the Buckeye State, but it did happen. The Toledo Zoo's Hippoquarium was the first of its kind in the world when unveiled in 1986, and one year later, a hippo birth occurred during zoo hours and was viewed by visitors and captured on videotape — a first for any zoo.
Fast forward 23 years and the zoo has another first — among the first major solar arrays at any zoo in the nation. Its 98.1-kW installation was completed in 2010 by local construction contractor Rudolph/Libbe Inc., another company full of "firsts." The company is one of the first to tackle Ohio's cloudy weather to bring solar power to its customers.
Founded in 1955, Rudolph/Libbe today is a national construction contractor, serving industrial and commercial entities primarily in the upper Midwest. Headquartered near Toledo, Ohio, Rudolph/Libbe also has offices in nearby Cleveland, Columbus and Detroit.
Rudolph/Libbe has experience with constructing large projects for well-known names — Alcoa, General Mills, Honda, Chrysler, Bass Pro Shops, General Motors and FedEx. Starting in 2007, the company began offering its dedicated customers additional benefits, largely through solar power installs. The future is really what they make of it.
"We think there is a lot of potential [in the solar business]," says Jason Slattery, Rudolph/Libbe's solar director. "Everybody is trying to cut costs, and we feel [solar] is a good way to have a value added to the clients we work with on the normal construction side of our business, to have them cut their operation costs."
Rudolph/Libbe's strong construction background is what really gives them a leg-up on competition.
"We're a little unique because our core business is construction, which works really well on our solar strategy because we utilize our existing construction team," Slattery says. "We really offer a turnkey solution: We'll take care of the photovoltaic design, the construction (which we leverage our existing staff for), and then once the project is built we've got a service group that intends to make sure that solar array performs the way it was designed for the life of the contract.
"We are a one-stop shop solar developer," Slattery continues. "We will take care of everything for our customer. In addition to the design, construction and maintenance, we also determine the best system technology and size of the system to best suit our customer's needs. We take care of a lot of the upfront items, such as incentives, tax advantages, interconnection, zoning and permitting to ensure the success of the project."
The City of Bryan, Ohio (about 15 miles east of the Indiana/Ohio state line), had been considering exploring solar options but it wasn't until officials talked with Rudolph/Libbe that things started clicking.
"We had been talking to a number of other solar providers," says Steve Casebere, director of utilities for Bryan Municipal Utilities. "I got talking to Jason Slattery and they seemed like they knew more about the solar industry than any of the other companies that I was talking to."
The 2.125-MW thin-film ground-mount was completed in February 2012 and supplies about 2 percent of the city's electric needs and shaves its overall peak power demand. A number of Ohio-made solar products were used, including First Solar modules, Nextronex inverters and AP Alternatives racking, as well as services from Ohio companies Plante Moran and JDRM Engineering. The project was headache-free (and finished within 108 days during winter), Casebere says, largely because Rudolph/Libbe was confident in its construction, solar and financing experience.
"They had so much knowledge in the solar part of it," he says. "They were on the cutting edge. They explained everything. They came up with the design that fit our needs and when we got to construction, they had their own construction crews. From Day 1, they just came in and met their deadlines. Rudolph/Libbe pointed out that we could do a lease and take advantage of a grant. They found the people to help us with the lease. They're like the whole package."
MAKING SOLAR ATTRACTIVE
Ohio maybe isn't the best entrance point to the solar market, but Rudolph/Libbe has learned a lot in the last five years and continues to push boundaries.
"Doing something we hadn't done before — there's always a learning curve," Slattery says. "We learned a lot about the technology just from getting our feet wet. We started doing R&D for the Ohio Air National Guard, testing out different technologies to see what works well in a cloudy environment like Ohio, what different components work well together and marry well together."
Rudolph/Libbe's work at the 180th Fighter Wing of the Ohio Air National Guard located at the Toledo Express Airport consists of 16,000 thin-film panels installed in five phases, with the first phase beginning in 2007. The 1.5-MW field is estimated to produce 1,200 MWh or 40 percent of the base's electrical needs — a $200,000 savings annually.
This July, a separate 36-kW dual-axis tracking system (manufactured by Patriot Solar Group) was added to the site, something Col. William Giezie, base civil engineer for the 180th Fighter Wing, says wasn't in the original plans but is a welcome addition.
"In the past, we had looked at the tracking systems, but it was always determined that the cost to install them and the cost to maintain them was not worth the additional investment in terms of the power we'd be getting back," he says. "This time, Rudolph/Libbe was able to come back and demonstrate to us that the additional electricity we were going to gain because of the tracking system was going to outweigh the additional cost of that system and make it a more effective program for us to use and give us not necessarily more PV kilowatts but more kilowatt hours."
By trying out different products with the Ohio Air National Guard, Rudolph/Libbe has been able to perfect solar harvesting for the state's cloudiest days.
"We've been able to make it work," Slattery says. "We've got a system that will turn on sooner and stay on later. Depending on the technology that you select, you would pick different components that would work here in Ohio versus in say, Southern California. We've been able to use products like thin-film, for example, that are geared more toward cloudy weather conditions and we've been pretty successful at doing that, for harvesting as much energy as possible."
Rudolph/Libbe doesn't take chances on just any product.
"We have a pretty strict pre-qualification process," Slattery says about choosing products for the company's solar projects. "We really go through what their product is all about, how it performs. Not just the product, but also the company that is backing it. We want the company to be around at the end of the warranty period. We put them through the ringer and really look into their technology in-depth."
CONTINUING TO GROW
"We're optimistic about the future," Slattery says. "We have what seems like a steady pipeline of projects that we're trying to put together. Ohio is kind of a soft market right now as far as incentives go. There just aren't a lot out there. We're trying to get creative on our offerings. There are a lot of people who want to do solar projects; they just can't put all the pieces together to actually make the projects come to fruition. We're trying to assist them the best we can by figuring out the tax structure [and] who can monetize the tax benefits. That's really the strength of making these projects work."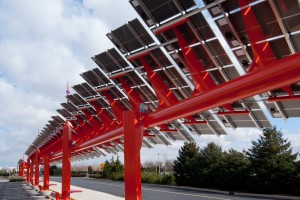 Surrounding states may provide additional opportunities for Rudolph/Libbe. Michigan's RPS program is closing in on its 10 percent requirement by 2015. But Indiana does not have an RPS program, so many project ideas fall flat.
Overall, Rudolph/Libbe's customers have been impressed with the company's knowledge and experience with solar power and building it even in tough conditions.
"In the very beginning, Rudolph/Libbe was a subcontractor to the primary contractor, hired to do all the site work and prep," Col. Giezie says of the 180th Fighter Wing's early projects. "As they gained more knowledge and experience, they were able to go from a subcontractor to actually being a prime contractor for solar installations, which gave them a lot of competitive advantages. They were able to do better and give us better bids than other companies that were more focused on strictly solar installs because of their knowledge of general construction and site development. They were able to be very efficient with what they were doing."
Rudolph/Libbe plans to efficiently go after more "firsts" in the coming years. Its use of a 1,000-volt inverter with the Ohio Air National Guard project is possibly the first utility-scale inverter of that size in the state. The City of Bryan install was the first to supply solar power directly to an Ohio municipality. The next year could be full of firsts, but first we'll have to wait and see what the construction company comes up with.
Listen to more in-depth conversations on Solar Builder's YouTube channel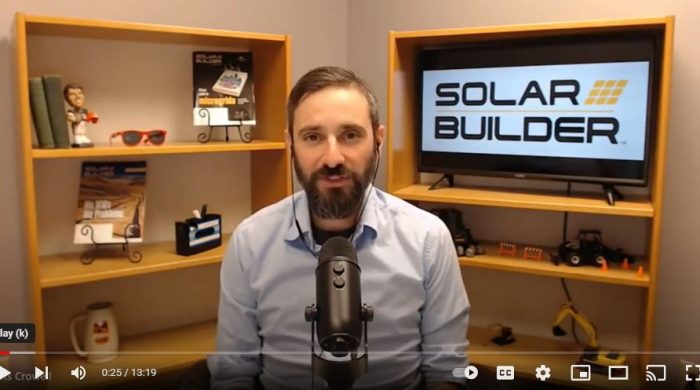 Our most popular series include:

Power Forward! | A collaboration with BayWa r.e. to discuss higher level industry topics.

The Pitch | Discussions with solar manufacturers about their new technology and ideas.
Tags:
inverters
,
mounting
,
tracking