City Cabins at Abbott's Alley
Sedro-Woolley, Wash. | six 9.9-kW homes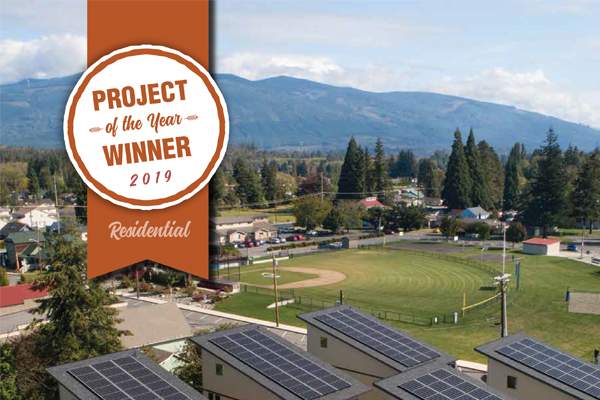 Developer: Martha Rose Construction Inc.
Solar Contractor: Banner Power Solutions
Modules: Itek
Inverters: Enphase
Mounting: IronRidge
Solar power connotes ideals like freedom, efficiency, conservation and innovation. The 2019 Solar Builder Residential Project of the Year is perhaps the most complete expression of them all — a collection of six live/work residences built so efficiently that they pencil out to be net positive. We nominated the City Cabins at Abbott's Alley from the pile of submissions because the full concept felt forward-thinking, but in chatting with homebuilder Martha Rose, the brains behind the concept, the final product is really just a culmination of old ideas she's gathered since 1972 as she bounced from the East Coast to the Pacific Northwest as a rogue carpenter.
"In Washington State, I lived in a rural area that was 15 miles away from twin nuke plants under construction. I was in the red zone," Rose tells us. "I instantly became immersed in learning about conservation and energy efficiency. That was during Jimmy Carter's time. There was a lot of innovation then, lots of experimentation and I wasn't necessarily involved with the nitty gritty nuts and bolts, but I was interested in passive solar design."
She would eventually work as an inspector (seeing a lot of what builders did right and wrong) and then as a project manager for hire.
"Deep down I was a green builder, but there was no term for it at the time," she says. "I would talk to clients about beefing up insulation — that was my early interest in energy efficiency — and I couldn't talk them into any of it. They were not interested in building beyond code."
After playing that role for 10 years, she struck out on her own as a single mom, with a lot of first-hand knowledge and little money.
"I was a small builder, so it was hard to compete and negotiate better land deals and financing deals. I never did get deep pockets, just plugged along. In 2003, I remember learning about the Washington Build Green program that our local homebuilder organization started and my response was 'oh, you mean the world is finally ready for it?'" Rose tells us with a chuckle.
[button link="https://staging1.solarbuildermag.com/featured/solar-builder-project-of-the-year-2019-winners/"]Check out all of the 2019 Project of the Year winners here right here.[/button]
From then on she specifically positioned her own homebuilding company as the place to go for green builds, a move that proved to be ahead of its time.
"I put my first solar panels on in 2005. They were expensive. I did it as a political statement, and I got all of the press for about five years in Seattle for solar, recycling, energy efficiency. I kept telling people I would consider my job in Seattle as being done when enough other builders stepped up and would build the way I build."
She left Seattle four years ago, leaving behind a vibrant community of younger, green-minded homebuilders — mission accomplished. When she relocated to Sedro-Woolley, Wash., she didn't intend to build anymore. Plus, Sedro-Woolley is no Seattle. It's a red-leaning area of the state and Rose wasn't totally sure her style would be accepted. Not that that would change her approach.
"I learned there was a housing shortage in Sedro-Woolley," she says. "I didn't move up here with ambitious plans but realized I needed to build. I don't want to give the buyers the option on solar. I want this to be a showcase project; I want to set the example for this town that doesn't know about this stuff, and I want to set the stage for other people to do this."
Rose didn't have enough money in her loan to put the PV on the homes, so she used money from her savings instead.
"I had this idea to build it, and they will come. And they did. I only have one left," she happily reports.
The watts and bolts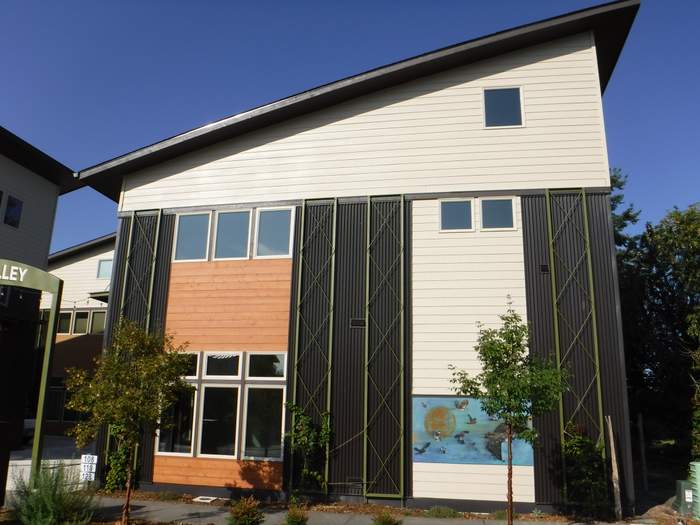 As mentioned earlier, the project is net positive. Each home is expected to produce a whopping 13 percent more power than what they will need from only a 9.9-kW solar system. A big part of that is the super energy-efficient design. Check the sidebar on below for those home construction details. The other part is obviously the PV itself.
"In most cases, with new construction, we will often pre-wire the building for solar within the walls of the building before the drywall is installed," says Paige Prescott, office and marketing manager for Banner Power Solutions. "This reduces the visibility of the conduit and other wiring running from the solar array. It's very efficient to do it this way, since it eliminates the need to cut out, replace and paint drywall. When the roof is in place, the installation is just a matter of setting up the racking and attaching the solar."
A few factors play into the overproduction of a particular solar installation. For the City Cabins, it is facing due south, the optimal placement for solar in the Pacific Northwest since the sun tends to be in the southernmost part of the sky year-round. There is no shading on the arrays. Finally, by using Enphase microinverters, each individual solar panel is optimized to perform to its full potential.
Prescott says for a comparable, non-net-zero build, the solar installation would likely need to be 12 kW to offset the inefficiencies of the appliances, HVAC units, insulation and other components.
At the time Rose started this project, Washington had some of the best residential solar incentives in the nation. Not only was there the Washington State Renewable Energy Program production-based incentive providing compensation at 16 cents per kWh produced, recovering up to 50 percent of project costs over the course of 8 years, but there was an adder that yielded a bonus 5 cents per kWh produced for systems built with in-state manufactured solar PV modules. This project sourced modules from Itek Energy based in Bellingham, Wash. In addition, solar customers can also bank excess production with their utility through the utility's net metering program to use during the cloudier times of the year, enabling solar owners to benefit from their power year-round. Add all of that up and there's no need to add an expensive battery bank to make use of the excess (plus the addition of EV could drink that extra juice).
As always with solar, timing and planning (and a little luck) is everything. Banner Power Solutions decided to install the PV right after the roofers at the outset of construction about a year before the project was fully complete — and just before the more lucrative in-state solar incentives went away.
"Even though I didn't have the units sold or the meters in, the Washington State Renewable Energy Program still accepted this project for the rebates," Rose says, noting that due to the time of application into the program, the individual solar projects were eligible for the slightly lower incentive totaling to 18 cents per kWh produced, which was slightly slower but still capable of attaining the 50 percent project cost recovery over the eight-year run of the incentive.
Forward-thinking
Even with the PV included (unique in the Sedro-Woolley) these properties are comparable in price to other housing in the area, and that's before you consider the energy savings of the solar and the benefits of the living space upstairs situated on top of a commercial area downstairs. The concept also makes resourceful use of land (this plot is commercially zoned). Homeowners can end their daily commutes and avoid wasting money on rent for an additional space for their small business.
"The international residential building code acknowledges a live-work structure like this that falls under single-family guidelines and that banks will give a single-family loan for," Rose notes. "It's no different than having a home office. The city planning department agreed that the live-work model met their zoning requirements."
A key here is there's no mandate that the ground floor has to be open to the public.
"People ask me what's the advantage of having your business in a building like this versus a regular house? Well, the advantage is if you want to be open to the public you can be. People's needs evolve over time, and this just has a lot more flexibility built into it."
Surprisingly, none of this zoning weirdness delayed the solar permitting.
"The city offers a very simple permit application process. We were able to apply and pick up the permits for solar within a couple weeks," Prescott says. "Typically, depending on the municipality, commercial zoning takes several weeks for permit review and approval. We have run into projects that were not properly zoned by the property owners. As a result, their projects are delayed by several months to a year. For this reason, it is essential that all proper zoning requirements are met for the building and property prior to a solar installation.
"In terms of interconnection, a few factors play into commercial solar — primarily the size of the solar system being commissioned and the capacity of the existing meter base on the property. This particular project was very much like a residential installation, so it was pretty standard and approvals were simple to get."
In addition, building credits and incentives (at least in Washington state) are available for solar, which can simplify the new-build permitting process and offset the costs of the project. That's just one last example of how all of the little bits and pieces of this project added up to an inspiring, thoughtful whole and became the 2019 Solar Builder Residential Project of the Year.
"When working on a net-zero project, maintaining the integrity of the project process is really important," Prescott says. "Martha is a prime example of practicing what she preaches. She was sure to reuse and recycle everything she could, from the waste created by the packaging of components to the actual materials she sourced. Being mindful as installers and contractors to implement these practices in our work was an important takeaway for the way we work on other jobs as well."
---
Net Positive Plan: City Cabins' efficient home construction
A 40-amp circuit for an EV charger.
Built slab on grade with 4 in. of foam under the slab.
Wall studs are 2×6 with 1 in. of closed cell foam directly applied to the studs with 1/2-in. plywood over that and longer nails. Initially controversial, tests show this structure performs 2.5 times better in an earthquake. "I started doing it this way because I was trying to come up with a wall assembly that was as normal as possible so the trades wouldn't fight me on it, and I wanted it to be somewhat affordable," Martha Rose says.
A non-vented attic with no foam against the sheathing. Rose has documented how she mitigates all of the issues that could arise from this.
High efficiency heat recovery ventilators that run 24 hours a day. Running on the second lowest speed will get five complete air changes a day in the entire home.
[button link="https://staging1.solarbuildermag.com/featured/solar-builder-project-of-the-year-2019-winners/"]Check out all of the 2019 Project of the Year winners here right here.[/button]
Listen to more in-depth conversations on Solar Builder's YouTube channel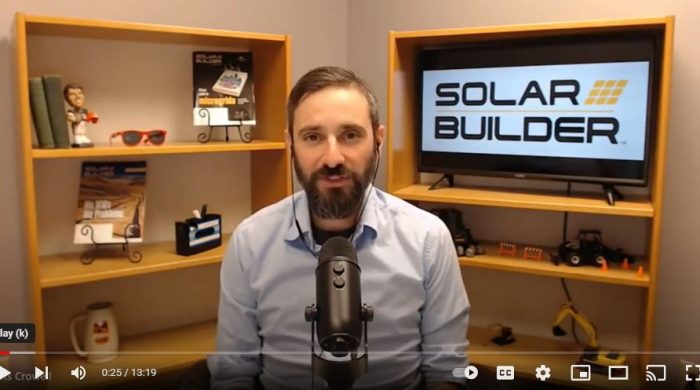 Our most popular series include:

Power Forward! | A collaboration with BayWa r.e. to discuss higher level industry topics.

The Pitch | Discussions with solar manufacturers about their new technology and ideas.
Tags:
Enphase
,
IronRidge
,
Itek
,
Projects of the Year