Besides the unique opportunity of seeing Paul McCartney, Macklemore & Ryan Lewis, R. Kelly and Bob Saget in the same place, the Bonnaroo Music and Arts Festival gave attendees another reason to celebrate this year — solar power pumping through the speakers. A 50-kW system atop a backstage storage structure was largely funded by "opt-in" contributions from fans during the ticket-buying process. With sustainability and environmental-friendliness always being core values at the festival, 2013's record-breaking attendance of 100,000 helped make the long-thought-out solar project a reality, and it has won second place in the roof-mount category of Solar Builder's 2013 Project of the Year awards.
The annual four-day music and art extravaganza held in June in Manchester, Tenn., first began in 2002 with folk rock artists but today has an eclectic mix of music and entertainment, including hip hop, jazz, country, electronica and comedy acts. Rolling Stone named Bonnaroo one of the "50 Moments that Changed Rock & Roll," and it's often called the best festival and concert event of the summer as well as the greenest.
"Bonnaroo has been committed from Day 1 to being the most sustainable festival possible," says Laura Sohn, sustainability coordinator for Bonnaroo. "Our sustainability work reflects the values of our lives, and we know that it is the right thing to do."
Previous projects at Bonnaroo encouraged by attendee contributions include a compost pad, carbon offsets and the Learning Garden.
"We have been exploring renewable energy options for the past five years or so," Sohn says. "Last year, all the elements aligned to make the project happen."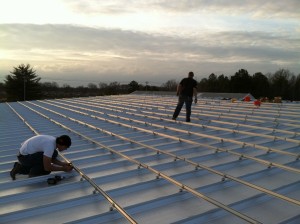 A chance alignment happened 1,100 miles away in Vermont. Encore Redevelopment, a project developer, was in a business organization with a construction company that builds sets for music festivals across the country, including Bonnaroo. The solar project idea was introduced to Encore, and the team took off.
"Our role was to communicate the financial aspects of the project," says Chad Farrell, owner of Encore Redevelopment. "That entailed doing a preliminary feasibility study to show them how the permitting processes would work, how the design process would work and most important for them, what the financial investment in the solar project would look like."
Bonnaroo had introduced a $1 fee to each ticket sold in 2012 to help generate money for green initiatives on-site. Along with the fee, additional contributions from attendees helped make the solar project a realization.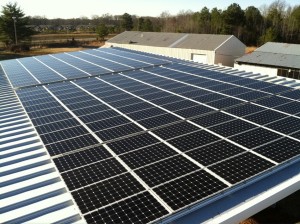 "Patrons have expressed support and interest in our sustainability work," Sohn says. "We know that it is important to them, and we know that they are our biggest supporters of this work and not just financially."
A yet-to-be-built backstage metal storage structure was chosen as the best location for a solar system. The system would be out of the way and avoid the dusty, high-traffic paths trekked by attendees. Knoxville, Tenn.-based Sustainable Future won the bid on the solar project and immediately made suggestions.
"They initially were going to do a screw-down roof, but we recommended them to switch to a standing-seam roof," says David Bolt, founder of Sustainable Future. "It made the installation a lot easier and provided a more durable product by not doing any roof penetrations and just attaching it to the standing seam."
The project, finished in late 2012 and officially connected to the grid in January 2013 — well before the 2013 festival dates — contained 196 SolarWorld panels attached to SolarWorld racking and mounting systems. Sustainable Future went with Enphase microinverters for their flexibility in design.

"We really like microinverters," Bolt says. "It gives you a lot more flexibility in terms of monitoring. You can see right at the panel-level what's going on."
The 50-kW solar power system will provide about 20 percent of Bonnaroo's total electricity needs. When the 700-acre site is not consuming electricity (which is often the case), the power is sent to the grid, providing credits to Bonnaroo. The backstage structure is not visible to fans, but an educational display in the festival's Planet Roo allows patrons to monitor the power and learn more about renewable energy.
"Whenever we design arrays, we specify some type of data acquisition with a web-based portal to track production," Farrell says. Bonnaroo designed a kiosk around the data provided to them by the microinverters and Encore Redevelopment.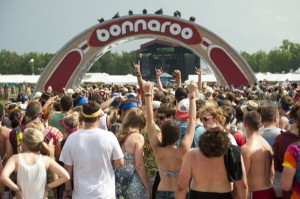 Planet Roo features nonprofit organizations protecting the planet and promoting healthy lifestyles. While viewing the solar stats, attendees can peruse information on global warming and carbon footprints as well as find 100 percent compostable cups and sites to recycle old cell phones.
Working on the Bonnaroo solar project was an "honor," Farrell says. "This is the first large-scale music festival with electricity needs addressed through a solar project." Add that to Bonnaroo's growing arsenal of ammunition against other U.S. festivals in the fight for best event of the summer. Fans know what one's the winner, and now so does the solar community.