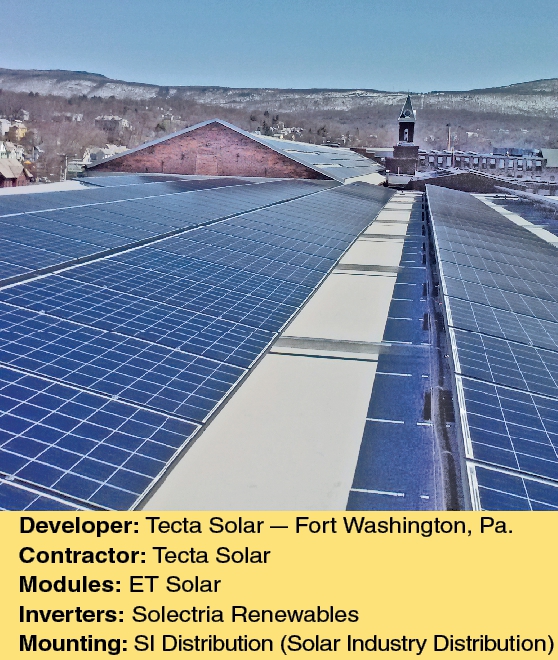 Massachusetts Museum of Contemporary Art (MoCA)
North Adams, Massachusetts
503 kW
Once a factory for printing textiles, the building that houses the Massachusetts Museum of Contemporary Art (MoCA) in North Adams, Mass., is now a factory for sun-powered electricity. Tecta Solar completed a 503-kW roof-mount project in May 2013, built on both sloped and flat roof types. The installation required a combination of custom racking systems from SI Distribution to accommodate the different roof slopes.
The project spans six rooftops and ties into three interconnection points within the museum. Safety and ultimate care were essential, and Tecta was able to maintain the integrity of the roof that protects millions of dollars' worth of irreplaceable art. The system will offset approximately 39 percent of the annual electric usage of the buildings it is tied into.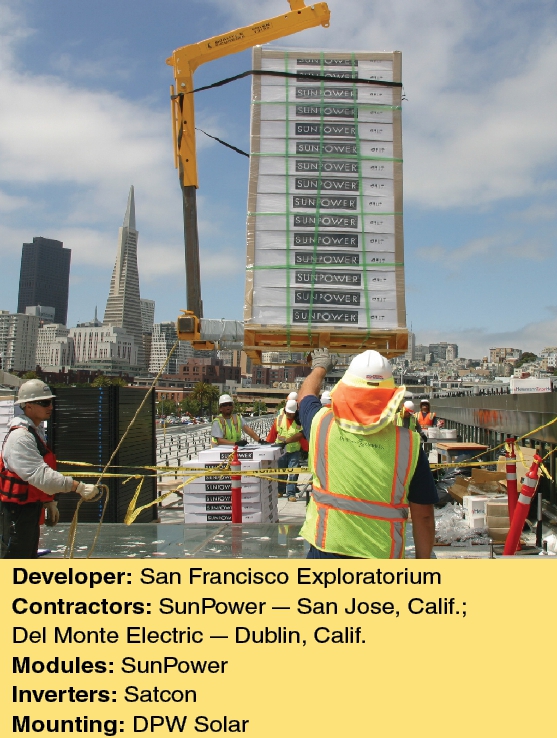 San Francisco Exploratorium
San Francisco, California
1.3 MW
San Francisco's Exploratorium learning museum moved to a new home in 2013 at Piers 15 and 17 on the historic Embarcadero. The Piers were extensively renovated, and Pier 15 came equipped with a 1.3-MW solar power system. The system should generate 100 percent of the electricity demand at the new facility, which opened in April 2013. System performance, updated every 15 minutes, is displayed in the lobby for museum-goers to witness.
Del Monte Electric installed the SunPower solar panels, and its biggest challenge was timing with weather, water and the barge crane that lifted the material to the roof. Planning was critical to saving costs by scheduling only two lifts with the extremely expensive barge crane, and Del Monte was successful in strategically getting the 30,000 ft of rail and 60,000 ft of wire lifted to the roof and installed before the second lift and installation of 5,900 PV panels.