Communities thrive when neighborhoods support their schools and children. The families of Bristol, Tenn., are enormously proud of their school district, which was evident when voting opened for Solar Builder's Project of the Year and one of their elementary schools was nominated. A 50-kW solar canopy was installed at Holston View Elementary and is intended for use as an outdoor classroom and gathering area. Principal Jerry Poteat says the solar pavilion is not just for science, technology, engineering and mathematics (STEM) lesson plans; it's available for all to use and learn.
"The solar pavilion sends a message about the Bristol community as a neighborhood of problem-solvers, optimistically looking forward to more use of clean electricity and teaching tomorrow's thinkers who will build a future that is better than the present," he says. "It belongs to and is expected to be used by our community."
Holston View's solar project has made a significant impact on the Bristol community, and that is why it is the winner in the ground-mount category of Solar Builder's 2013 Project of the Year awards.
Holston View has never been your average elementary school. It was built 40 years ago as an intersection of six circular pods with open classrooms. From an aerial view, the school looks like a misshaped pentagon. Poteat says the original plans for the school were to take a multi-grade approach to teaching with the motto "Not for grades, but forever."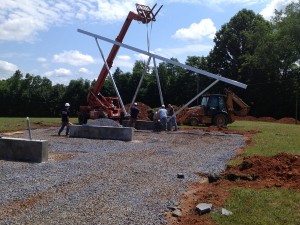 Thankfully, things have changed since the '70s.
"Lately, our school has placed more emphasis on higher achievement, STEM and project-based learning," he says.
Holston View already had a number of outdoor classrooms, but the wooden structures were decaying and needed to be replaced. With the move toward being more STEM-like, the idea for a new outdoor classroom equipped with educational solar panels fit together "as naturally as peanut butter and chocolate," Poteat says.
With the wheels already turning, Poteat stopped by a home show and saw renewable energy solutions provider EcoLogical Energy Systems displaying solar panels. The two parties really believed the idea was great, but finding a financing partner interested in the project proved to be difficult. After years of searching for a break, EcoLogical decided to proceed with the project on its own dollar.
"We never could find outsourced financing, so we went ahead and did it ourselves," says Pete Morenings, EcoLogical sales manager. "We own the system and once the system is paid for, we're going to donate it to the school."
With the finances squared away, construction happened very quickly. The project was finished in less than 30 days, just one month before classes began for the 2013/2014 school year. The parking structure, designed by Schletter, is 80 ft by 40 ft with about 200 MAGE SOLAR panels equipped with SolarBridge microinverters.
"There's a lot of concrete," Morenings says of the canopy structure. "There are five footers that are 3 ft wide, 3 ft deep and 40 ft long. It was a major amount of concrete."
The size of the solar canopy was determined by the Tennessee Valley Authority (TVA), which is responsible for providing electricity to 9 million people, including the Bristol area. Holston View wanted the outdoor structure to be as large as possible, but TVA capped it at that 80 ft by 40 ft plot.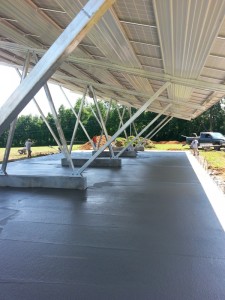 The system is massive — it can fit all 400 Holston View students (from Pre-K to 6th grade) with room to spare under the electrically-safe solar panels. Using the combined products from MAGE SOLAR and SolarBridge as a single AC module (and having one all-encompassing 30-year warranty), provides a safe alternative to DC systems.
"Our ACPV solution is a simple plug-and-play solution and definitely one of the safest and easiest ways to go solar," says Joe Thomas, MAGE SOLAR USA president and CEO. "Since the microinverter is integrated into the frame of the module there is no wiring besides the branch connection and the regular row interconnections. Without exposed DC wiring, the ACPV system eliminates any risks high DC voltage systems may have, making it an ideal environment for canopies like Holston View and similar structures. Students, staff and visitors can safely enjoy the shade the solar panels provide."
If a DC-system had been used instead, direct interaction with the system would be minimal, Morenings says.
"If we went with anything other than microinverters, they were going to force us to put a 12-ft fence around it," he says.
EcoLogical is working on solar energy curriculum to incorporate into the local school districts and community colleges. In the meantime, the AC modules provide a unique learning experience for the students at Holston View.
"From an education perspective each ACPV module is an ideal 'learning lab' since they are equipped with easy MPPT (maximum power point tracking) and monitoring," Thomas says. "Students and teachers can observe in real time that each module is always producing at peak capacity even if there are isolated shading or cloud issues."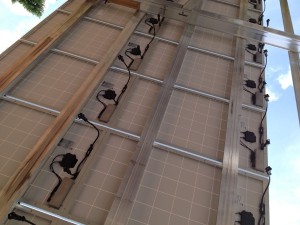 Poteat and Holston View officials are formulating a STEM-influenced game to use with the solar canopy. A game board with rectangular spaces will go around the perimeter of the concrete foundation, allowing students to learn about technology and science in a playful environment.
Morenings says the 50-kW installation at the elementary school is a good first step at changing the public's perception of solar.
"Seeing solar, the kids are going to be used to seeing it by the time they leave elementary school and probably wonder why they don't see it everywhere else," he says. "To show that it's something that's viable — the price of solar has gone down so far that now it makes good financial sense for people to be installing solar. It seems the more we do, the more people see and the more they want it."
"Solar is a reliable, proven and extremely efficient clean energy solution, especially in the U.S. with outstanding solar irradiation factors," Thomas adds. "It can empower communities, schools and individuals with the capability of becoming a clean energy producer."
Don't be surprised when this country's next generation of engineers and scientists come from supportive communities like Bristol, Tenn. — areas that are proud of their students and schools.