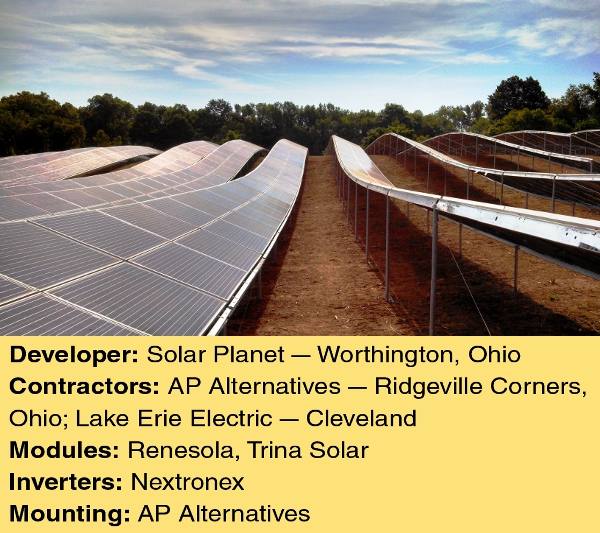 Beach City Ground-Mount
Beach City, Ohio
625 kW
About one-fifth of the homes in a small, 1,000-resident village in Ohio can now use electricity entirely generated by a 625-kW solar system built on old farm land. Beach City hooked up its 4-acre system in June 2013 with the help of AP Alternatives. The rural land is extremely hilly, and the solar installation had differences in grade of more than 17 percent in more than one direction.
Rolling topography takes a lot of experience and skill to build on correctly, and it also takes a racking system that has the ability to roll along with the topography. AP Alternatives installed its standard 60-cell ground-mount system in 29 rows to support 2,552 Renesola and Trina Solar modules over varying grades. When driving the post-installer from east to west, it was common to be going up in grade while also dropping grade from north to south. Even with these changes in grade, the racking was installed to the highest quality and is helping Beach City reduce its carbon footprint.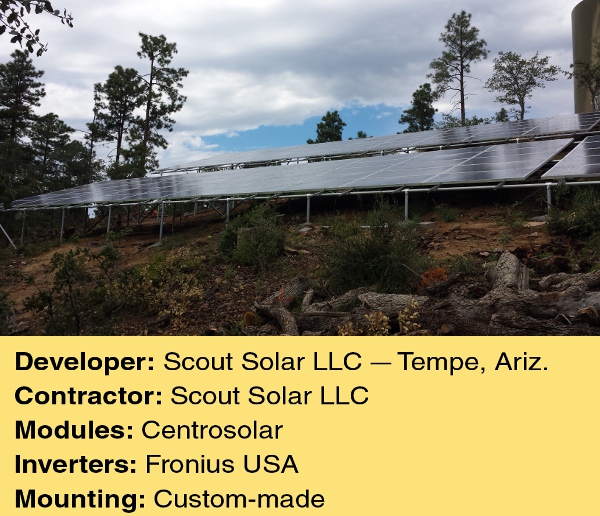 Camp Sky-Y YMCA
Prescott, Arizona
54 kW
In March 2012 in the Phoenix area, Scout Solar announced it would be installing 1.6 MW of solar power at 16 Valley of the Sun YMCA locations with no out-of-pocket costs to the YMCAs. One of those 16 installs came at Camp Sky-Y YMCA in Prescott, Ariz. The 54-kW project was mounted on a hillside at the 70-year-old camp in the Prescott National Forest and was finished in April 2013.
Prior to mounting the panels, Scout Solar had to clear the thick forest, grade it by hand down to a "manageable" 15 percent, dig 99 holes and build a custom rack out of pipe to wrap around the hill.
"Sometimes our footings were on top of tree stumps, sometimes we found boulders," says Scout Solar Co-Owner David Spotts. "Mostly we had to deal with the root system which made it difficult."
The grid-tied system using Centrosolar panels and Fronius inverters should reduce the camp's demand by about 85 percent.