+ Storage
Energy storage product news and installation insight for solar installers and EPCs, covering everything from off-grid and grid-tied battery storage systems to MW-scale, containerized energy storage solutions and microgrid controllers.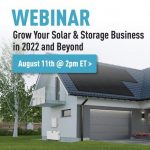 August is Grid-Tied Storage Month on Solar Builder, sponsored by Panasonic.
Listen to their "Grow Your Solar & Storage Business in 2022 and Beyond" webinar
– Aug. 11 @ 2 pm or any time after on-demand.
---