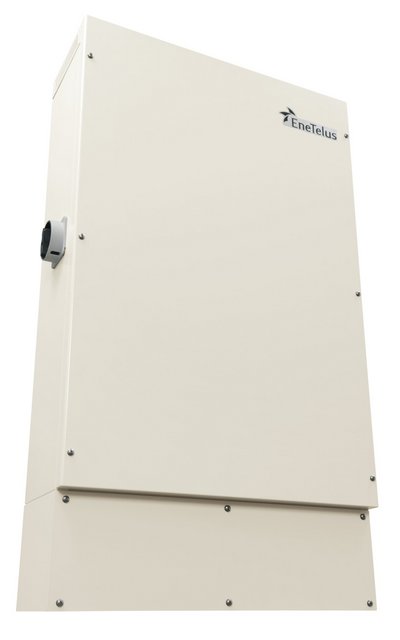 Tabuchi Electric, a leading solar inverter manufacturer, announced it has entered the North American market with the launch of a residential solar + storage solution at Intersolar North America. The company's EneTelus Intelligent Battery System (EIBS) is a grid-friendly, inverter and storage system that is easy to install and optimized to deliver compelling energy management and cost performance benefits to solar installers and home owners alike.
"Tabuchi's heritage of high-quality products gives the solar industry the ability to improve solar and storage cost performance with confidence," said Harumi McClure, General Manager of Tabuchi Electric of America. "Rather than creating a patchwork of batteries and inverters, we've optimized our technology to include everything in one system. Our all-in-one solutions make it much simpler for solar installers to sell and install storage, marking a critical step in reducing intermittency and powering the solar revolution."
The Tabuchi solar + storage system combines a solar and storage hybrid all-in-one inverter with a lithium ion battery. The system is optimized for reliability and faster payback, as well as simple installation. The solar + storage solution is plug-and-play and comes with a ten-year warranty, backed by Tabuchi's expertise of nearly a century of high quality electronics. The Tabuchi solution also offers a compelling cost performance, as the battery can reliably reduce peak loads and demand charges for many years.
"Tabuchi Electric is a well-respected player in the global inverter space and the number five solar inverter company in the world," said Pavel Molchanov, Sr. VP and Equity Research Analyst at Raymond James & Associates. "The company's move to enter the North American market is a natural extension of its core strengths and signals that the solar-plus-storage industry is ripe for rampant growth."
In addition to launching the EneTelus Intelligent Battery System (EIBS) for residential homes, Tabuchi will also be offering an inverter for the commercial customer called the EneTelus Mega Value System (EMVAS)
.
Features of the EIBS include:
3 MPPT 5.5kW Solar Inverter
Bi-directional DC to DC battery converter
Automatic Transfer Switch
Battery Charge Controller (Battery Management System)
10kWh Lithium Ion Battery Pack
Features of the EMVAS include:
Individual MPPT DC Input Strings
4.2kW input DC/DC Converter × 6 Strings
97.3 precent (maximum 97.8 percent) Efficiency
High efficiency is realized by SiC Power Semiconductor・3 Level Inverter
Three-phase 480V AC Output
Tabuchi Electric is officially introducing the company's solar + storage solution to North America at Intersolar North America, booth #8411. Mari Gruner, Tabuchi's product manager, will give a presentation explaining more details of this new offering from Intersolar's Innovation and Application stage at 2 p.m. on Thursday, July 16.
Can't get enough of Solar Builder's Intersolar coverage? Read more here!
Tags:
EneTelus Intelligent Battery System
,
Intersolar 2015
,
Tabuchi Electric