Harvard, Illinois | 1.7 MW
Developer: Simpleray
Contractor: Althoff Industries
Mounting / Design: OMCO Solar
Inverters: SMA America
Modules: HT-SAAE
What else can I tell you about our C&I Ground-Mount Project of the Year, as voted by the readers of Solar Builder, that tops the photo? Hmm. Guess I'll start at the beginning.
Since 1996, Pedigree Ovens, Petdine and the Pound Bakery have cooked up handcrafted dog treats. When founder Kurt Stricker was putting the finishing touches on a huge new 212,000-sq-ft headquarters in 2017, he wanted to make sure it reflected his ethos of community partnership and corporate stewardship. So, when he was pitched on a solar array — one built in the shape of a large dog bone …
"Sometimes you have these ideas, and you can tell that you're on borrowed time with the customer, but Kurt allowed us to entertain the idea, got excited about it and solidified it there in that first meeting," says Lewis Butler, director of sales for Simpleray.
This would be a highlight reel project for Pedigree Ovens, Simpleray, OMCO Solar and, in a way, the solar industry itself. This facility sits within the Chicago O'Hare airport flight path, which means it will be seen by 92,000 incoming flights annually.
Which means it needed to be perfect.
"For an array like this that's a little outside the norm, you need a customer with the buy-in and trust in the project teams that the results will be there," says TK Norgard, account manager for Althoff Industries.
Designing the Dog Bone
There was a pause after I asked how long it took to get the dog bone array design engineering right.
"I don't know how many iterations [Justin Charles, Simpleray engineer] went through, but at some point this became a labor of love," Butler puts it.
The original idea was to mount the array on the roof, of course, but the current obstructions (oven vents) and the owner's plans to keep the business evolving ruled that out. The ground presented a different challenge in terms of maintaining the integrity of the design aesthetics. This meant getting a ground-mount racking company solidified and involved early.
"Lewis is right about the labor of love; Justin put a ton of work in by the time we started engaging," says Eric Goodwin, director of business development for OMCO Solar. "In this case, we did more than simply provide the racking. We contributed to the upfront engineering, CAD drawings and prototyping of our Field-Fast fixed-tilt system for the job. Our engineer, John Reed, became really involved and was pretty excited for the opportunity.
"There were quite a few iterations of designs," Goodwin continues. "For instance, looking at how we would stagger the racks for the aesthetic look, and the way we would install it. We started looking at different sized piles from what we were originally planning in the bill of materials as part of foundation design. We looked at varying string sizes. We had to optimize the layout to get to the 1.7 MW and also completely fill the space. There was a great deal of collaboration. It had to be very fine-tuned."
On-site, Althoff Industries had detailed instructions as to how to put it all together. Dov Isaacman, electrical project manager for Althoff, said they spray painted the site to color-code everything either black or blue to make the installation intuitive: "We had it well mapped out before hand, so they wouldn't be carrying drawings in the field. We had set it up so they could go with blue until there was a double-black line. The OMCO Solar Field-Fast helped make the racking process a lot smoother and faster. They had pre-assembled field assembly that saved a lot of time."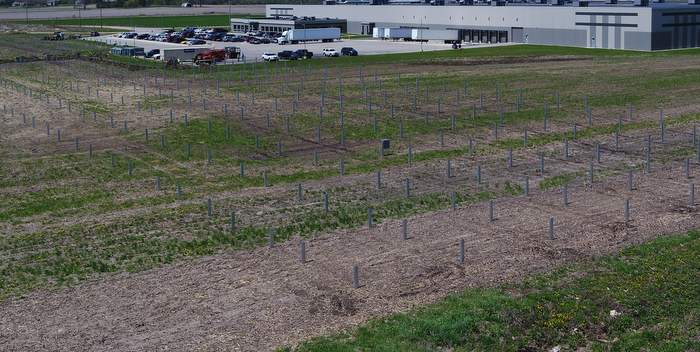 The terrain was a little uneven, but grading didn't seem necessary or cost-effective. However, across the four acres from east to west, there was about a 10-ft slope — not a big deal for a typical job, but a result that'd appear sloppy in this case.
"We had all the posts pounded, and then we started leveling them off and noticed quite a bit of variation. The panels were going to be off," Isaacman says. "And with this design, they couldn't be off. So we immediately contacted OMCO Solar, working with [John Reed] to cure, build and supply an extension to the posts quickly. Now, you can't tell at all."
The COVID Doghouse
Another challenge that won't show in the adorable finished project photo is the arduous journey all of those blue and black modules took to get here.
"Module selection mostly came down to the factory capacity at the time we were ready to pull the trigger," Butler says. After finally getting funding approval (more on that later) a customized order of blue and black-on-black modules was placed with HT-SAAE in January 2020. You can guess the rest.
"The shipment was immediately delayed because of COVID," Butler continues. The factory shutdown for two weeks as a precautionary measure. Half of the modules did make it, and the team was "tracking multiple shipments through the ocean, praying that they made it safely and on time so that we didn't have to start all over."
To compound the issue, customs held up the entire final black module shipment for a month, which were the last pieces to the puzzle.
"The customs delay was a big curve ball. For some reason they just let it sit there," Norgard says.
Ruff Financing
That first meeting in which the project was pitched and sold in basically an hour took place in December 2018. So, how did it drag into COVID season anyway?
Financing solar projects in the commercial space remains, if not difficult, delicate, with financiers favoring certainty. Simpleray seemed to be on solid ground here with the Illinois Adjustable Block Program, established by the Illinois Future Energy Jobs Act. The intent of the program was to encourage and sponsor the development of solar via residential, commercial and community projects. Unfortunately for Simpleray, the Adjustable Block Program became just that middle word: a block. After securing and submitting necessary paperwork, a project is put into a lottery, essentially the antithesis of certainty. Butler, who is currently serving on the board of directors of the Illinois Solar Energy Association, is keenly aware on the shortcomings of the program:
"This is a couple million-dollar project. Half of that is depreciation tax credits, and another 25 to 40 percent is rebates and incentive programs. On paper, I can't really lose my investment in this project, but there is just so much to know about how this program works in Illinois. And if you're out on the coasts, it's hard to wrap your head around where this money is being held, who is holding it, when it is coming out, what this lottery is … it's a lot of question and if you're looking at 20 projects a day it's easy to pass on. … I had to start to become an expert in the pet treat industry and figure out if it was recession proof."
By mid-2019, they did get approval for funding through the Adjustable Block Program, but point being, financing was hard to secure without certainty around the incentive payout. For other businesses looking at installing solar in Illinois right now, after allocating all of the funding, the entire Adjustable Block Program is in limbo.
"COVID shut down the spring legislative session, and as we head into veto session, we hope our bill sponsor can put something forward," Butler says. "But between COVID and the lack of funding, there's no money for C&I and community projects. We have all of this great publicity, projects in the pipeline and it's all going to come to a grinding halt."
This last point sums it up: "It's a bad experience all around for customers and companies, and that's not what the legislation was designed to do."
Breeding success
We hope this 2020 Solar Builder Project of the Year Award helps put a spotlight on why fixing the Adjustable Block Program should move to the head of the line for Illinois lawmakers. Stricker and Pedigree Ovens will save $119,000 on energy every year thanks to this project finally getting done. Solid, uncomplicated incentives encourage companies to choose solar energy, which in turn creates jobs and local economic growth while simultaneously adding resilient, renewable energy to the grid. It is government funding that impacts an entire community now and in the future.
"Coming up with a cool design wasn't only good PR for the companies involved, but it helps bring more attention to the industry, and hopefully that brings in more funding and interest in going solar," Isaacman says. "That's really important to me."
"For as many obstacles as we had from financing to COVID to finally getting it turned on, I have a feeling that if it was anybody else we might not have finished it because [Kurt] was that patient and trusting of the project teams," Butler says.
"When I look at our involvement, I think this is a good example of working together with partners to achieve a successful outcome," Goodwin says. "Collaboration, coordination … that's the kind of thing in this industry that my team at OMCO Solar is passionate about. When we have these types of creative projects, that are backed by strong partnerships and renewables-friendly policy, we know it will help us reach the 'ultimutt' goal: A sustainable clean energy future for everyone."
Listen to more in-depth conversations on Solar Builder's YouTube channel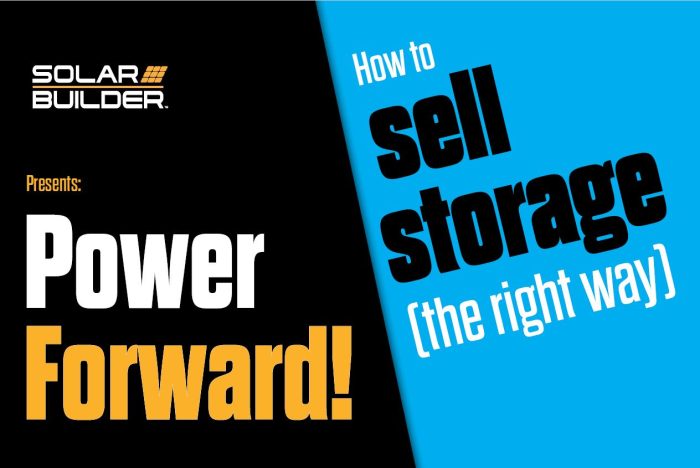 Our most popular series include:

Power Forward! | A collaboration with BayWa r.e. to discuss higher level industry topics.
The Buzz | Where we give our 2 cents per kWh on the residential solar market.
The Pitch | Discussions with solar manufacturers about their new technology and ideas.
Tags:
HT-SAAE
,
OMCO
,
SimpleRay
,
SMA America