I need to know about NEC 2017-ready inverers.

Long-range communication
Tigo will be talking about Mesh as they display the new TAP and TS4 units. With Mesh, residential and commercial customers eliminate the need to address any roof obstruction or orientation constraint. Mesh compliments the full Tigo system in conjunction with TAP, Cloud Connect Advanced (CCA) and UHD-Core TS4 units. As the software that allows each TS4 unit to act as a relay station for signals, Mesh extends the wireless range of communication up to 230 ft. Mesh also allows data collection from up to 300 TS4 units (~100kW systems) using a single TAP or from up to 900 TS4 units (~300kW systems) using a single CCA. Most importantly, Mesh supports multiple communication paths between TS4 units to minimize packet loss, improve data integrity and increase reliability at high speed. Booth 1792
Industry-first
To offer solar installers an easy plug-and-play solution for the NEC 2017 module level shutdown requirement, Fronius believes that the best solutions are based on an industry standard with Power Line Communication (PLC). The SunSpec Communication Signal for Rapid Shutdown provides this standard. With the new Fronius Symo Advanced, Fronius launches the first inverter with an integrated Power Line Communication (PLC) transmitter based on the recently published SunSpec Communication Signal for Rapid Shutdown. This industry standard is a multi-vendor and multi-device communication specification for inverters, modules and string combiners to support NEC 2014, NEC 2017 and UL 1741 module-level rapid shutdown requirements. Booth 1538

Commercial collaboration
Chint Power Systems' 50- and 60-kW commercial inverters are now compatible with Tigo's TS4 platform. These commercial inverters are compliant with NEC 2017's Rapid Shutdown specifications with Tigo's exclusive UL certification. CPS commercial inverters are shipping now.
Tigo conducted extensive testing to validate the effective performance of the systems together in standard operating environments, as outlined in a declaration of operational compliance last year.
Integrating PLC control allows CPS to offer its commercial customers various benefits to the TS4-F out of the box Rapid Shutdown solution. The reduced installation time, fewer components and fewer SKU registrations keep BOS costs at a minimum and all projects cost-effective. In combination with Tigo's TS4 Platform of interchangeable junction box covers, different functionalities can be added and upgraded to any CPS compatible system.
"The value MLPE provides today is clear. Not only can these products boost performance but now provide a level of safety our industry has needed and mandated. CPS is proud to partner with Tigo to afford our customers the ability to design and build safer systems with the benefit of increased performance." says Sarah Ozga, product manager at CPS America. Booth 504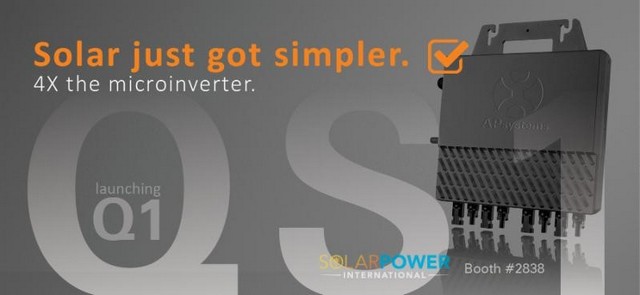 Highest peak-output microinverter
APsystems will unveil the QS1, a four-module, single-phase microinverter for residential applications at the Solar Power International trade show in Anaheim. A new design for APsystems, the company says the QS1 offers 75 percent faster installation time, while offering the highest peak output power and up to 3x faster transmission speed than conventional microinverters. A wider MPPT voltage range will result in a greater energy harvest for homeowners. Read more here.
*****
What's your SPI Action Plan?