(Solar Builder Project of the Year, Roof-Mount Nominees are listed in alphabetical order.)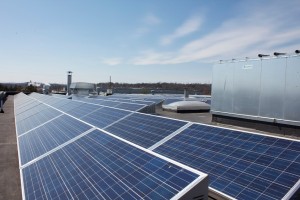 Gold Crust Baking
Construction Completion Date: March 2014
Project Location: Hyattsville, Maryland
Project Size: 429 kW
Summary: Gold Crust Baking is committed to consistently delivering high quality breads with a sustainable and environmentally friendly business model. Its new 92,000-sq-ft production plant uses natural gas ovens, LED lighting and now generates 533,000 kWh of power from its new solar system. In its contract with Gold Crust Baking, AEDG/SolarSense had a requirement to supply a minimum amount of electricity to the building. It wouldn't have been able to meet that minimum requirement by using the typical approach to designing commercial rooftop solar, which is to prioritize power density (kW) over power generation (kWh). Instead the developer chose to use SolarDock to achieve a high tilt angle that would help the modules produce more energy, and Motech panels for the high quality and reliability over the lifetime of the panel.
Developer: AEDG/SolarSense
Contractor: Keares Electric
Module Manufacturer: Motech
Inverter Manufacturer: Eaton
Mounting/Racking Manufacturer: SolarDock
---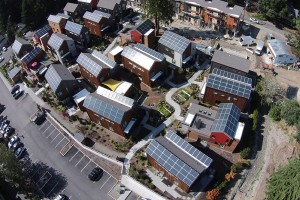 Grow Community
Construction Completion Date: September 2014 (ongoing)
Project Location: Bainbridge Island, Washington
Project Size: 112 kW and growing
Summary: At Grow Community on Bainbridge Island, solar wasn't an afterthought — it was the only thought. The award-winning development was designed around the idea that homes should produce all the energy their residents would need (net-zero impact) while capturing the financial benefits that come with producing renewable energy. This is truly a "triple bottom line solution" – with compelling social, economic and environmental returns – that is delivered to homeowners very simply.
The developers worked with local installers and manufacturers to provide the best possible team at the best possible price for the buyers, with certified Washington-made products from APS microinverters from Blue Frog Solar and PV modules from Itek Energy. Grow Community is now the largest planned solar community in Washington (112 kW and growing), and the solar component will be integral to the next two phases of the development as well, including multi-family units such as townhomes and condominiums. Grow's first phase, the Village, was endorsed as only the fifth One Planet Community in the world, and the first to build residential in the United States.
Developer: Asani LLC
Contractor: PHC Construction, A&R Solar
Module Manufacturer: Itek Energy
Inverter Manufacturer: APS America
Mounting/Racking Manufacturer: SunModo
---
The Hacienda Gosen
Construction Completion Date: February 2014
Project Location: Moca, Puerto Rico
Project Size: 60 kW
Summary: The Hacienda Gosen is a commercial farm and food processing facility with a 20,000-sq-ft trapezoidal sheet metal roof located in remote, mountainous Western Puerto Rico with extremely difficult road access. Add to this the annual hurricane threat of high winds and heavy rains, the unique challenges were formidable as they considered solar energy to reduce their rising power costs and meet the increasing demand for electricity to run their heavy machinery. Renusol America's new PV mounting system for trapezoidal sheet metal roofs, the Renusol MS, made the installation a reality by delivering key industry innovations. Since the Renusol MS is a pre-assembled, rail-less mounting solution and the components include only module clamps, clamp bases and screws to secure the modules, the need for long rails is eliminated. This was a key consideration for attaching the 220 modules, given the poor roads and limited access for delivery trucks to the installation site. The Renusol MS system also eliminates the need for attachments to the support purlins or rafters underneath the sheet metal roof, which eliminates the possibility of leakage and water damage during heavy rain and hurricanes. Its low profile between the sheet metal roof and the modules lowers the risk of uplift pressure during hurricane winds.
Developer: Pura EnergiaPR
Contractor: Pura EnergiaPR
Module Manufacturer: Trina Solar
Inverter Manufacturer: SMA America
Mounting/Racking Manufacturer: Renusol America (now RBI Solar)
---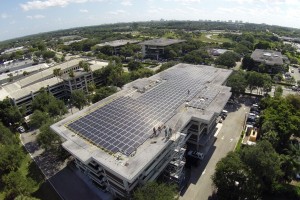 JM Family Enterprises Building
Construction Completion Date: May 2014
Location: Deerfield Beach, Florida
Project Size: 150 kW
Summary: JM Family Enterprises engaged Advanced Green Technologies (AGT) to EPC a 150-kW PV system on its headquarters' roof in South Florida. During the pre-design phase, AGT discovered the roof was a using a post tension concrete slab to support it. This discovery required AGT's design team to revise all of the attachment details and utilize fastener and sleeve imbeds, specifically designed for use in post tension application. Mechanical installation of the solar array took 30 days from start to finish. During construction, AGT fixed a stair tower and platform landing to the building, along with a full perimeter warning line system to ensure safety and reduce disruptions to the JMFE staff inside the four-story building.
Developer: JM Family Enterprises
Contractors: Advanced Green Technologies, Advanced Roofing Inc.
Module Manufacturer: Suniva
Inverter Manufacturer: Advanced Energy
Mounting/Racking Manufacturer: SunLink
---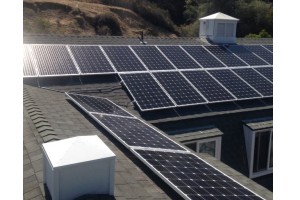 Solar Panels for Marine Mammals
Construction Completion Date: June 2014
Project Location: Laguna Beach, California
Project Size: 15.635 kW
Summary: Residents Organized for a Safe Environment (ROSE) teamed with Planet Earth Solar (PES) and Pacific Marine Mammal Center (PMMC) to fundraise money for the materials. PES donated labor and some material. The PMMC recently added an addition to its building, so the team waited until after completion to install the solar system and maximized east, west and south rooftops. This past year, the PMMC (a non-profit dedicated to the rescue, rehabilitation and release of marine mammals stranded along the Orange County coastline) was hit particularly hard with an above average number of patients staying at the center, making resources critical. The new PV system is expected to cut its electricity bill by up to 30%, freeing up more resources and finances to be directed back to the patients.
Developer: Residents Organized for a Safe Environment, Planet Earth Solar and Pacific Marine Mammal Center
Contractor: Planet Earth Solar
Module Manufacturer: SolarWorld
Inverter Manufacturer: Enphase
Mounting/Racking Manufacturer: Everest Solar
---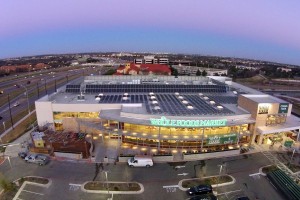 Whole Foods Market
Construction Completion Date: January 2014
Project Location: Austin, Texas
Project Size: 186 kW
Summary: A large portion of the Whole Foods Market building's rooftop in Austin, Texas, was originally considered unusable for solar because of a metal screen surrounding the HVAC units. However, this challenge became an opportunity when system designer and installer Freedom Solar Power created a custom racking solution utilizing the structural elements of the screen to mount 248 Suniva 270-W modules. Not only did this maximize the overall capacity of the PV array, but it made it visible from the parking lot and adjacent highway, allowing customers to see exactly where the store's power comes from. The remaining 442 modules were installed on the flat TPO membrane roof using the DynoRaxx Evolution fiberglass ballasted mounting system. Real-time data (from SMA's Sunny Portal) is displayed on an eGauge monitoring system located in the store's lobby, where customers can view the system's status — including the amount of electricity that the PV system is generating compared to the total building's energy consumption — as they check out.
Developer: n/a
Contractor: Freedom Solar Power
Module Manufacturer: Suniva
Inverter Manufacturer: SMA America
Mounting/Racking Manufacturer: DynoRaxx