(Solar Builder Project of the Year, Ground-Mount Nominees are listed in alphabetical order.)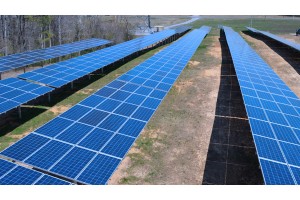 Apel Steel enerGStation
Construction Completion Date: April 2014
Project Location: Cullman, Alabama
Project Size: 340 kW
Summary: To achieve Apel Steel's goal for going off-the-grid and becoming energy independent, Ace Solar installed its enerGStation, an energy harvesting, monitoring and distribution system that is housed completely on site. The enerGStation takes Apel Steel off the grid with a battery backup and proprietary energy distribution monitoring and control software that optimizes energy storage, use and distribution. The 340-kW system was designed to meet 98% of the energy requirements for the heavy machinery and plant operations and is expected to save Apel Steel more than $3,000,000 on its electric bills over the 30-year life expectancy of the system.
Developer: Ace Solar
Contractor: Ace Solar
Module Manufacturer: Suntech
Inverter Manufacturer: Custom
Mounting/Racking Manufacturer: Solar FlexRack
---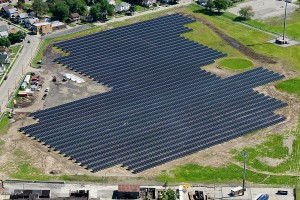 Anthony Wayne Solar Array
Construction Completion Date: June 2014
Project Location: Toledo, Ohio
Project Size: 2.1 MW
Summary:  The 2.1-MW Anthony Wayne Solar Array is providing about 30% of the Toledo Zoo's electricity each year – and is giving a new life to a contaminated brownfield site. The challenges began with design and site work. Locating the array was a challenge because the site contained cell phone towers and was adjacent to a busy thoroughfare running northeast to southeast. The site, which was once home to a lumberyard and an elevator manufacturer, contained large amounts of buried debris. The project team encountered obstructions about 25% of the time while drilling solar posts. Obstructions included concrete debris the size of small cars.
The solar array occupies most of the 22-acre site. Innovative equipment and processes helped the team build and install the array efficiently, accurately and safely. A custom designed GPS-guided tractor was used to install support posts. The innovative, low-cost racking system used automated equipment to preassemble the racking hardware, pre-install the solar modules and drive helical anchors into the ground rapidly. The team installed solar panels on smaller sections of racking in a controlled, off-site environment. The tractor and racking system let the team build the array rapidly, cost effectively and with consistent quality. A custom modified mini-excavator was used to handle heavy lifting in the field. The process was much safer and physically easier on the crew, compared to carrying and installing the solar array components by hand on site.
Developer: Rudolph/Libbe Companies
Contractor: Rudolph/Libbe Inc. and GEM Energy
Module Manufacturer: Calyxo
Inverter Manufacturer: Nextronex
Mounting/Racking Manufacturer: AP Alternatives
---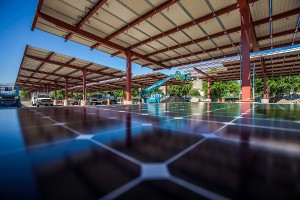 College of the Desert Carport
Construction Completion Date: November 2013
Project Location: Palm Desert, California
Project Size: 3.8 MW
Summary: This project consists of the construction of 27 elevated PV carports at an existing parking lot on the College of the Desert campus. SunPower's design consisted of monolithically poured caissons, which would have slowed down construction by one additional month. Oltmans came up with an alternate design solution, which was to pour the caissons with a cold joint process. An additional challenge was turning the work zone into a useable parking lot every weekend. The college parking lot had to be completed in phases due to a state fair/swap meet that occurred every weekend. The school was renting out the parking lot during this time. Therefore, before the weekend, Oltmans would have to complete each area of work and clear/clean it up as well as have all safety precautions implemented.
Developer: College of the Desert c/o SunPower Corp.
Contractor: Oltmans Construction Co.
Module Manufacturer: SunPower
Inverter Manufacturer: Schneider Electric
Mounting/Racking Manufacturer: SunPower
---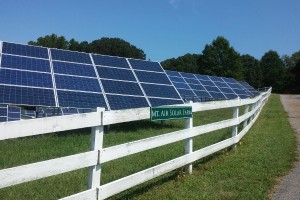 Mt. Air Solar Farm
Construction Completion Date: June 2014
Project Location: Newburg, Maryland
Project Size: 120 kW
Summary: Imagine a 20° East/West slope overlooking cornfields and the scenic Potomac River. Now imagine the hillside covered with 480 solar panels supplying power to 16 SMA inverters in a nearby barn. Now picture that same slope and solar field under construction, covered in snow and ice during the harshest winter the region has seen in 30 years. This hillside is now referred to as the Mt. Air Solar Farm, which offsets all the power needed at the farmstead, including the historic manor house, outbuildings and barns. This solar installation utilizes previously unusable land due to the steepness of the terrain, and transforms it into a premium 'solar' farming area. The owner did not want to take away tillable soil, which forced the creation of the Mt. Air Solar Farm on the unused hillside, thus creating a synergistic land-use environment.
Developer: Solar Tech Inc.
Contractor: Solar Tech Inc.
Module Manufacturer: Suniva
Inverter Manufacturer: SMA
Mounting/Racking Manufacturer: S:FLEX
---
Plymouth Public Schools
Construction Completion Date: October 2013
Project Location: Plympton, Massachusetts
Project Size: 5.7 MW
Summary: The original project plan consisted of eight to 10 smaller solar arrays across the school district's facilities, but old roof structures and harsh winters prevented that plan from coming to fruition. Instead, the plan shifted toward creating a large farm on private land, which required Borrego Solar to identify a private landowner within the same utility load zone to arrange a site lease agreement with, so the project developers could then go back to Plymouth Public Schools (PPS) with a proposal to build an off-site solar array and through remote net-metering, apply the energy credits produced by the array to the district's various meters.
Thanks to progressive virtual net-metering regulations, the array, which covers 23 acres of land (equal to about 18 football fields), is not on district property. This 5.7-MW installation produces approximately 7,234,710 kWhs of electricity per year for PPS, a school district that serves 13 schools and approximately 7,900 enrolled students per year. PPS will save around $400,000 per year in energy costs because of this project, which is offsetting approximately 80% of the district's energy needs. The system was financed by Borrego Solar through a power purchase agreement (PPA) that covered all financing costs, allowing the district to bypass the $11 million upfront cost.
Developer: Borrego Solar
Contractor: Borrego Solar
Module Manufacturer: Yingli Solar
Inverter Manufacturer: SMA America
Mounting/Racking Manufacturer: SunLink
---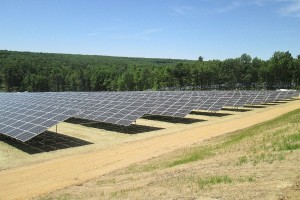 Treasure Valley Solar
Construction Completion Date: June 2014
Project Location: Rutland, Massachusetts
Project Size: 6 MW
Summary: The 6-MW project at the Treasure Valley Scout Reservation was installed during the most difficult New England winter in more than a decade, with 29 days of single-digit temperatures and 85 inches of snow. The Nexamp team saw the harsh storms and intensified freeze-thaw cycles magnify the erosion of the rocky, aggressively sloped terrain. Switching from a pile-driven foundation to a screw foundation helped expedite the process by avoiding any delays from unforeseen subsurface obstructions. To minimize the impact of the snow and ice, which would usually shut down a project, the Nexamp project team worked closely with its civil engineer and was fastidious about clearing snow and piling frost appropriately.
The project came about with a strong volunteer effort, with assistance from Boy Scouts of America and the Massachusetts Clean Energy Center. What is really remarkable about Treasure Valley Solar's accomplishments is not only that this group of volunteers saw a sustainability awareness problem, researched alternative energy options and got a large organization to approve and support their adoption of solar energy, but that they were then able to bring an improved science curriculum to elementary schools in Mohegan Council's territory through STEM/NOVA objectives.
Developer: Nexamp
Contractors: Coghlin Electric, Borggaard Construction Corp., Consulting Engineers Group, Whitman & Bingham Associates
Module Manufacturers: Trina, SunEdison (MEMC)
Inverter Manufacturer: Solectria
Mounting/Racking Manufacturer: TerraSmart