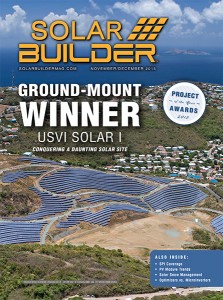 Solar Builder wants to highlight your latest and greatest solar project! Any PV project, big or small — we want to hear about it. Was the installation innovative in some way? Did it help a community? Does it just look really awesome? As long as it's inventive and innovative, it'll qualify for our 2017 Project of the Year awards.
To nominate a project (construction completion date must fall between Oct. 1, 2016 and July 31, 2017) fill out the submission form below by Aug. 31, 2017. At that time we will gather the submissions, compile them into a list and then let our readers vote on which projects they liked the most. We think it's cool to have the project chosen by the best-of-the-best in our solar contractor, developer and installer reader base.
Winners are then honored in our November/December issue with a cover spot and a big feature. We will even have additional write-ups on the runners-up.
Those are the deets. The form is below. Good luck!
REMINDER: Only North American PV projects will be accepted. 
---